30 Nov 2022

Currie scores career-high; Bisons fall

FORT SMITH, Ark. — Harding junior Taylor Currie scored a career-high 31 points Saturday, Nov. 26, but could not carry the Bisons to victory over Oklahoma Christian at the UAFS Thanksgiving Classic. Harding fell 79-56 and next plays Thursday, Dec. 1 at home against Ouachita Baptist in its Great American Conference opener.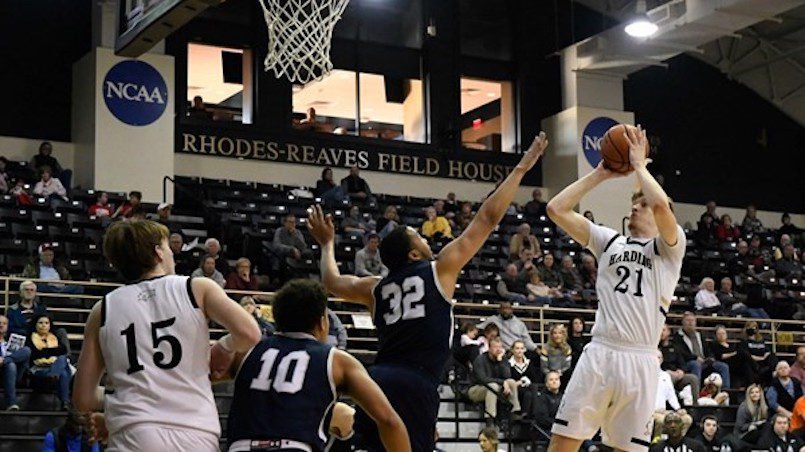 The game marked the first meeting between Harding and Oklahoma Christian in men's basketball since the teams met in a Classic in Springfield, Missouri, in 1984.

The loss dropped Harding to 4-2. Oklahoma Christian, a member of the NCAA Division II Lone Star Conference, improved to 4-1.

Currie scored five of Harding's first seven points in the second half, and his layup with 17:21 left pulled Harding within 43-37. The Bisons went without a made shot over the next five minutes, and Oklahoma Christian went on a 14-2 run to lead 57-39. Currie ended the run with a 3-pointer, his first of the season and only the fifth of his career.

Harding cut the lead to 13 twice down the stretch but got no closer.

Currie shot 12 of 19 from the field and 6 of 8 from the free-throw line. He also led the team with eight rebounds, two steals and two blocked shots while playing a team-high 36 minutes.
Next in the scoring column for the Bisons were freshman Rylie Marshall and senior Robert Chougkaz who had five points each.