23 Feb 2020

Couples: Kevin and Alison wish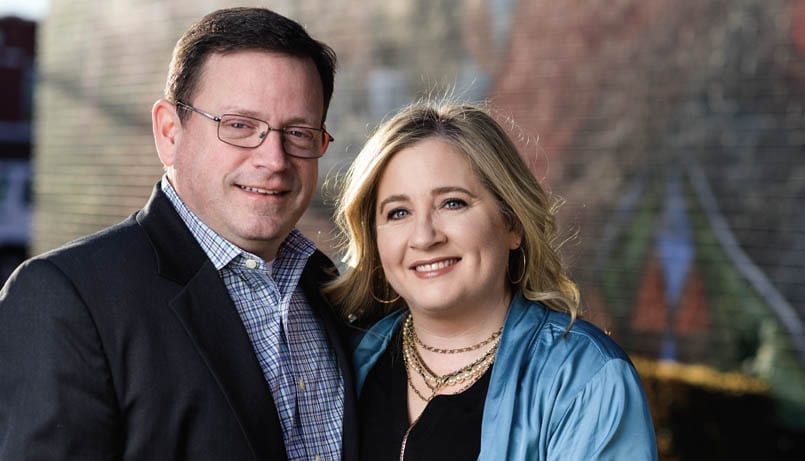 HIM    Kevin Wish
Native of: Clarksville (Johnson County).
Education: University of Arkansas, bachelor of science degree in financial management.
Job: Community president and senior lender, First Service Bank, Conway.
Why did you choose your vocation: I had a summer job working as a teller at a small bank in Clarksville during college. After graduation, I had considered a career as a financial advisor selling stocks and bonds. I soon realized the real satisfaction in seeing clients achieve success, helping with their personal and business banking needs, and being a small part of that process. After 25 years in this business, I still enjoy helping small businesses succeed and grow.
Parents: Freeman and Janet Wish of Clarksville.
Community activities: Member of the Kiwanis Club of Conway, Toad Suck Daze 10K/5K Run Committee, Conway Airport Advisory Committee and an Arkansas Aviation Historical Society board member.
Hobbies/special interests: Hiking, camping or just being in the outdoors.
How would you describe yourself: I'm typically fairly quiet and reserved. I tend to do much more listening than talking.
What is one thing people don't know about you: About 10 years ago, I was once the subject of a brief search and rescue effort. I had taken a flight to Clarksville, picked up my father and went for a quick trip around Johnson County, only to land and find a couple of policemen waiting for us at the airport. It's a funny story to tell now, but I was extremely embarrassed at the time.
What is your motto: Do the right thing, and treat people the way you want to be treated.
What do you enjoy most about living in the 501: Central Arkansas is a great place to raise a family. Conway has been a great city for our family over the last 20 years.

HER    Alison Wish
Native of: Knoxville (Johnson County).
Education: Lamar High School; Arkansas Tech University – bachelor's degree in computer and information science.
Job: Senior manager of delivery at Acxiom.
Why did you choose your vocation? I've always been a bit of an introvert and grew up loving computers. Computer science was the ideal place to start! As a college graduate with a young daughter, Acxiom presented me with the perfect work scenario with on-site childcare and the ability to work from home. Kevin transferred to the Regions Bank in town, and I began my career as a software engineer. We immediately fell in love with Conway and our work families. Today I lead a group of 30 data architects who are the most intelligent, hard-working people I know.
Parents: Rick and Sherry Elam of Knoxville.
Community activities: HAVEN (Help for Abuse Victims in Emergency Need) board member.
Hobbies/special interests: I am such a homebody! My favorite times are when we have all our girls at home – baking, playing games, watching movies – just laughing and being together is the best!
How would you describe yourself: I am an introvert, a bit of a workaholic, and I love my family!
Most enjoyed weekend activity: We love road trips! Nashville and Northwest Arkansas are some our favorite places for weekend getaways.
What do you enjoy most about living in the 501? Conway has been such a blessing to us. It's been a great place to live, work and raise our family, but we're also within an hour of our hometowns. I can't imagine living anywhere but here at this stage in our lives!
THEM
City: Conway.
Church activities: Member of St. Joseph Catholic Church.
How we met: We grew up in the same county. We had a mutual friend who worked as a lifeguard with Kevin; and Alison's best friend worked with Kevin at his parents' pizza restaurant. They set us up when Alison was a senior in high school and Kevin was a junior at the University of Arkansas, and the rest is history!
Wedding bells: June 17, 1995, at Holy Redeemer Catholic Church in Clarksville.
Children: Emily Wish, 22, University of Arkansas graduate and first year occupational therapy student; Natalie Wish, 18, second year architecture student at the University of Arkansas; and Anna Claire Wish, 15, Conway Junior High School.
Family activities enjoyed together: Travelling, board games.