05 Nov 2023

Couple of the Month: Rachel and Billy Hubbard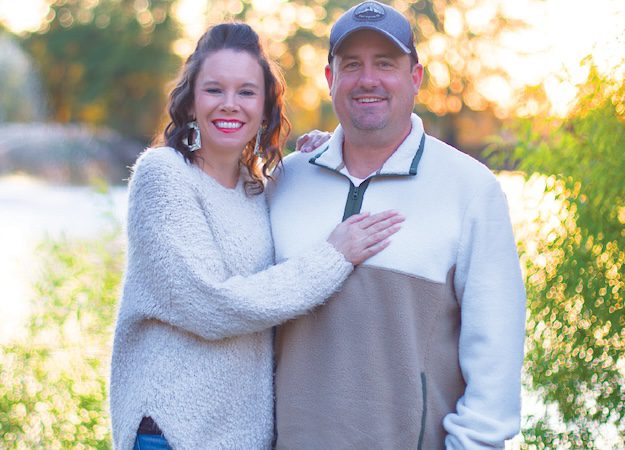 THEIR STORY:
We met in 2004 at a restaurant in Little Rock. We were both waiting tables at night to make extra money, and we started out as friends. Billy was so charming that I almost refused to go out with him. I thought no one could be that perfect, and I was not going to fall for his tricks!
Well, it turned out that he really was that perfect. On our first date, he was so kind, thoughtful, steady and sweet, and he is still all those things and more nearly 20 years later.
He proposed on a snowy day during a trip to New York City. We were riding on a carriage in Central Park, and everyone in the park around us clapped and cheered when I said yes. It was like a moment out of a movie. On July 8, 2006, we were married. It was the picture-perfect day that I had always dreamed of. We had absolutely no idea that our lives were about to radically change.
Shortly after getting married, we heard about Second Chance Youth Ranch. We didn't know anything about foster care, but as we started learning, our hearts started breaking. So six months into marriage, we moved into a home at Second Chance and became foster parents. Those first few weeks tested everything about us, including our marriage. But we were determined to have a good marriage and to be good foster parents, so we leaned on the Lord, and we worked really, really hard.
It turns out, hard things can make you stronger. We love serving together in ministry, and it's hard to imagine our life without foster care being a part of it. 
HER STORY:
hometown: Bryant
Children: Bronley Hubbard (13), Brooklyn Hubbard (8), hundreds of "bonus" kids and dozens of "bonus" grandbabies.
Education: University of Arkansas at Little Rock
Work: Director of Operations for Second Chance Youth Ranch
Church activities: I am a member of Family Church Bryant
Hobbies/special interests: I love to read Christian fiction books. I love to travel; I'm always working on planning the next trip. I also love hiking and swimming.
How would you describe yourself? I'm a busy momma and wife. My three favorite humans on the planet are my hubby and kids! I love to have fun and laugh, and I'm a sucker for fancy food. I'm authentic with everyone and I'm passionate about serving others and making a difference in the world. I love celebrating other people and making them feel good about themselves. My faith in God guides everything, and it motivates me to do more. My ultimate goal in life is to be like Jesus.
What is one thing people don't know about you? I was a first-grade teacher before starting my career in the foster care world.
Tell us more about Second Chance Youth Ranch and why it is important to you: It is a private placement agency for children in foster care. We recruit, train and support parents to foster in their homes or in a home on one of our three campuses. We have been involved for 17 years. We never really intended to get in this deep! We initially thought that we would get involved by donating or volunteering … something nice and comfortable. But once we met the kids, we knew that there was no turning back. We fell in love right away, and we wanted to go all in. Second Chance is committed to ending the foster care crisis in Arkansas by making sure that every single child has a safe and loving home, and we are honored to be a small part of helping to achieve that goal.
What is your motto: "Let your light shine before men so they will see your good works and praise your Father in Heaven." Matthew 5:17
HIS STORY:
Education: Ouachita Baptist University
Place of employment: Director of Operations for Second Chance Youth Ranch.
Church activities: I am a member of Family Church Bryant.
Hobbies/special
interests: I love spending time with my family. I enjoy running, camping and hiking. I love the Arkansas Razorbacks and the St. Louis Cardinals.
How would you describe yourself: I love serving. My family and my church mean everything to me.
What is one thing people don't know about you: I have run four full marathons. I owned a pizza restaurant for eight years.
Tell us more about Second Chance Youth Ranch: It's the place where God has called me to serve many kiddos and to help transform their lives. It's also the place where I have grown as a Christian and raised my biological family, and Rachel and I have spent our entire marriage here. I have learned that there are more important things in life than the first-world problems that we all tend to get worked up about.
What is your motto: Whatever breaks your heart is what you were created to change.