10 Sep 2023

Couple of the Month: Florencia 'Flo' Bruzatori-Mullins and Jeremy Mullins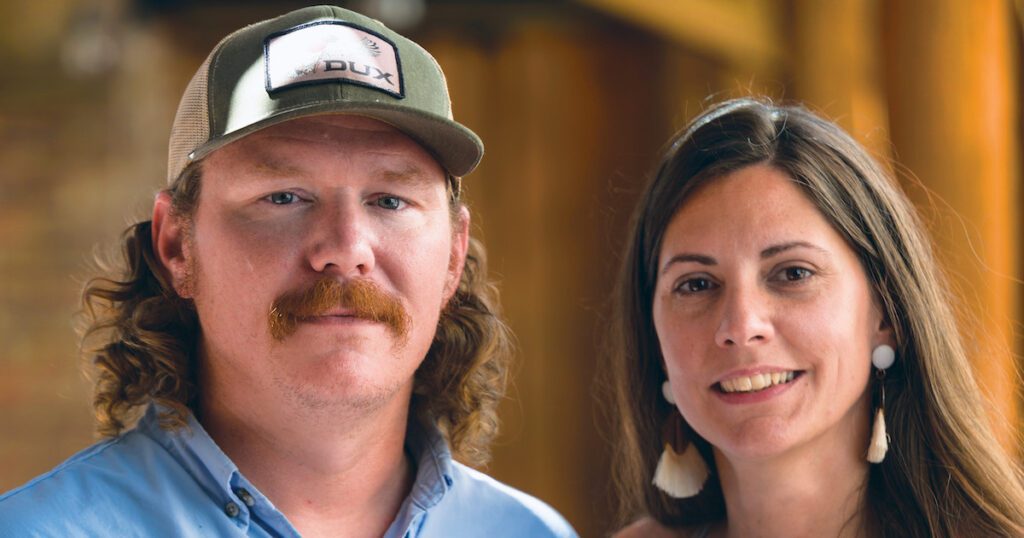 HIS STORY:
Education: I hold an associate of applied science in surveying.
Work: Our family owns and operates Buenos Aires Grill and Cafe.
Community/church activities: We are parishioners at St. Anne Catholic Church. Our kids go to Immaculate Conception Catholic School. I participate in any volunteering needs the school has.
Hobbies/special interests: I enjoy duck hunting and golfing. At home, I really enjoy impromptu Nerf wars with my three kids.
How would you describe yourself: I am a bit of an introvert until I get to know people.
What is one thing people don't know about you: I have served in Operation Iraqi Freedom and Operation Enduring Freedom in the U.S. Army.
What do you love about living in the 501: Having traveled the world, I am a big fan of the Southern hospitality you find in the 501.
What is your motto: Slow is smooth, smooth is fast.
HER STORY:
Native of: I was born in Buenos Aires, Argentina.
Education: I hold a BA In mass communications (Radio/TV/Film), a BBA in advertising/public relations and a BBA In marketing from the University of Arkansas – Little Rock.
Tell us about your family's restaurant and why it is meaningful to you: My family and I opened our Argentinian restaurant, Buenos Aires Grill and Cafe, almost seven years ago in the River Market District. For me, the restaurant presented the perfect opportunity to be closer to my roots and share our culture with the Central Arkansas community and beyond.
Children: Mateo Mullins (13), Isabella "Isa" Mullins (10), and Nicolas "Nico" Mullins (7).
Community/church activities: We are parishioners of St. Anne Catholic Church in North Little Rock, and our children attend Immaculate Conception School, so we are involved with both parishes. My family participates in the International Food Festival hosted by St. Anne Catholic Church every year. We usually try to serve a traditional Argentinian dish. Through the restaurant, we have been able to support our community by participating in many fundraising events, such as A la Carte, hosted by the Arkansas Children's Hospital Auxiliary, and BrunchFest benefiting The Centers For Youth And Families. Every year, we donate a Tapas,Tango & Wine package to Sonfest, the biggest fundraiser event at our church.
Hobbies/special interests: Being from Argentina, you could say futbol (soccer) runs in our blood. Since we moved to Arkansas back in 2002, I have been a volunteer coach at Lakewood Property Owners Association located in North Little Rock. I am currently coaching my daughter's U11 girls team and it is the highlight of my week!
I also enjoy cooking and baking. I am a giver, so cooking for family and friends is my way to show love and care. When time allows, I enjoy getting out on the tennis court for a friendly match with family or friends.
With my line of work, finding free time can be difficult. I try to be thoughtful and intentional with how I spend my little free time. Being able to sit down and talk to my kids about their day is something that I do daily and hope to continue doing even after they grow up and leave the nest.
How would you describe yourself: I am very easygoing with a happy predisposition. I enjoy talking to people and getting to know their life story. I can be somewhat of a perfectionist and workaholic, so I have to constantly remind myself to try to be present and welcome things as they come. I am a great multitasker and work great under pressure.
Do you cook any special dishes: Two of my favorite things to cook are homemade gnocchi and homemade pizza.
What do you love about living in the 501 (Central Arkansas): Living in 501 is wonderful! You get the big city feel with the short commute and traffic. I am a city girl, but I really enjoy the tranquility you can find just driving a short 15 minutes away from the city. We enjoy walking the river bridges, visiting the many parks, and just an all-around abundance of nature.
What is your motto: Live one day at a time. Though since we opened the restaurant, I have adjusted my motto to live one minute at a time.
Their STORY:
We met while attending North Little Rock High School in 2003. We both registered for the same art class. After a few weeks, we finally spoke and spent the rest of the year getting to know each other. We have been together since. Of course, all couples have ups and downs and so did we, but this year is our 20th anniversary since we started dating. We got married right before Jeremy's second deployment. We will celebrate our 14th wedding anniversary in January.
After so many years together, we feel very thankful for being able to share the life we have created. It is not perfect or easy, but we both try to have a good sense of humor and give each other grace. We have very different personalities, but it works for us. As a family, we enjoy movie night, traveling and a good summer day spent by the pool. In Argentinian culture, family and food are at the center of anything we do. Any excuse is a good excuse to get together with family and friends. Life can be hectic with a family business and three kids, but we try to make the best of the time we have together!