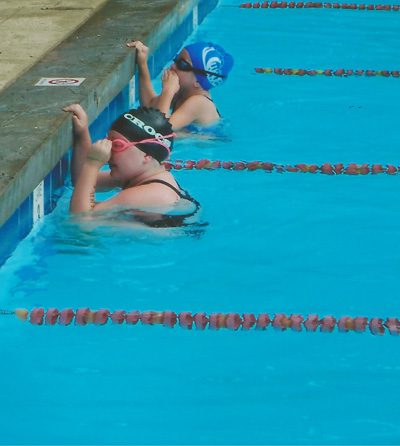 14 Dec 2011

Conway Regional offers youth swim team

As cooler weather descends on Conway, swim meets seem far away for the Conway Crocs.


However swim practice in the warm comforts of the heated indoor pool at the Conway Regional Health & Fitness Center can be beneficial for aspiring members of the Conway Crocs swim team, says Chris Brynell, aquatics coordinator and swim team coach at the fitness center.

The Crocs are open to youngsters ages 5 to 18. While they practice in Conway, the Crocs can be found splashing their way across pools throughout Central Arkansas during swim meets on Saturdays. The meets start in May and run through the Meet of Champs at summer's end.


Learning the strokes and techniques usually begins in January as part of the Dolphins swim program at the fitness center. The strokes include free style, back stroke, breast stroke and the butterfly. "It's a lot easier for them to learn the strokes if they start when they are young," said Brynell, "Fifty to 60 percent of our kids are nine and younger."


Brynell explains, "The Dolphins learn all four strokes, techniques, turns and starts; a lot of that is included in the swim team but there are no competitions. Joining the Dolphins program is actually a great way for them to get in swim shape and learn the strokes."


The Crocs has about 50 swimmers which is typically smaller than the teams it competes against in Cabot, Little Rock, North Little Rock, Maumelle, Bryant and Sherwood. However, individual swimmers have competed and won numerous medals in their age groups.


Space in the Dolphins program is limited so Brynell advises parents to come by the fitness center the first day of registration, which is Dec. 15. "Parents are here at 5 a.m. the first day of registration and it usually fills up before the end of the day," adds Brynell. Bathing suits and goggles are required and children must be able to swim the length of the 25-yard long pool.


Children enroll in 4 p.m. or 5 p.m. sessions which last about an hour on Tuesdays and Thursdays, twice a week for a month. Cost is $20 for fitness center members and $40 for non-members per month. Parents can sign their children up for one month at a time or for the entire four months until Conway Crocs begins in May. For more information about aquatics programs at the Conway Regional Health & Fitness Center, call 450-9292.