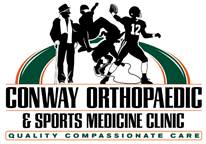 14 Aug 2013

Conway Orthopaedic provides 'Saturday morning option'

Physicians and staff of Conway Orthopaedic & Sports Medicine Clinic will offer acute injury appointments to area athletes on Saturdays this fall.

The "Sports Injury Clinic" will be available from 8 to 10 a.m. each Saturday morning from Aug. 31 through Nov. 2. The clinic is open to any athlete active in any sport.


Athletes may check-in at the clinic, located at 550 Club Lane in Conway. No appointment is necessary. Evaluations are performed by an orthopaedic physician and are provided on a first come, first served basis.


If an injury is assumed, the athlete may undergo basic diagnostic imaging such as an X-ray to further diagnosis their condition. Once the diagnosis is made, they may be scheduled for additional diagnostic testing, therapy or referred to another specialty physician.


Student athletes under the age of 18 must be accompanied by their parent or legal guardian. Athletes should also bring their insurance documentation.


"Many athletes are injured during their Friday night games and are not aware of the injury until the next day," said Dr. Thomas Roberts, sports medicine physician with Conway Orthopaedic. "This increased access to healthcare will further expedite the treatment needed in order to safely return these athletes to the field. This also gives parents and coaches the peace of mind knowing that Saturday care is available."


Through its commitment to the area schools and youth sports programs, Conway Orthopaedic & Sports Medicine Clinic provides comprehensive sports medicine services year round. Clinic physicians serve as team orthopaedic surgeons to the University of Central Arkansas, Hendrix College, Central Baptist College as well as numerous area high schools.


For more information about Conway Orthopaedic & Sports Medicine Clinic, visit conwayortho.com.