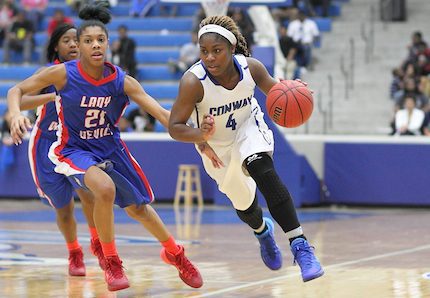 12 Mar 2014

Conway Lady Cats play for state title

by Levi Gilbert


The Conway Lady Wampus Cats face Fort Smith Northside Thursday at Summit Arena in Hot Springs with a 7A championship on the line.


For Conway Coach Ashley Nance, a state championship game is familiar territory. This will be her sixth trip to a final either as a player or coach.

"My high school team, Guy-Perkins, was in the finals from 2001-2003," Nance said. "We won back-to-back-to-back state championships. I was an assistant coach for Guy-Perkins under my father, John Hutchcraft, my first year out of college, and we were state runner-ups. In 2010, I was the head coach for Conway Christian, and we won the Class 2A state championship. My father has won 10 state championships and has been runner-up 10 times."


It's quite the legacy for the Hutchcraft family, and Nance is carrying the torch.


"If you were to ask us if we were a part of a legacy, I think we would all say we have just been blessed," Nance said. "Making it to the finals means a lot for our team. It's a true testament that hard work does pay off. We are excited as a team, but we are also proud to be representing Conway High School and the city of Conway."


Jeff Matthews of Conway Corporation 5 Sports has been a play-by-play announcer for Conway High for 13 years, and he says this year's Lady Cats squad is one to remember.


"No matter what happens in Hot Springs, I will always remember this team as one that was fun to watch every night," Matthews said. "The style of game they play — hard defense and balanced scoring from some of the most athletic players we have seen — it's been fun to watch!"


Conway entered the season as a team to watch, but the Lady Cats weren't a sure thing for the finals — especially after the loss of upperclassman Kianna Speight.


"This team started young, and due to the injury to Kianna Speight, they had to get younger," Matthews said. "That's a lot to overcome in any conference, but playing in the 7A/6A Central was brutal. It's a conference that can boast that four of its eight teams are playing for state titles. They handled playing in this conference like a team of seniors.


"This team has the potential to be the best we've seen. They are all back next year, and they still have a big game this season."
Conway's last girls basketball state championship came in 2008, but this will be the Lady Cats' first trip back to the finals under Nance.

"I've been at Conway going on four years, and there are times it feels like forever and times it feels like it's flown by," Nance said. "I am a blessed coach to have great players and the best assistant coach I could ask for in Jeff Gifford. Coach Gifford and I are mostly proud about having a group of young ladies who have committed to one another and believed in the daily process."

On top of having great players and a great coaching staff, having a dad with the coaching pedigree Hutchcraft has doesn't hurt either.

"My dad does a great job of being a dad when it comes to me coaching," Nance said. "He is very positive, and if I ask for advice, he's always there to chip in. I think if I were to ask him what he thought about the game, his exact words would be, 'I couldn't tell you anything you don't already know, but make sure the girls relax and have fun.'"

Taking home the title will be no easy task for Conway as they face the defending champions in Northside.

"Our matchup with Northside has developed into a rivalry," Nance said. "We've split this year — we lost at their place, and we won at ours. Coach Rickey Smith does a great job with his teams; he's created a dynasty over the years. Northside has been in the finals the past four years, they start five seniors and their class has never missed a championship game.

"We have one senior on our team who is injured, so we lack the experience their team does. In order for us to win, we need to relax and play our game. We will be putting a big emphasis on rebounding and communicating on the defensive end. We feel like if we can do those two things, we will be successful."

Tipoff for Thursday's game is set for 7 p.m.