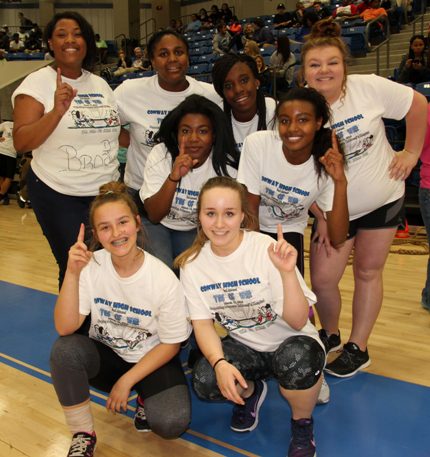 06 Apr 2016

Conway High students compete in tug-of-war to benefit Children's

Two hundred Conway High students recently participated in a special tug-of-war competition to raise money for Arkansas Children's Hospital.


The event is expected to raise more than $6,500.


There were 25 student teams, two community teams representing the Conway Fire Department and a teacher team that competed.


Winning teams were:


Coed – Team Breezy with members Shakira Buchanan, Rhianna McKnight, Mya Grimes, Quetta Spruill, Breanna Chaney, Shamar Harper, Mario Stubblefield and Junior Williams.

Men's – Team BWA (Bread Winners Association) with members Austin Norris, Jack Pillow, Zack Mills, Hunter Bogard, Donald Joshua, Jacob Brown, Logan Camp and Datrion Macan.

Women's – Team Spice Girls with members Brittany Ward, Drew Allison, Kayla Meador-Rogers, Joy Delph, Taylor Broadway, DyJauna Davis, Sarah McKenzie and Destiny Swope.