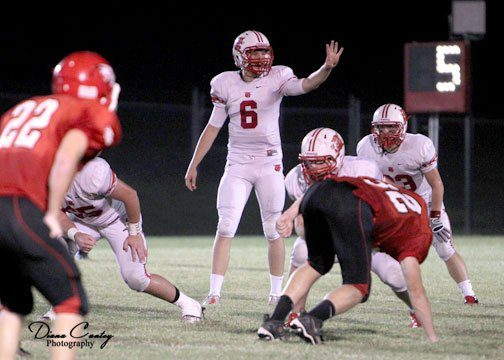 05 Dec

Class 3A title game an all-501 affair

by Mark Oliver


After 14 grueling weeks of high school football, just two teams from the 501 remain in the hunt for a state championship: Harding Academy and Glen Rose.

And it just so happens that the Wildcats and Beavers will face off against each other for the Class 3A state championship Saturday in Little Rock. 


The undefeated Wildcats (14-0, 7-0 3-2A) look to complete the perfect season with a Class 3A state title behind the strong arm of senior quarterback and 501 Football Team member Will Francis.


"Right now we are peaking and playing our best football," Francis said. "I think we just keep playing the way we've been playing. If we execute and play strong on defense, I think we can play with anyone."


Coming off a 31-29 victory in the last seconds against Fountain Lake, Francis unexpectedly added a new element to his offensive scheme: running the football.


"[Fountain Lake's defense was] bringing people up the middle at me all night long," Francis said. "Their defensive line put pressure on me. I haven't really had to run the ball all year until then and it worked out well for us."


The Wildcats reached the title game in 2010, but were dispatched by Rivercrest, 14-10. With two more years of experience under his belt, Francis is confident that his team has what it takes to be champions.


"Our offense and defense have really been working together right now," Francis said. "If we can execute—pass, catch and run the ball strong with no turnovers and tackle strong on defense—we can win it."


Standing in the Wildcats' way is who many have considered to be the top team in Class 3A in Glen Rose. The 5-3A champion Beavers (13-1, 7-0 5-3A) dropped the season opener to Malvern, 31-28. Since then, the Beavers have hit their stride, winning 13 consecutive games, including back-to-back three-point playoff victories over Charleston and Prescott. 


"[Glen Rose is] very physical and disciplined," Francis said. "They play very hard and it's going to be a battle."


Glen Rose returns to the title game for the second time in school history. The Beavers defeated Shiloh Christian, 35-34, in 2007, for the school's first state championship. Harding Academy searches for its fifth title in school history and the team's first since 2002.


Kickoff is at noon Saturday at War Memorial Stadium in Little Rock.