10 Mar 2021

Clardy leads Lady Cats into state tournament

By Levi Gilbert

Sophomore phenom Chloe Clardy is ready to lead the Conway Lady Cats back to championship heights. After earning the Arkansas underclassman of the year award as a freshman and being named as a Wooten Top 100 Player and ranked the No. 8 player in the country according to ESPN, Clardy is even more focused on putting in the work each and every day.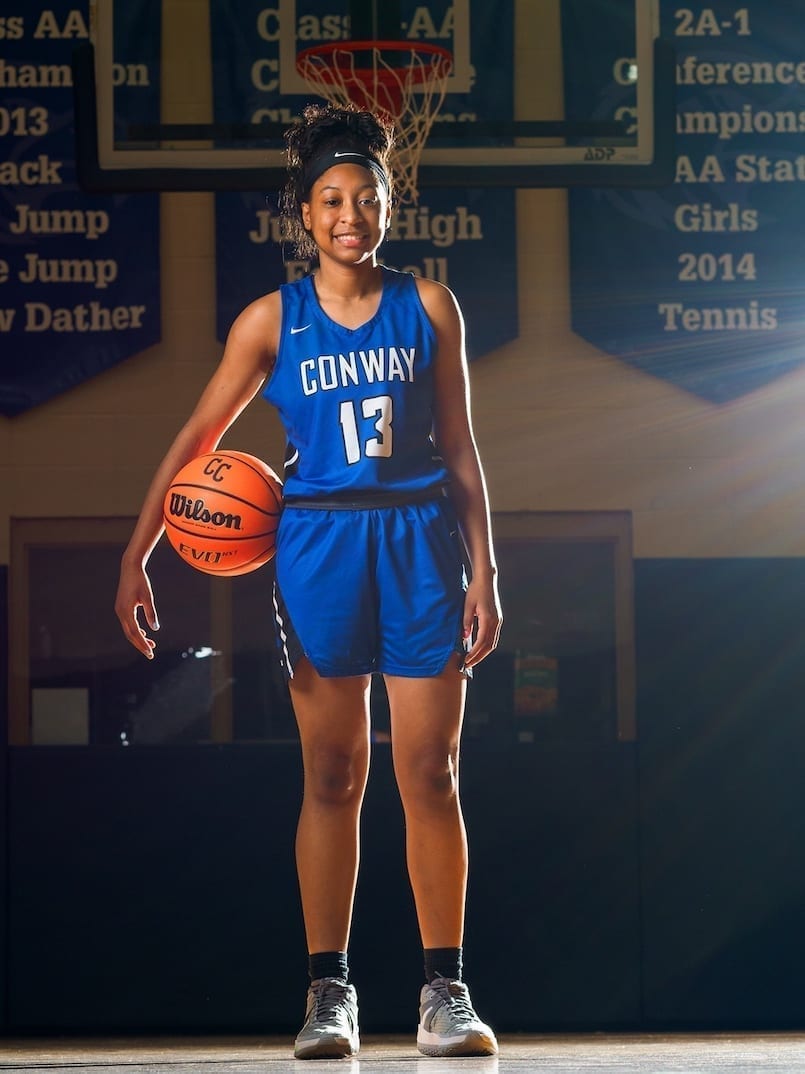 "Not everything comes easy, and you have to keep working to get better every day," Clardy said. "I just want to be the hardest working player."
Clardy is one of several talented underclassmen leading the way for the Conway. It's a talented core that has set a high goal of earning a championship for the Lady Cats for the first time since 2014. The Lady Cats earned the No. 2 seed out of the 6A Central and start 6A state tournament play this Friday in the quarterfinals.
Clardy was selected to this year's 501 Basketball Team — 34 players representing the best the 501 has to offer both on and off the court. The team is sponsored by Conway Regional Health System and First Security Bank. The sophomore was nominated by her head coach, Ashley Hutchcraft.
"Chloe is the total package when it comes to the qualities and skills a player has on the court," Hutchcraft said. "Her ability to score is far beyond her years. She makes her teammates better and is a great leader. She genuinely cares about her teammates, but at the same time holds them accountable for the good of the team as a whole. She is humble with her successes and can celebrate the success of others. Chloe cares about her team. She puts the team as a whole before the individual."
In her second season starting for the Lady Cats, Clardy has continued to separate herself as an elite scorer.
"For me, it is her ability to score in any situation that stands out," said Tim Roach, color analyst for Lady Cats basketball on Conway Corp. "From deep 3s to mid-range jumpers to hard drives to the basket with either hand, she just knows what to do with the ball in any scenario. I would trust her with the ball in all crucial moments.
"Even as a sophomore, she just commands respect from her opposition, and she is trusted by her teammates. The other thing I would say is she has become so good with her opposite hand. When she starts her drive, she can take whatever side they give her and go straight to the rack with no weakness in either hand."
After earning a first-round bye, Conway (20-4, 12-2) takes on Rogers in the 6A quarterfinals Friday at 4 p.m in Fayetteville.
"For me, as a fan and as someone who has paid close attention to the Lady Cats this year and compared to previous years, I think anything less than a state title would be a little disappointing, and I am not flippant about that," Roach said. "I think this coaching staff has them primed and prepared for a monumental run. We need to shoot well — that will be the thing to watch. If we are knocking down 3s, we are the best in the state in my opinion."
Clardy is being recruited by nearly every top college in the country. The sophomore boasts a 4.0 GPA and is a member of Caring Cats and Fellowship of Christian Athletes.
Conway's 6A quarterfinals matchup will air live on Conway Corp channels 5/585 and on YouTube.

Latest posts by Levi GIlbert
(see all)