26 Jan 2022

Citty, young Lady Wildcats battling for 3A-2 title

By Levi Gilbert

Calle Citty is helping lead a young, but talented, Harding Academy Lady Wildcats team.

Citty isn't a typical junior. She led the team in scoring and rebounding last season as a sophomore, and she was an everyday starter for the state tournament bound Lady Wildcats in her freshman year. Citty was named to the all-conference team the past two seasons.

"This season, I am really wanting to become my team's biggest leader, both on and off the court, and my coach has really encouraged and helped me with that," Citty said. "Trying to balance friendship and leadership is difficult, but it's something I have been focusing on this season, because in order to have a good team, there has to be good chemistry and no drama, which is something that really makes our team different."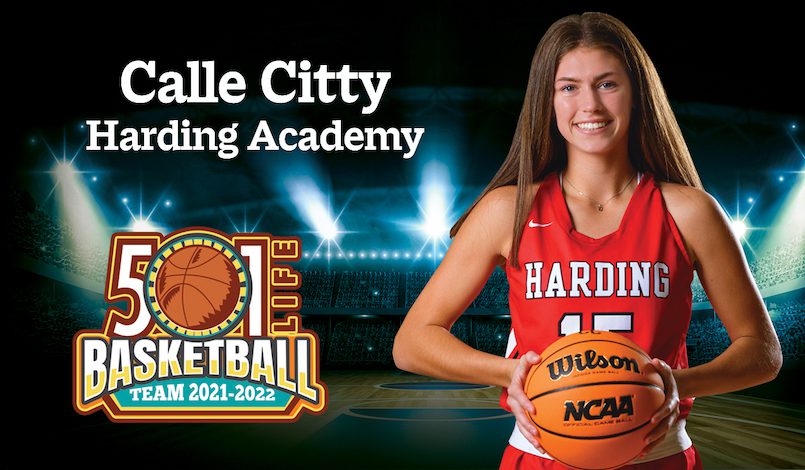 Citty was selected to this year's 501 Basketball Team — 40 players representing the best the 501 has to offer both on and off the court. The team is sponsored by Velda Luders of Coldwell Banker RPM Group, Moix Equipment and Toy Company, Conway Regional Health System and First Security Bank. The junior was nominated by her head coach, Rusty Garner.
"Calle's ability will speak for itself," Garner said. "Calle brings length, skill, leadership and experience. She is a good student and a good teammate.
"We expect to see her continue to evolve and develop as a player, a teammate and a leader. Calle knows and communicates her role and her teammates' roles. She uses her experience and understanding to help less experienced players grow."
Citty got started early at the high school level, playing up as a freshman. The experience was special for the whole Citty family.
"My freshman year of high school, I got moved up to the varsity team and was able to play with my older sister, Caroline, which is something not everybody who has an older sibling gets to experience," Citty said. "It was such an incredible growing experience, especially being so young and having to go from being a leader on the junior high team to being more of a listener and learner on the senior high team.
"To me, this year is a lot about learning how to play with each other. Our team is completely different than last year, and we don't have one senior, so we are very young. I think as long as we continue to work together and learn how each person plays, we will end up having a lot of success later on and especially continuing into next year, my senior year."
The Lady Wildcats (15-4, 8-1) are in a good position as they head into the second half of conference play with a title in sight.
"For us, our defense is working really well along with how well we run the floor," Citty said. "We can guard people well and just sit down and grind on the defensive end, and it usually makes other people really uncomfortable. When we get a defensive rebound, we run the floor really well and end up getting a lot of transition points because other teams don't want to run with us like that.
"I think that we need to be more aware during close games because we sometimes make bad decisions late in crucial games that end up hurting us, but we are a very young and unexperienced team overall. We also need to improve our rebounding and physicality as well. Rebounding is really important against good teams in close games."
With seven games remaining in the regular season, the Lady Wildcats have their eyes set on the top teams in the 3A-2 in Mountain View, Clinton and Rose Bud.
"So far there seems to be three main teams that we are really trying to beat," Citty said. "I don't think there is any team that has dominated our league, but there are a few of us who are pretty evenly matched, which will make these last round of conference games interesting. When we get past the better teams, we can't let up because there are still the teams in the middle of the league that could give you a run if you don't play well. It's hard to play teams over and over because they figure out how you play, what works best against you and it makes the game so much harder, so it's going to be a very interesting next few weeks, and I'm really excited to see where our team ends up."
Citty volunteers for the annual Micah Rine Wildcat Legacy 5K. She is a member of Beta Club and art club. She also plays soccer and runs track for the Lady Wildcats.
"I want to be remembered as the player who always worked hard and had an influential voice on and off the court," Citty said. "Someone who always pushed the people around her to be their very best, if not better."
Harding Academy plays host to Newport in 3A-2 conference play at 6 p.m. Thursday, Jan. 27.

Latest posts by Levi GIlbert
(see all)