09 Nov 2022

CBC soccer in AMC Quarterfinals

WALNUT RIDGE — Looking to advance in the American Midwest Conference tournament for the second straight season, the #8 seed Central Baptist College men's soccer team took on the #1 seed Williams Baptist University Nov. 5 at Eagle Field. CBC (8-8-3) kept the game scoreless in the first half but allowed three second half goals to WBU (15-0-2) to see their season come to end by a score of 3-0.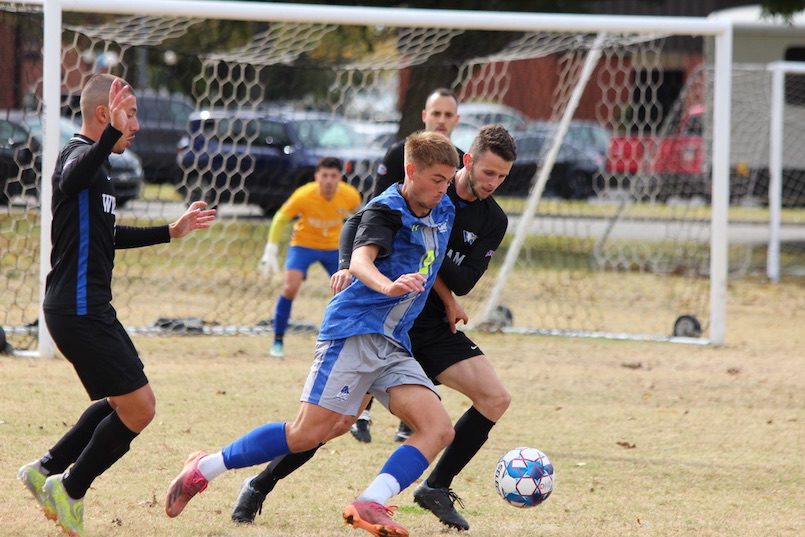 Jasper Gadellaa had nine saves in net for the Mustangs, who were also able to challenge Williams Baptist's keeper five times.
SEASON NOTES
The winning percentage of .500 was the highest for CBC since 2014 when they went 9-7-2
Daniel Pinkney finished with 12 goals and 13 assists, ranking him tied for sixth in a single season in goals and fourth in a season in assists, while also becoming the second player ever to record double-digits in both goals and assists in a season
Pinkney also finished with 37 points, the third most all-time
Callum Bisset finished the season with 10 assists, making him just the fourth player (along with Pinkney, Jonathan Jacobs and Sabelo Hlongwane) to record 10-or-more assists in a season
Gadellaa played the most minutes in net by a goalkeeper ever, becoming the first keeper ever to play 1,600 minutes or more
Gadellaa also recorded the sixth most saves ever in a season with 76
Gadellaa's eight wins this season were also tied for the second most in a season ever