20 Feb 2019

Cabot High's Jimerson gives 'maximum effort'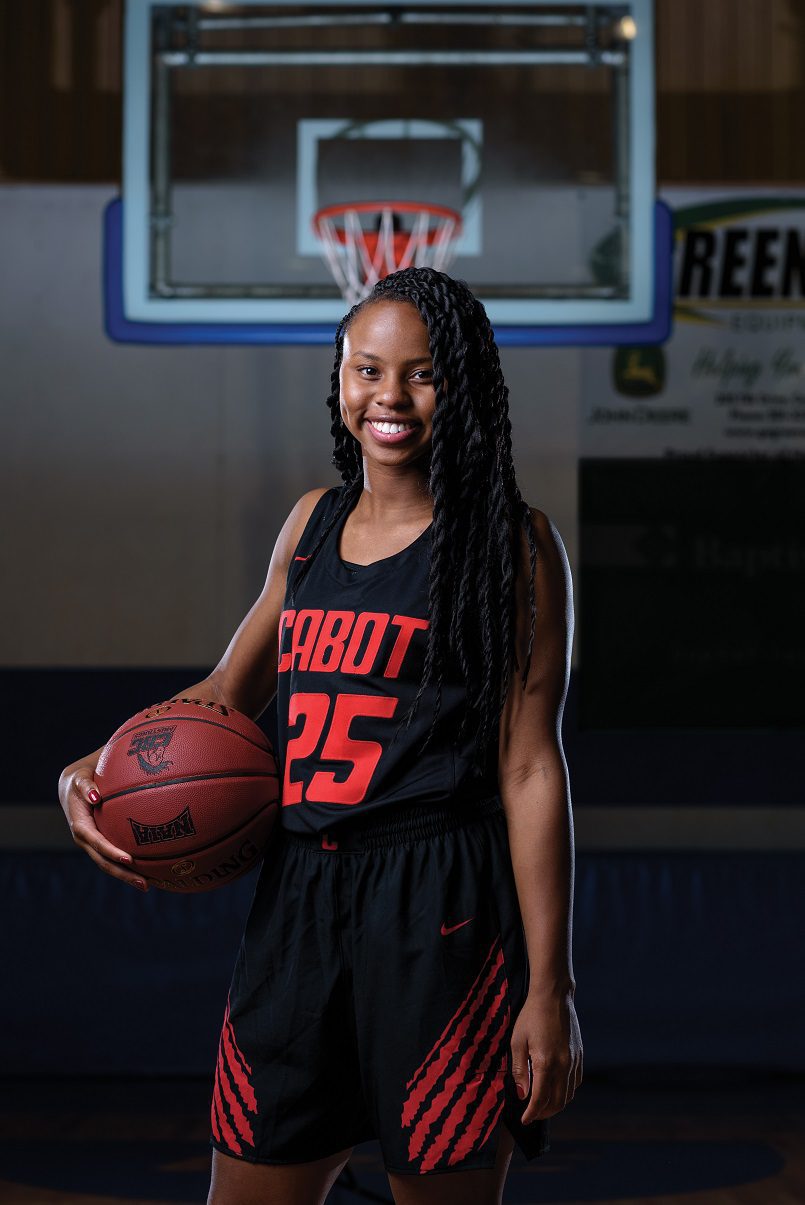 by Levi Gilbert
In her final season wearing a Cabot Panther uniform, Dejah Jimerson and her teammates accomplished a big goal — earning a playoff berth to the state tournament. Cabot missed the tournament last year, and with a win this Friday, Cabot will lock up the No. 5 seed out of the 6A Central. 
The accomplishment isn't just about Jimerson and her fellow seniors. She sees the value of a tournament appearance for Cabot basketball's future, too, because that's just the type of player she is. 
"It means a lot to make it to state and to do so in my last season," Jimerson said. "We have juniors and a couple sophomores that play varsity, and this experience can definitely help them in the future."
Jimerson was selected to this year's 501 Basketball Team — 34 players representing the best the 501 has to offer both on and off the court. The team is sponsored by Conway Ortho and Sports Medicine Center, Conway Regional Health System and First Security Bank. Jimerson was nominated by her head coach, Carla Crowder.
"Dejah has a desire to get better every day, always works hard and never is satisfied," Crowder wrote in her nomination. "She is very strong minded and really has a strong work ethic. Dejah has a sense of awareness about the game that gives her an advantage over other players. She is very passionate about the game and her team and has been determined to get better. She has been very coachable, an effective listener and a communicator. She is confident in her skills, prepares every day and wants to make her team better."
Jimerson isn't the only one facing her final games as a Cabot Panther in the next few weeks. Crowder announced before the season started that this would be her final season after almost 40 years of coaching. 
"It has been truly a blessing being able to play for Coach Crowder during her final year of coaching," Jimerson said. "She always pushes me to step outside of my comfort zone, and she encourages me. She not only cared about me as a basketball player, but cared about me personally as an individual. She always ensured that if myself or anyone else on the team needed something, regardless of what it was, she would do her best to help us. 
"My team and I have definitely benefitted from all of her basketball knowledge and experiences she has shared with us."
During her basketball tenure, Crowder led her teams to four state championship titles (Cabot 2012; Bryant 1988, 1989, 1991). But her biggest impact, according to Jimerson, has come off the court.
"Coach Crowder taught me that nothing is ever going to be handed to me and that everything in life is going to take hard work and dedication," Jimerson said. "She always reminds the team that she wants us to be more than great basketball players; she wants us to be good people. Every year, Coach Crowder makes sure the team gets together and collects food items for families during Thanksgiving and makes sure we donate gifts and toys at Christmas for families in need."
Jimerson has taken that example to heart and played it out through her own actions.
"Dejah gives back to the community by volunteering at nursing homes, working at youth basketball camps and cheer clinics and takes part in the Cabot Clean-Up," Crowder said. "Dejah is a great teammate because she develops real relationships with her teammates. She is willing to play any role for our team to be successful. She always gives her maximum effort and plays with a lot of pride for her school and her teammates. She has really worked hard over the last year to really improve her game, maintain a positive attitude and stay engaged on the court and off."
Crowder wasn't the first strong coach in Jimerson's life to make an impact. 
"I grew up watching the Chicago Bulls faithfully with my dad," Jimerson said. "Watching nearly every one of their games for years, I began to find my love in the game of basketball. My favorite memory of basketball is when my dad was my coach. Playing for my dad was challenging because he was always harder on me than he was the other players, but now that I'm older, I know he just wanted me to fulfill my potential that he saw in me as a player. I remember after every game, win or lose, he always told me he was proud of me."
In addition to basketball, Jimerson is active in competitive cheerleading. Off the court, she's a member of National Honors Society, Health Occupations Students of America (HOSA) and Fellowship Christian Athletes. After graduation this May, Jimerson plans to attend Baylor University to pursue a degree in the medical field. 
Jimerson and Cabot (14-10, 5-8) play host to North Little Rock at 6 p.m. Friday to close out the regular season.

Latest posts by Levi GIlbert
(see all)