01 Dec

Burns named to D3hoops.com Team of the Week

MINNEAPOLIS — Hendrix guard Kennedi Burns has been named to the D3hoops.com Team of the Week, presented by Scoutware, which was announced Monday. She becomes the eighth different player in program history to earn the national distinction and first since Sara Dyslin on Feb. 17, 2015. Hendrix players have earned the honor 11 times since its inception on Jan. 6, 1998.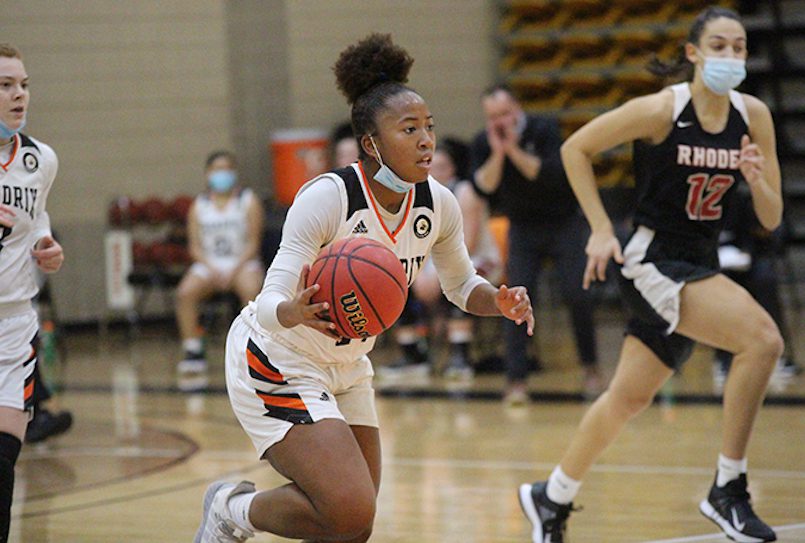 Burns earns the honor 22 years to the day from when Lauren Turnbow garnered the distinction on Nov. 29, 1999.

Burns was also voted Southern Athletic Association (SAA) Player of the Week on Monday.

In two wins inside Grove Gymnasium over Dallas (Texas) and Centenary (La.) on Nov. 23 and 28, respectively, Burns averaged a double-double with 22.5 points and 10.5 rebounds and shot 55.6 percent (15-of-27) overall and 93.3 percent (14-of-15) from the free throw line to go along with four steals and three rejections.

In the win over the Crusaders, Burns tallied 25 points, one shy of her career-high. In the victory over the Ladies, she recorded the first double-double of her career and a personal-best 14 rebounds.

This season, Burns leads the SAA in field goals made (45), field goal attempts (99) and field goal percentage (0.455) and ranks second in points per game (17.1), fourth in points (120) and free throw percentage (0.833) and eighth in free throws made (25). Nationally she is 25th in field goals made, 26th in points, 46th in field goal attempts, 68th in free throws made, 84th in free throw percentage and 97th in points per game.

Hendrix travels to Huntingdon (Ala.) on Dec. 5. Tip-off is set for noon CT.
D3hoops.com Team of the Week for Nov. 29:
| | | | |
| --- | --- | --- | --- |
| Name | School | Pos. | Yr. |
| Kennedi Burns | Hendrix | G | So. |
| Haley Keenan | Delaware Valley (Pa.) | G | So. |
| Kaylee Otlowski | Salisbury (Md.) | F | Sr. |
| Maiah Domask | Wisconsin-Platteville | F | Sr. |
| Chelsey Raven | SUNY-Canton (N.Y.) | F | Sr. |
Hendrix D3hoops.com Team of the Week All-Time Members

Kennedi Burns – Nov. 29, 2021
Sara Dyslin – Feb. 17, 2015
Caitlin Kriesel-Bigler – Jan. 27, 2015
Caitlin Kriesel-Bigler – Feb. 11, 2013
Tori Huggins – Jan. 12, 2004
Jessica Atkinson – Jan. 8, 2001
Meg Frazier – Dec. 4, 2000
Meg Frazier – Feb. 22, 2000
Lauren Turnbow – Nov. 29, 1999
Mollie Scarbrough – Feb. 16, 1999
Jessica Atkinson – Jan. 26, 1999