21 Dec

Book offers mini tour of Little Rock

by Susan Peterson

What's your favorite place in the world? For Emily Wyatt, it appears to be Little Rock and the many places that make it unique.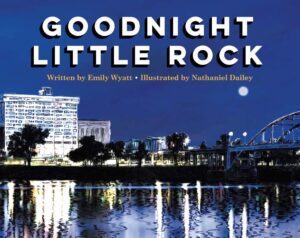 Emily was born and raised in Little Rock. She graduated from the University of Central Arkansas in Conway with a degree in business administration. After living in Texas and New Mexico, she and her family returned to Little Rock, where she enjoyed a renewed appreciation of what the 501 area has to offer.
In 2016, Emily, a full-time mom, self-published a hardback picture book titled "Goodnight Little Rock." She got the idea for the book after taking a trip to St. Louis where she saw the book "Goodnight St. Louis." Emily was so inspired by the book that she wrote her own Little Rock version during the return trip home.
Although Emily highlights various well-known locations, the illustrations of them by Little Rock artist Nathaniel Dailey make these places come to life. Dailey received his bachelor of arts with an emphasis in illustration and design from the University of Arkansas at Little Rock. He has illustrated numerous fiction, non-fiction and children's books including "The Adventure of Thomas the Turtle," "An American Bear in Paris" and "The World Adventures of Buddy & Ching." He sells his artwork internationally to individuals and corporate collections. He also does album and cover art and logo design.
Although designed for children, "Goodnight Little Rock" can be enjoyed and treasured by readers of any age. It would make wonderful bedtime reading, especially for those with young children. The repetitive "goodnight" phrase, coupled with the soothing blue hues of the illustrations evoke a calming, restful mood. And it would be easy for parents to personalize other "goodnights" of their own to add to the story.
For adults, the book is a mini tour of the capital city. It highlights the state Capitol building, Pinnacle Mountain, Big Dam Bridge, Central High School and so much more. It's a great gift to give a visitor to the city.
Emily and Nathaniel enjoy talking about their book and do frequent book signings and visits with children at area schools.
To find out more, visit goodnightlittlerock.com. The book is available from Amazon and at various tourist venues throughout Little Rock.