26 Aug 2020

Bohanon does it all for Cats

If there's something Bryce Bohanon can't do on the football field, Wampus Cat fans have yet to see it. The electric senior has been lighting up Friday nights since his sophomore season.

On any given down, you could see him line up at receiver, running back, quarterback or return punts or kickoffs.

"My focus is to always work hard, be a team player and always try to be a leader in any situation," Bohanon said.

Last year as a junior, Bohanon recorded 746 receiving yards and 281 rushing yards, scoring nine total touchdowns and earning all-state honors.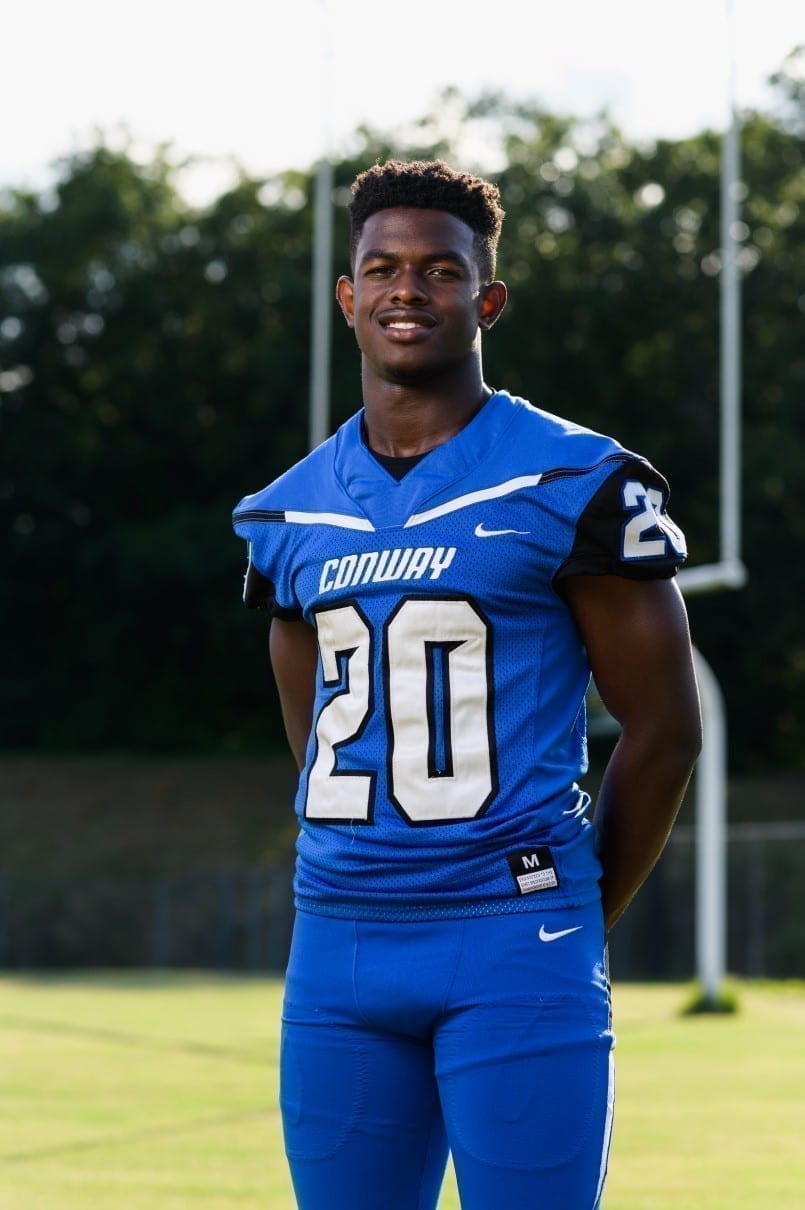 Bohanaon was selected to this year's 501 Football Team — 24 players representing all 11 counties of the 501. The team, sponsored by Conway Regional Health System and First Security Bank, boasts the best the 501 has to offer both on and off the field. The senior was nominated by his head coach, Keith Fimple.
"Bryce brings leadership and mental and physical toughness," Fimple wrote in his nomination. "He begs for the ball at crucial times. He has made one B since ninth grade. He's a hard worker and the definition of a student-athlete. This year, the sky is the limit for him."
The Wampus Cats open the 2020 season this Friday with Fayetteville coming to town. Conway will see a lot of new faces on both sides of the ball, as well as on the sidelines. The changes include new defensive and offensive coordinators, with the latter being Mark Kelley, who won a 6A state championship last year with Searcy.
"Everything is definitely different," Bohanon said. "With new coaches comes new looks for the offense and new mindsets for the team. We have a lot more athletes on the field at once, so everyone has an opportunity to touch the ball. It also helps me have opportunities to get the ball in open spaces and make plays."
Kelley brings the Spread offense to Conway, which will see mostly four-receiver sets and one back in the backfield.
"It's been fun to learn," Bohanon said. "Coach Kelley brings a new, versatile offensive mindset, and it's been great to learn how he thinks and how he sees offensive schemes form. [Senior quarterback] Ben [Weese] and I have been working out a lot together this past summer. We've grown a lot as an offensive duo and as friends. It will be great to see our similar mindsets play out on the field."
This fall, Bohanon brings championship experience to the gridiron after having helped lead the basketball Wampus Cats to a state championship in the spring. His athletic spirit was forged through his relationship with his father.
"My whole life I've heard about how good my dad was at football, and I've always been so competitive with everything I've done and I always wanted to be better than him someday," Bohanon said. "Now it's just something that I love. My dad suffered a stroke at the beginning of my ninth-grade year, and because of that, I haven't been able to talk with him about football or other things in my life. It is really great to have people who care enough to bring him to games so he can still watch me and my sister play. Him being able to come makes it easier to achieve my goals."
Bohanon and the Wampus Cats open the season playing host to Fayetteville at 7 p.m. Friday, Aug. 28.
"Fayetteville has a lot of great players with D1 offers, but we're really just looking forward to playing and seeing our work from the summer show," Bohanon said.

Latest posts by Levi GIlbert
(see all)