24 Feb

Bears unveil first ASUN schedule for 2021

ATLANTA, Ga. – The ASUN Conference and Western Athletic Conference have agreed on a one-year Football scheduling alliance for the 2021 fall football season. Presented as the ASUN-WAC Challenge, the agreement will allow for seven institutions–three ASUN members and four WAC members–to be eligible for an automatic qualification into the 2021 NCAA FCS Playoffs.

"The ASUN and WAC are proud to be building opportunities for our student-athletes to compete at the highest level," stated ASUN Commissioner Ted Gumbart. "This partnership provides teams in both leagues a path to an automatic bid and elevates the ASUN and WAC to a new level of competition. We look forward to creating more innovative ways to promote ASUN Football as an NCAA FCS league in 2021 and beyond."

The alliance will feature Central Arkansas, Eastern Kentucky and Jacksonville State from the ASUN Conference and Abilene Christian, Lamar University, Sam Houston and Stephen F. Austin from the WAC. ASUN members Kennesaw State and North Alabama will continue to participate in the Big South Conference for the 2021 season, while WAC members Dixie State and Tarleton will participate in the joint schedule but will not be eligible for the group's AQ due to their status as NCAA Division I reclassifying institutions. WAC member New Mexico State will continue as an FBS Independent. ASUN member Liberty will continue as an FBS Independent. ASUN member Stetson will continue to play in the non-scholarship Pioneer Football League.

The seven schools, known as the AQ7, will play a single round-robin, with each institution having three home contests and three road contests. The home team will be responsible for officials, control media rights and game broadcast inventory.  The team with the highest winning percentage among AQ7 games shall receive the automatic qualification to the FCS playoffs. In addition, a trophy will be presented to the conference that has the highest winning percentage against the other conference.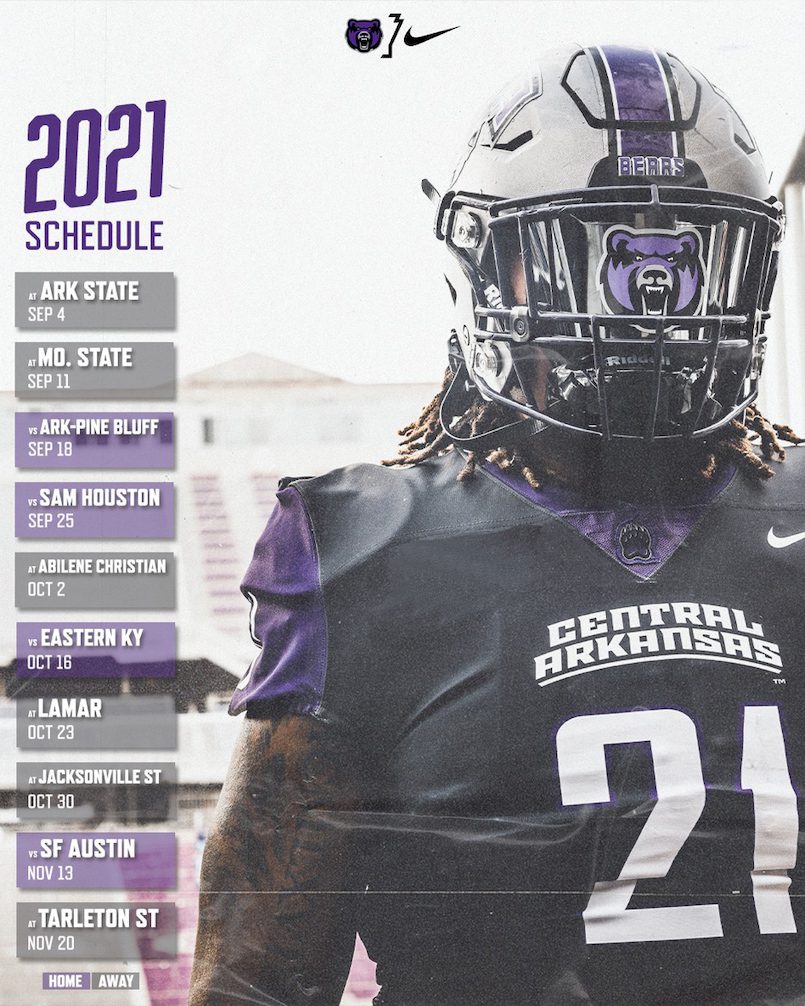 ASUN-WAC Challenge Schedule Dates
Sept. 25, 2021
Sam Houston at Central Arkansas
Abilene Christian at Lamar
Oct. 2, 2021
Central Arkansas at Abilene Christian
Tarleton at Eastern Kentucky – #
Sam Houston at Stephen F. Austin
Oct. 9, 2021
Abilene Christian at Eastern Kentucky
Stephen F. Austin at Jacksonville State
Lamar at Sam Houston
Oct. 16, 2021
Lamar at Abilene Christian
Eastern Kentucky at Central Arkansas
Tarleton at Dixie State – #
Oct. 23, 2021
Central Arkansas at Lamar
Stephen F. Austin at Dixie State – #
Jacksonville State at Sam Houston
Oct. 30, 2021
Abilene Christian at Stephen F. Austin
Central Arkansas at Jacksonville State
Lamar at Eastern Kentucky
Sam Houston at Tarleton – #
Nov. 6, 2021
Abilene Christian at Jacksonville State
Dixie State at Sam Houston
Eastern Kentucky at Stephen F. Austin
Lamar at Tarleton – #
Nov. 13, 2021
Tarleton at Abilene Christian – #
Stephen F. Austin at Central Arkansas
Eastern Kentucky at Sam Houston
Jacksonville State at Lamar
Nov. 20, 2021
Sam Houston at Abilene Christian
Central Arkansas at Tarleton – #
Jacksonville State at Eastern Kentucky
Stephen F. Austin at Lamar
# – Contests against Dixie State and Tarleton do not count towards alliance win percentage