15 Nov 2023

Bears pull off another miracle win

CONWAY — The endings just keep getting crazier and crazier for the University of Central Arkansas Bears.


The No. 24 Bears drove 83 yards in 19 seconds and finished it with a Hail Mary touchdown pass from Will McElvain to Jarrod Barnes as time expired Saturday, giving UCA an improbable 27-24 victory over the Eastern Kentucky Colonels on Senior Day on "The Stripes."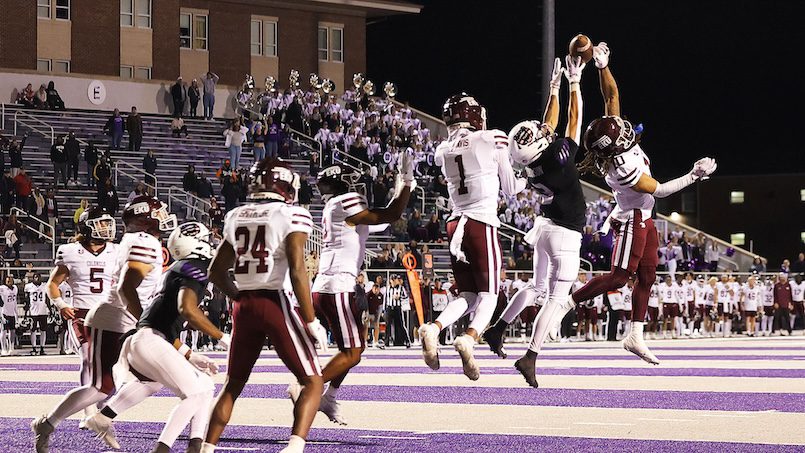 The Colonels had driven 97 yards in 10 plays in just 49 seconds to go ahead 24-21 with just 19 seconds remaining. On the ensuing kickoff, UCA had a holding penalty that put them back at their own 17. Four plays later the Bears (7-3, 4-1) had a monumental victory that keeps their hopes alive for a United Athletic Conference championship in the league's inaugural season.

EKU, which lost in overtime to Austin Peay last week, was picked first in the UAC preseason poll, with UCA second and Austin Peay third. The Bears travel to Clarksville, Tenn., next Saturday to take on APSU (8-2, 5-0) with the title and automatic bid to the FCS Playoffs on the line.

"I'm really at a loss for words," said UCA head coach Nathan Brown. "Just proud for our guys, our men that were a part of that. And I think the thing that's so special about a game like that is the ability to quit in a game like that. You have 18-19 seconds left, no timeouts, you have 88 yards to go. A lot of teams wouldn't put the ball where it needs to be, or wouldn't make the play when it mattered the most, or whatever that looks like.

"But these guys just kept fighting. I thought this year, that possibly we had won every single way you could win a football game, whether it's comebacks, blowouts, holding on to a lead, delays. But that may have topped it all."

The Bears finished with 419 yards of total offense, with McElvain completing 27 of 44 passes for 291 yards and three scores. His 63rd career touchdown pass may have been his best ever. McElvain connected with Trustin Oliver on first down for 37 yards down the left sideline, putting the Bears at the EKU 46. Two incompletions to Oliver and Barnes followed, one that Barnes just missed over the middle which may have actually used up all the time on the clock had it been caught.

The final play was a planned tip ball that sophomore Kam Robinson went up and got a hand on, tipped it up in the air right to a closing Barnes, who secured it and dove across the goal line in a pile of players. A lengthy official's review confirmed the game-winning touchdown.