26 May 2021

Bears finish season with win over McNeese

CONWAY — The University of Central Arkansas Bears did their part last Saturday by beating the McNeese Cowboys 5-4 in the regular-season finale and Senior Day at Bear Stadium.

They needed some help from the UIW Cardinals against Lamar to earn their 11th straight berth in next week's Southland Conference Tournament. They did not get that as Lamar won and earned the final spot in the eight-team field. The Bears (23-28, 18-22) had to settle for a season-ending victory as they capped the careers of eight seniors in front of a crowd of more than 400.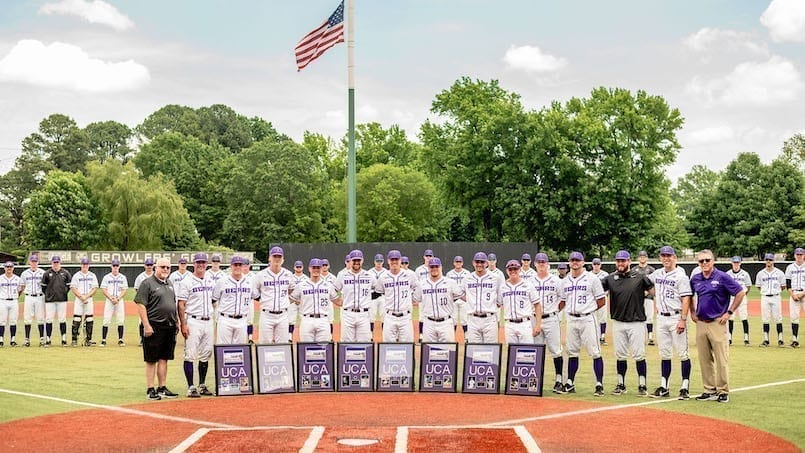 The Bears, who split the series with the Cowboys, got a big-time performance on the mound from junior right hander Logan Gilbertson, who went a career-high eight innings, a career-high 138 pitches and left with a 5-4 lead with two on and no outs in the ninth. Senior Brad Verel came on and got a line drive to left fielder Kolby Johnson, a ground out to shortstop R.J. Pearson and ended the game with a strikeout to earn his first save.
The Bears put together 10 hits against six different McNeese pitchers, with senior Coby Potvin closing out his career with a 4-for-4 outing. Leadoff batter Connor Emmet finished 3 for 4 and scored four of UCA's five runs. Junior third baseman A.J. Mendolia was 1 for 1 with a pair of RBI's and four walks.
The Bears went ahead for good in the bottom of the first inning when Mendolia singled up the middle off McNeese starter Ty Abraham to score Emmet, who led off the inning with a base hit. UCA made it a 2-0 lead in the third when Emmet and Potvin had consecutive base hits and Mendolia walked to load the bases. Kolby Johnson beat out a two-out infield single to score Emmet.
The Bears got another single run in the fifth when Emmet led off with a double, Potvin followed with a bunt single and Emmet scored on a wild pitch. After the Cowboys put a run in the top of the sixth, UCA added two more in the bottom of the inning with consecutive bases-loaded walks to Mendolia and Rylan Meek, making it a 5-1 margin.
The Cowboys, who were already in the tournament field, chipped away with a pair of runs in the eighth and one more in the ninth before Verel closed it out. 
SENIOR DAY:
Eight seniors closed out their careers on Saturday for the Bears. They were: 1B Coby Potvin (Belton, Texas), OF Alonso Bibiano (Ellensburg, Wash.), third baseman Beau Orlando (Houston, Texas), shortstop Christian Brasher (Fort Smith, Ark.), pitcher Brad Verel (Broken Arrow, Okla.), catcher Nathaniel Sagdahl (Federal Way, Wash.), pitcher Conner Williams (Conway, Ark.) and pitcher Mark Moyer (Russellville, Ark.).
Potvin played in 98 career games, with 39 starts, is UCA's leading hitter this season at .361 and finished with a .319 career average.
Bibiano played in 57 career games with 36 starts and hit .278 with a .444 slugging percentage as a senior, with help from a pinch-hit grand slam vs. Tarleton State.
Orlando played in 111 career games at either third base or catcher (102 starts) and finished as a .296 career hitter with 107 hits, 62 runs scored and 59 RBI. He also drew 73 walks, which ranks ninth in school history.
Brasher played in 88 career games (66 starts) and recorded 52 hits, 31 RBI and 34 runs scored. He started 44 games in 2019 and had career highs of 36 hits and 18 RBI.
Verel, a versatile left-handed pitcher, made 39 career appearances and recorded seven victories. He pitched 88.2 innings and had 70 strikeouts and was 2-1 as a senior.
Sagadahl has consistently been one of the top defensive catchers in the Southland, throwing out 44 of 83 baserunners (53%) over his 105 career games (97 starts). He also had 53 hits and 36 RBI in his career.
Williams has been a starter, middle reliever and closer throughout his career, He is tied for fourth in career appearances (69), tied for third in career saves (9) and has recorded 147 strikeouts in 131 innings. He led the SLC in saves in 2020 with 6 in just eight appearances.
Moyer has his name in the UCA record book numerous times encompassing his career as a starter and closer. He tied the school record for victories on May 20 with 22, and is third in career appearances (71) and starts (44), fourth in innings pitched (278.1) and fifth in career strikeouts (211).