17 Nov 2021

Balanced scoring, defense lead Sugar Bears to rout Hendrix

CONWAY — The Sugar Bears rebounded from Tuesday's loss to post their first win of the season Friday night, defeating Hendrix College 74-35 to improve to 1-1 on the young season. Lucy Ibeh posted 18 points and nine rebounds, while freshman Randrea Wright scored 15 points on 7-of-10 shooting to lead the way.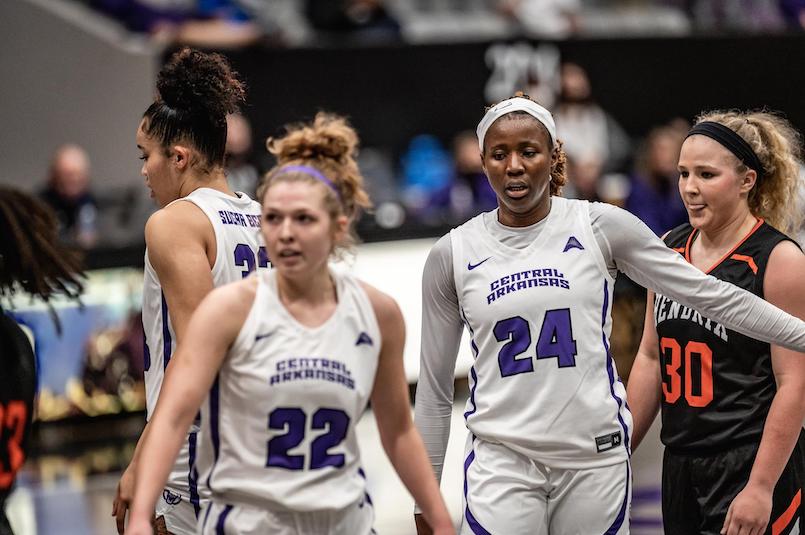 Playing for the first time this season on the newly renamed Scottie Pippen Court, the Central Arkansas Sugar Bears routed the Hendrix College Warriors behind balanced play across the roster. Four Sugar Bears scored in double figures and all but two players scored in the contest.

Hendrix came out of the gates quickly, knocking down its first three shots of the first quarter to take a 7-4 lead. UCA stormed back with an 20-3 run to finish the period, jumping out in front and never looking back. Ibeh scored 14 of her 18 in the quarter, helping the Sugar Bears to a 24-10 lead.

The offense continued to flow for UCA in the second quarter. Five scorers got involved in the stanza, including Hannah Langhi, seeing the court for the first time this season after missing the opener against Kansas State. Langhi finished with 11 points on 5-for-5 shooting, knocking down a free throw to reach 11.

Both teams opened the bench in the second half as the lead grew, getting a look across the roster. UCA received contributions from numerous players, including a four point, four assist, four rebound night from Rita James.

The Sugar Bear defense, to its immense credit, never let up, with each wave of substitutions showing that defensive focus can be maintained at all times. After allowing a game-high 12 points in the third quarter from the Warriors, UCA responded by allowing just four points in the final quarter. Central Arkansas held Hendrix to a pair of single-digit scoring quarters, marking the first time a team has scored less than ten points in multiple quarters since Southeastern Louisiana scored nine in the first and eight in the third quarters on March 3rd of last season.