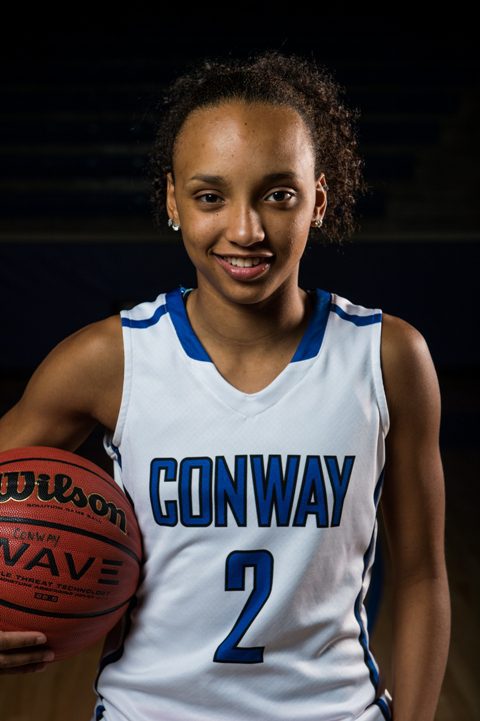 13 Jan

A dynamic talent – Conway's Alexis Tolefree

by Levi Gilbert


The Conway Lady Wampus Cats are 16-1, and dynamic senior Alexis Tolefree is leading the way on the floor, in the classroom and in the city.


To close out her high school basketball career, the senior guard has her eyes set on a rare feat — returning to the state championship game for the third-straight time.


"Lex has played in two state championship games, her sophomore and junior years," said Coach Ashley Nance. "She has also led us in scoring the last two years. She is a two-time all-state player. She has played a vital role the last two seasons."


Tolefree was selected to this year's 501 Basketball Team — 35 players representing the best the 501 has to offer both on and off the court. She was nominated by Nance.


"Lex is one of the best combo-guards in the state," Nance wrote in her nomination. "She is a great shooter, but also has the ability to finish around the rim and score in transition."


Heading into the Russellville game on Tuesday, Tolefree was averaging 27 points per game — a true offensive force for the Lady Cats. Conway went into Russellville and took out the undefeated Lady Cyclones, 66-52; Tolefree scored 29.


Earlier this season, Tolefree put up 48 points on North Little Rock. The Lady Cats scored 63 total points in the win.


"Alexis has been one of the most exciting scorers I've had the pleasure of watching play," said Jeff Matthews, play-by-play announcer for Conway Corp's 5 Sports. "It's impressive of course that she's averaging close to 30 points per game, but she's doing it while drawing the opponent's best defender night in and night out."


Although offense appears to come easily for Tolefree, the senior plays with a chip on her shoulder and grinds for every basket.


"Being smaller than 'average' players [has been a challenge]," Tolefree said. "My personal goal for this season is to beat the single season scoring record."


But it's not just all offense for Tolefree; the senior guard also leads the team in steals.


"Lex wants to perform her very best so that she will put the team in the best position to win," Nance said. "She does not like to let her teammates down and wants them to be successful as well. Lex is a fun-loving, energetic young lady. She can communicate with people of all ages and brings energy to the people around her.


"Lex is also a huge fan of all Conway Wampus Cat teams. You will see her at sporting events sitting on the front row cheering on the Wampus Cats!"


As dynamic a talent as Tolefree is on the court, it's her leadership talent that Nance says will make the difference this year.


"She has the ability to score a lot of points and be a special player, but our team's success will depend a lot on her ability to lead."


Off the court, Tolefree maintains a 3.4 GPA in the classroom and volunteers in Conway High's Caring Cats. She also volunteers her time at various basketball camps, "Little Dribbler" try-outs at local elementary schools and with the State Farm Dazzlers basketball teams.


"My favorite thing about living in the 501 is the close fan base we have here," Tolefree said.


In November, Tolefree signed a national letter of intent to play for the University of Central Arkansas, so Conway fans can look forward to more Tolefree in their future.


"I love that she is staying in Conway to play at UCA," Matthews said. "The Sugar Bear program is continuing its rise, and Coach Rushing is getting some of the most exciting players in the region and she found a great one across the street. Lex's game will translate very, very well to the Southland Conference."


The Lady Cats play host to Greenwood at 6 p.m. Friday.