31 Dec 2020

Women in Business 2020
Stories By Dwain Hebda
The Conway Area Chamber of Commerce's ninth annual Women in Business Awards was held on Dec. 8 at Reynolds Performance Hall on the UCA campus. The award recognizes those who have excelled in leadership, community service and inspired others. The Chamber opened nominations to the public, and women executives outside Conway selected the award recipients.
In addition to the awards, the ceremony featured an executive-level speaker. Arkansas native and CNN correspondent Jessica Dean spoke via Zoom. Then, five women were honored:
Crystal Kemp of Conway Corporation was named the 2020 Diamond Achievement Award recipient. This award is presented to a woman with at least 25 years of professional experience who has inspired and empowered many generations. It also acknowledges the positive impact her work has had on those in her profession and the community.
Four individuals were named 2020 Outstanding Women in Business. The honorees embody high standards of excellence, dedication, and accomplishment in their respective organizations, industries and the business community. They include:
Vickie Crutchfield of Arkansas Property Brokers, Julie Goodnight of Julie's Sweet Shoppe, Cate McConnell of Smith Ford, and Denise Perry of Sandstone Real Estate Group.
The 2020 Outstanding Woman in Nonprofit is Dr. Shaneil Ealy of UCA's Division of Outreach and Community Engagement.
In the following pages, each lady is profiled, offering insight into the people and events that inspired her to become excellent in her profession and to give back .
Diamond Achievement Award – Crystal Kemp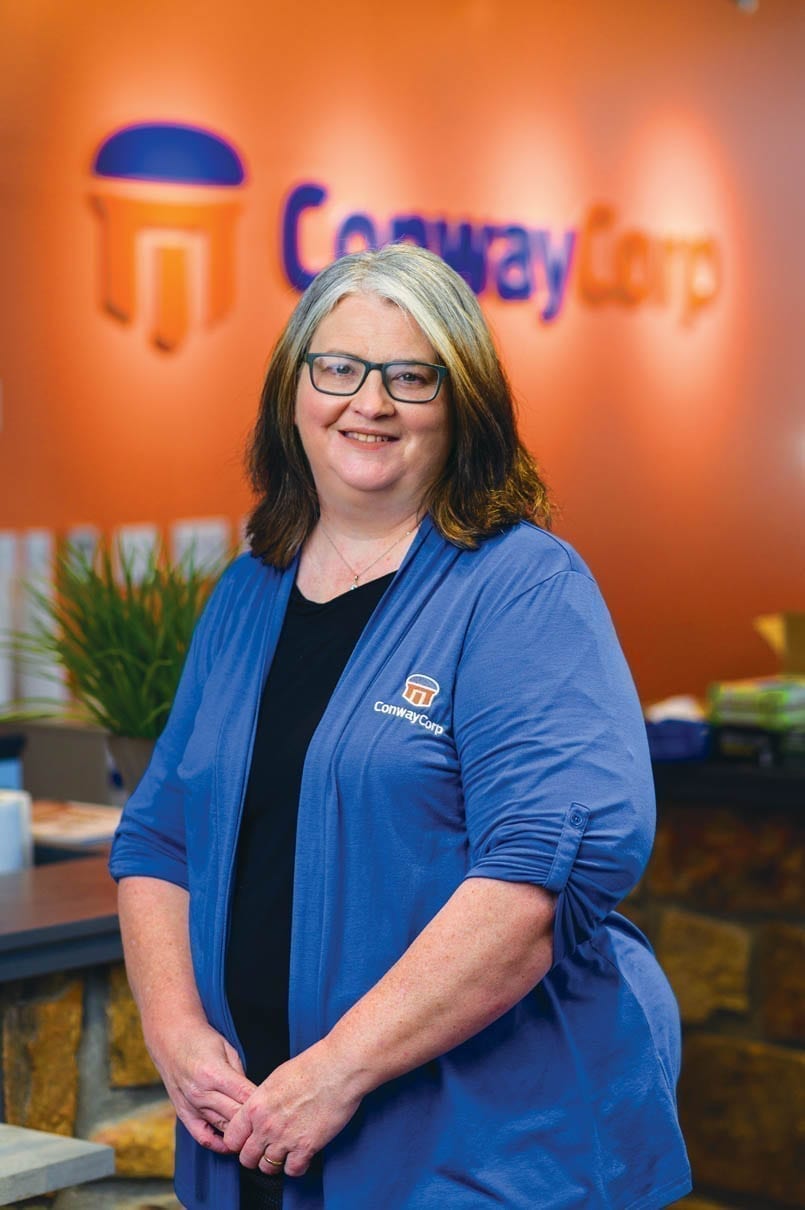 For nearly 30 years, Crystal Kemp has been a vital part of the Conway business community. For 20 of those years, she's been in marketing positions with Conway Corporation, moving into her current role of Chief Marketing Officer nearly three years ago. 
Besides being chosen as the Diamond Achievement Award honoree, she was recently named to Cablefax Magazine's annual list of powerful women in the cable and internet industry for 2020. Kemp is featured in the marketing category of the publication's "Most Powerful Women 2020" issue published Dec. 4. Cablefax Magazine provides coverage of business developments affecting the cable, broadband and digital markets.
"The issue is filled with fearless leaders who have not only persisted, but have thrived during this challenging year. Many have helped others along the way," Cablefax Editorial Director Amy Maclean said.
When asked about her proudest moment during the pandemic, Kemp told Cablefax editors, "I am proud of how our teams rose to the occasion to serve our customers and one another while adjusting to a whole new way of delivering service. I have truly felt honored to serve our teams in any way I can — going to work every day to make sure they had what they needed to be safe and to effectively serve our customers. It has been one of the most challenging and also rewarding of my leadership experiences."
Throughout her career, Kemp has placed a premium on leadership development, both for herself and in others. She is a 1995 graduate of the Faulkner County Leadership Institute, and with other alumni of the program, created the Faulkner County Youth Leadership Institute program, where she still serves as a session leader and committee member.
"I loved being in that [Leadership Institute] class, but as we went through that experience, it occurred to us that you had to be at least 25 years old to go through the program," she said. "We thought, what would happen if high school students were exposed to the things that we're being exposed to in the community? We just felt like, as a class, that was something that we could do.
"I don't know what it is about the program, but I just love being involved with it. I still, now, all these 25 years later, volunteer with the program. It's just been a great experience for me to see teenagers discover where they plug into our community."
Kemp's other service work includes more than 18 years as a Girl Scout leader, and past and present seats on the boards of United Way of Central Arkansas and Conway Kiwanis Club. In the latter club, she earned Kiwanian of the Year in 2000 and served as the club's first female president.
Mentoring so many individuals, both professionally and through her community service work, has been particularly rewarding, Kemp said.
"I have several quotes hanging at my desk. One of them is from Shirley Chisholm that says, 'If they don't give you a seat at the table, bring a folding chair.' That's something that I remind myself – that it's easy to get discouraged," she said.
"As a woman in business, sometimes you have to push, so surround yourself with people that can help you with that and encourage you to do that. And, don't be afraid to bring your folding chair." 
Vickie Crutchfield – 2020 Outstanding Women in Business Honoree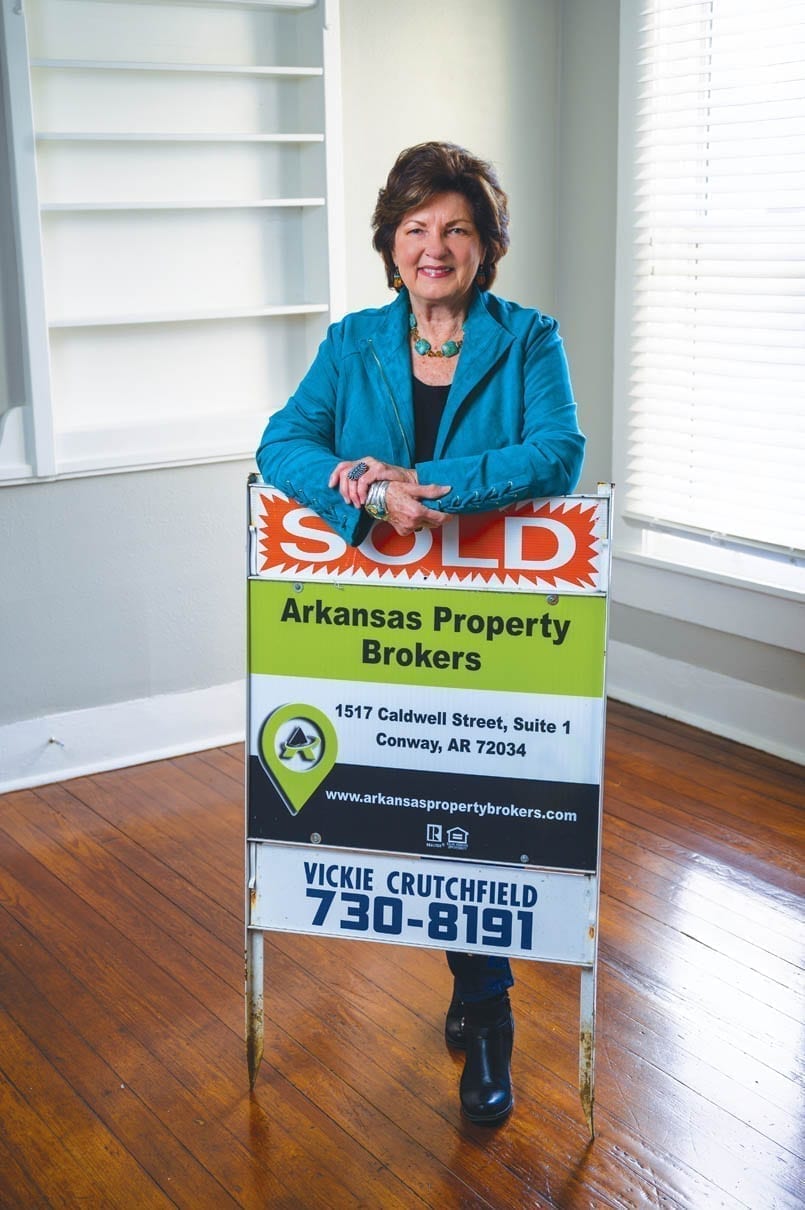 A real estate professional for more than 25 years, Vickie Crutchfield is a well-known and respected figure in the local business community. In addition to serving countless clients with care and concern, she's also been a driving force in the local real estate industry overall. 
"I've loved almost every minute of my career in this business," she said. "It's been a great ride."
Crutchfield learned the ropes of real estate early via her parents who were in the residential construction business in Texas. Once Vickie got her general contractors license, her parents made her a partner in the family firm, Hudson and Hudson Builders. Together, they built "green" homes before it was popular under the motto "A Family Building Homes for Families." She remembers that time as a great learning experience.
"My dad was always way ahead of his time," she said. "A true entrepreneur, he set me up with building our last house for the company so he could watch what I did to make sure I understood the process. He fired me three times."
Vickie's father always wanted her to become a real estate professional, but passed away before he knew she'd become one in Arkansas. In his place, she found another essential mentor who helped her earn her wings.
"Hands down, my role models were my dad and mom, but my first broker, Dick Longing, was the best person ever to train me and be my mentor," she said. "He was very methodical and he also schooled us to learn about lenders, title companies, inspectors and vendors. He and his wife Janie were always there to support us. I really owe my success to them for giving me a firm foundation in real estate."
Crutchfield has repaid that mentorship several times over by serving her industry, up-and-coming real estate professionals and the community at large. She's mentored several peers in their formative stages to encourage them to achieve success as owners of their own businesses.
Under her leadership of the Faulkner County Board of Realtors, the Community Charity Committee took shape. Today, that body recognizes a local charity with a monetary gift each year, allowing local Realtors® to give back to the community that keeps them in business.
"My advice for anyone going into the business, and not just young women, is to choose a real estate agency that has a follow-up education program after your initial required hours by ARA and the Real Estate Commission," she said.
"My best advice is to love your profession so it can take you through the highs and the lows a real estate career throws at you."
Outside of work, Crutchfield devoted time over the past 10 years to the Friends of the Faulkner County Animal Shelter initiative, which works to rescue and transport animals and has a goal of building a shelter to serve the needs of Faulkner County.
Denise Perry – 2020 Outstanding Women in Business Honoree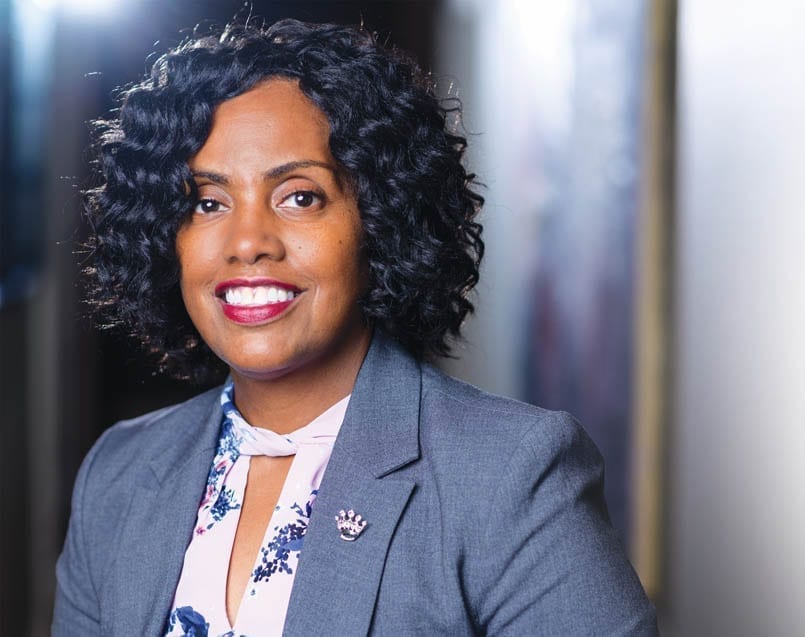 Education has always been central to Denise Parry's career, whether it's teaching fourth grade at Ellen Smith Elementary School for over 16 years, educating prospective buyers and sellers as a realtor with the first minority-owned real estate company in the area or, as executive broker, training and mentoring fellow agents, helping them achieve their goals and serve clients.
"At the beginning of my real estate career and throughout, I took every opportunity to learn from my brokers, the late Greg Hunt, Korry Garrett, and Rhonda Bletsh," she said. "And, I received my broker training from the National School of Real Estate under Stephanie Guinn."
"During these past 11 years, I've tried to soak in as much knowledge in real estate as I could. Every transaction that I work and
every time I get to assist a fellow agent is a learning opportunity. I want to be the
best Realtor® and executive broker I can be."
Perry said another indispensable part of her professional training came from her parents, who taught her by example the lessons of a strong work ethic and overcoming obstacles to reach and exceed goals.
"My mom was a teacher for almost 30 years and my dad retired from Kimberly Clark Corporation," she said. "They provided a wonderful life for my brother and I, while always encouraging us to be college graduates and provide for our families. I appreciate the examples that they set and I can't thank them enough for the Christian foundation they provided."
Perry said being recognized as an Outstanding Woman in Business is all the sweeter for having built a career from the ground floor at such a landmark company.
"I love being a part of the largest minority-owned real estate company in Central Arkansas. I'm very proud of the company we are continuing to become. The sky's the limit of what we can be," she said. "I'm so honored and grateful to be chosen as one of the Outstanding Women in Business 2020. Being named into this group of distinguished women is beyond belief, it's pretty darn awesome."
Perry continues to pursue her passion for providing for the artistic, academic and professional development of others. She volunteers with the Reynolds Performance Hall Community Council's Main Stage Education Series, which offers educational performances to local students throughout the school year. She serves on the Conway Corporation Board of Directors, the first African-American woman to do so, and sits on the Conway Area Chamber of Commerce's Strategic Planning Steering Committee.
Her advice to the next generation: Show faith in yourself and others will follow suit.
"The advice I would offer younger women in business is to always believe that you can accomplish your goals with hard work and the right opportunities," she said. "Preparation is the key; you can have the perfect opportunities, but if you aren't prepared, success will be difficult. Hard work and consistency will pay off if you have a vision and surround yourself with good people that want to see you succeed."
Cate McConnell – 2020 Outstanding Women in Business Honoree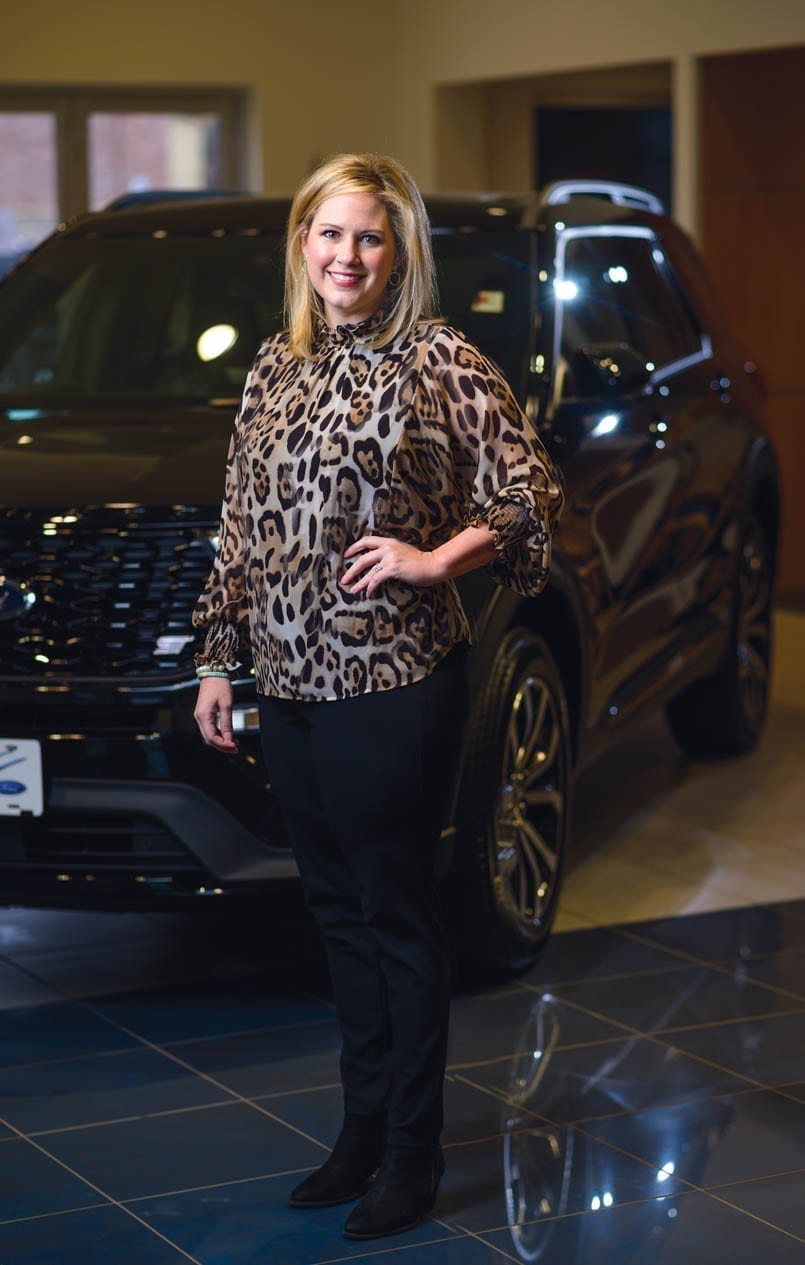 Cate McConnell said she never imagined she'd one day return to take over the family business her great-grandfather started more than a century ago. Now, as office manager for Smith Ford, she says she can't imagine a career anyplace else.
"I have been coming to Smith Ford since I was a little girl, since both of my parents work here, so part of me has been preparing for this job forever," she said. "With Conway and Central Arkansas's continuing growth, there are so many opportunities for women to thrive in all businesses. I am so glad that I have been here for over 10 years."
As office manager, McConnell assists with countless aspects of the dealership and is known for always projecting a positive attitude, whether it be in leading her team or working with customers to provide them quality service. Her work ethic and attention to detail are things she learned at the elbow of several valuable mentors growing up.
"I am very fortunate to have had a lot of role models within my family," she said. "My mother has worked for as long as I can remember; she had a career and raised a family. I think my brother and I turned out pretty good. 
"Also, hearing the stories about my great-great grandmother Ellen Smith would inspire anyone. She was the first woman elected to the school board and has an elementary school named after her. I am told Ellen would go to the schools to make sure all the students had enough food. She would even make soup and bring it to the children."  
In addition to her work responsibilities, McConnell also learned the value of community service from her long line of mentors. She has ensured Smith Ford continues its support of local initiatives by providing support and auction items to local schools, churches and hospital fundraisers. She and her family also support the United Way of Central Arkansas and she has served on the boards for both United Way and the Conway Area Chamber of Commerce.
Between her professional success and active community service schedule, McConnell has continued her family tradition of being a a mentor and role model for others in the business community, particularly women. She said the secrets to success are as relevant today as they were in her great-great grandmother's day. 
"Being a woman in business can be hard sometimes, but it is very rewarding," she said. "Be sure to always stay true to yourself and work hard. Having a great work ethic will help you succeed in any business. I worked at a trucking company after college and learned how to work with all different types of people."
"It is such an honor to be chosen for this award from among all of the wonderful business women we have here in Central Arkansas. There are so many wonderful deserving women in business in our area it makes this honor even more exciting."
Julie Goodnight – 2020 Outstanding Women in Business Honoree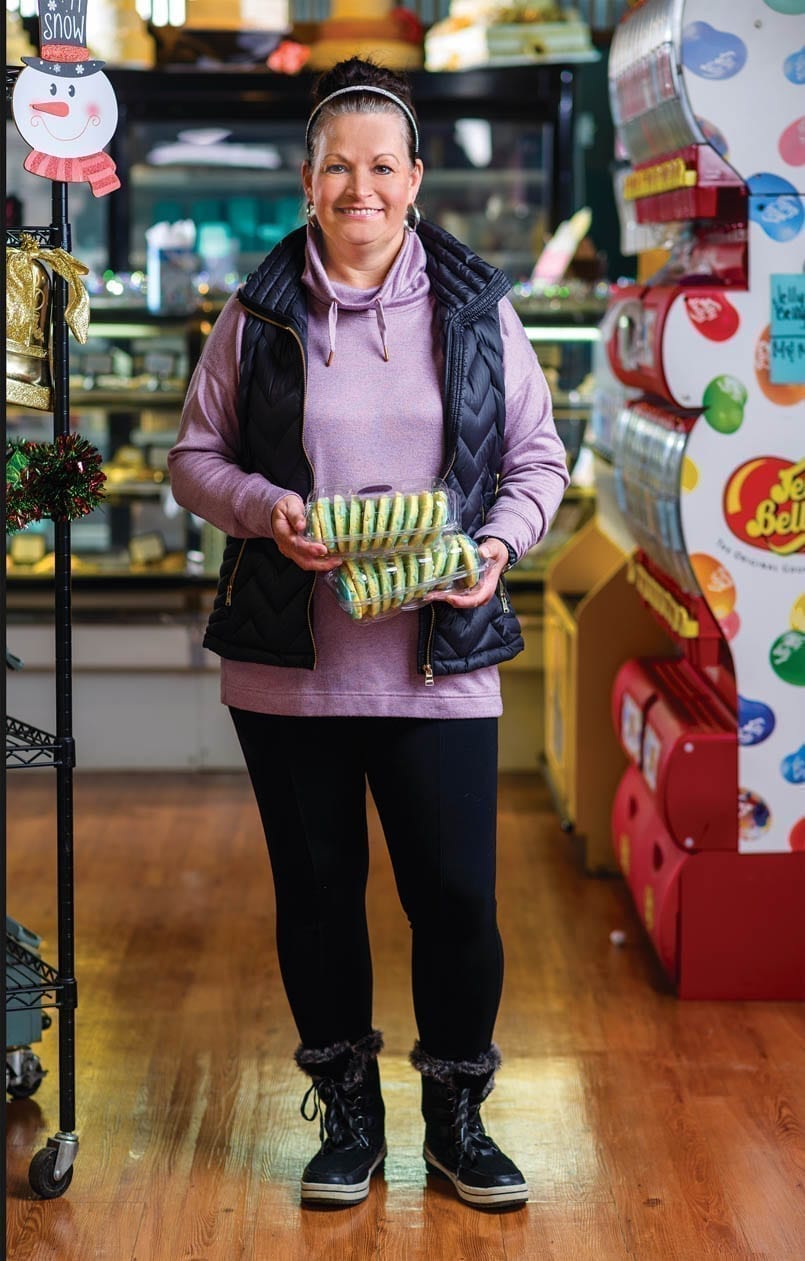 On any given morning, Julie's Sweet Shop is humming with activity. Regulars chat up current events as the smell of coffee and fresh-baked goods fills the air. It's more than a business, it's an entire community, which is exactly what owner Julie Goodnight envisioned for the beloved bakery.
"My daily regulars, also known as my 'Bakery Dads' are my biggest fans," she said. "They motivate me to be the best person I can be. Much love is shared in our daily conversations together, including them sharing their wisdom with me, and I wouldn't trade that for anything."
Fellowship is just one menu item that Goodnight has perfected in the course of her bakery career, her skill in the kitchen being equally legendary as she turns out one delicious creation after another. Julie's passion for perfection is contagious and she spends countless hours behind the scenes to inspire and mentor her team, always holding those around her to a high standard of excellence in their professional and personal lives.
"In 34 years, a lot of people have taken the time to invest in me," she said. "They've all shared their experiences and guided me throughout my early years helping me to grow into the bakery girl I am today.
"My advice for younger women in business is to set your goals high, stay strong in your faith and never give up on your dreams."
In the more than three decades she's been in the bakery business, Goodnight was inspired and tutored in her bakery work life by her father and grandmother, hard-working, dedicated employees of Kohler's Bakery in North Little Rock. Later, she was mentored by legendary cake decorators Delila Reed and Barbara Martin of the landmark Simons Grocery.
While few can match her well-honed technical aspects of her craft, the true joy of her work is being included in her customer's special events
"I love the customers for whom I've made their wedding cake, then made their children's and grandchildren's cakes and wedding cakes," she said. "That's a very rewarding part of what I get to do every day."
Goodnight passes along the good vibes through her work supporting various community organizations. She's devoted countless hours and baked goods to local groups such as Soul Food Café, Bethlehem House, Haven House and Blackbird Collective. As well, her Veterans Day celebration, held annually for the past 20 years, is the stuff of legend.
Her selection as an Outstanding Woman in Business has been met with customary humility ("I was totally shocked," she said) and is considered the icing on the cake for a woman who has made a career out of serving others.
"I have a great family who stands behind me in all bakery decisions, which makes my world a lot easier to handle," she said. "I've only known bakery work for the last 34 years and I'm still going strong. Best life ever." 
Outstanding Woman in Nonprofit – Dr. Shaneil Ealy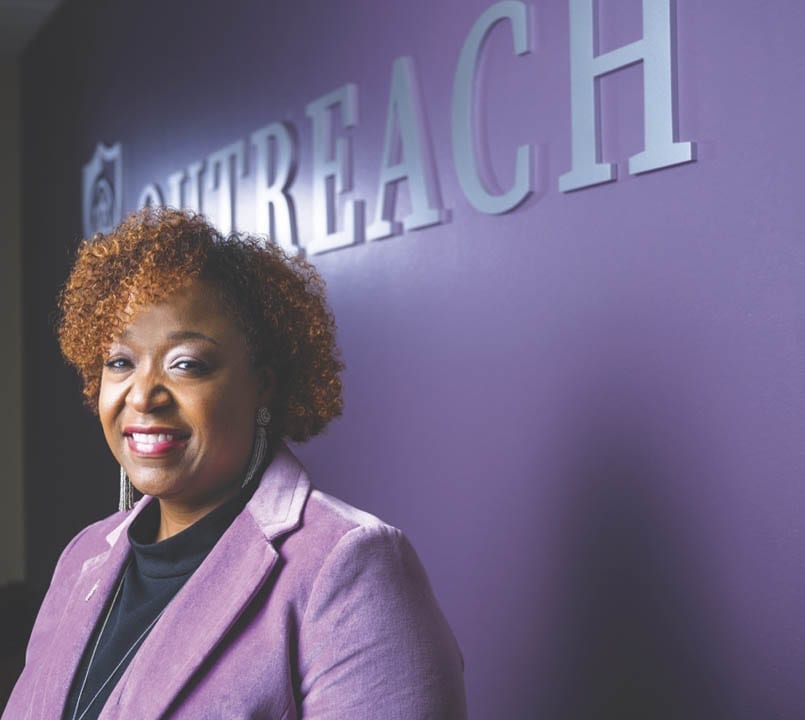 When asked her reaction over having been named the 2020 Outstanding Woman in Nonprofit, Dr. Shaneil Ealy confessed to being taken aback by the honor. 
"I was busy nominating other deserving women when I got the message that I myself had been nominated," she said. "I was completely shocked and humbled to even be nominated. In fact, I'm still processing the fact that I actually won."
Ealy, a Conway native, holds a bachelor's degree in business from the University of Arkansas, a Master of Business Administration from UCA and an Ed.D. in Higher Education Administration from the University of Arkansas Little Rock. She has been a valued member of the University of Central Arkansas team for the past 17 years, climbing through the ranks to the role of associate vice president.
"I fell in love with higher education more than 17 years ago and it actually chose me as a career," she said. "I am so blessed to have a meaningful career in outreach and am fortunate to work alongside some brilliant individuals who are passionate about our community."
In her role, she leads her team in the Division of Outreach and Community Engagement to interact daily with the next generation of community leaders, providing them the tools they need to compete and excel.
"Outreach connects the campus with the community and we empower people, both young and seasoned, through customized training, coding programs and online certifications," she said. "We mobilize our students to make an impact in our community through service learning and volunteerism. We equip community leaders with the resources they need to create vibrant communities and we provide full-service event planning. Our work is significant and relevant to the needs of our university and community, not to mention quite fulfilling."
The responsibilities that fall under Ealy's professional umbrella seamlessly overlap with the many community initiatives to which she devotes her time, both personally and professionally. She holds leadership roles for the Conway Area Youth Leadership Institute, Conway Downtown Partnership, Minority Business Task Force and Conway Public Schools Foundation, to name a few entities that have benefited from her experience and expertise.
One initiative that holds special meaning for her is the UCA Women's Leadership Network, of which she is a founder. Through this group, Ealy has shown a personal commitment to advocating for others, connecting people with resources and like-minded mentors, elevating the student experience and investing in her community.
"I am so grateful to be in a position and serve in a university that recognizes the importance of diversity and allows me to fulfill my passion of elevating, empowering and embracing women through our Women's Leadership Network," she said. "I hope to create a legacy of 'leadHERship' along this journey."
To top things off, Ealy is also a successful businesswoman, owner of two diesel repair companies in Conway and Little Rock with her husband.
"My advice to young women in business is, 'You are enough,'" she said. "Don't ever dim your light for others. Take the shot!"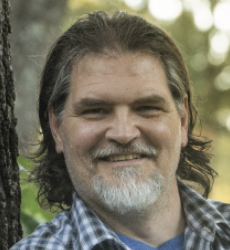 Latest posts by Dwain Hebda
(see all)