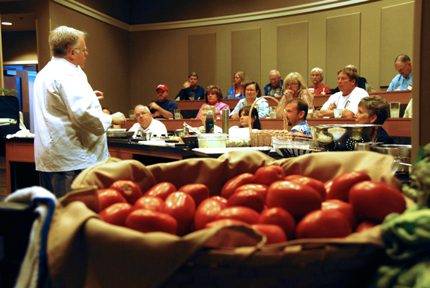 21 May 2012

Winthrop Rockefeller Institute announces events in June

Posted at 2:45 PMh

in

News

The Winthrop Rockefeller Institute atop Petit Jean Mountain has a special event and two culinary classes scheduled in June.

Philanthropy Conference
Friday, June 1, and Saturday, June 2


This annual event highlights the enormous role of the Rockefeller family on the development of philanthropy over more than a century and the pioneering role Winthrop Rockefeller played in stimulating philanthropy in Arkansas.


In addition, the program will examine current trends in philanthropy and how social entrepreneurs and new technologies are evolving and spreading a culture of giving.


The event includes a distinguished lecture with David Rockefeller Jr. and reception in the River Rock Grill.


For more information or to RSVP, contact Ashley Snellenberger at [email protected] or 501.727.6220.


Culinary classes:


'Cooking Basics'
Mary Twedt – Saturday, June 9


Mary will be leading a class for the beginners. The class will be cooking a meal from start to finish using basics like pork tenderloin and rice. She also shows the class how to make a great salad and simple summer dessert.


'Appealing Appetizers'
Mary Twedt – Saturday, June 23


Mary will start with simple bite-size goodies that will please any party. Learn how to set up an appealing cheese tray and also how to take simple foods like jams and spreads and make an appetizer that will wow the crowds.


The "Made from Scratch" Culinary Workshops offer every "cheficinado" an opportunity to test out and develop new skills and techniques by attending a wholesome, hands-on cooking class at Winthrop Rockefeller Institute.


Classes are from 10 a.m.-3 p.m. and are $80 per person. To register for a class, visit the website at livethelegacy.org, or for more information contact Robert Hall, CEC, Executive Chef/Culinary Director at the Winthrop Rockefeller Institute at 501.727.5435.