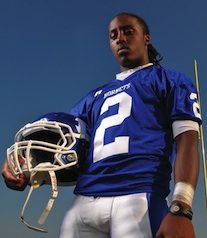 16 Nov

Winfrey unselfish for the Hornets

by Levi Gilbert


Dillion Winfrey is one of those football players that every coach would love to have on their team.


Winfrey, a senior for Bryant, did it all for coach Paul Calley's Hornets. He touched every aspect of the game – he's a speedy wide receiver, a lockdown defensive back and a skillful returner on kickoffs and punts.
"Dillion plays with a tremendous amount of heart and intensity," Calley said. "He is one of few players in 7A that plays almost every snap during a game. He starts at receiver and corner and excels on every special team."

But it's not just Winfrey's contributions on the field that make him such a valuable member of the Hornets; his spirit in the locker room, classroom and community are just as – if not more – important.

"He is a very polite and humble young man that leads by example," Calley said. "He's an honest and caring person that wants to help others, and he has a great attitude to go along with a tremendous work ethic.

"He has a willingness to tutor teammates that may be struggling in subjects that he is strong in. He has also been praised by one of Bryant's history teachers that has 34 years experience – and this is a teacher that never brags on anyone."

Winfrey is one of the 17 players named to the inaugural 501 Football Team. 501 Football honorees were nominated by their coaches and selected by the 501 staff. Nominations were made based equally between a player's contribution on the field as well as off the field.

"What I enjoy most about football is the game itself," Winfrey said. "The game is one huge emotion for me. It helps me to relieve depression, anger, frustration and confusion into an atmosphere that for a period of time is my home and peacemaker.

"My favorite football memory is when I signed up for my first football team in little league."
In 2010, Winfrey had 24 receptions for 358 yards and four touchdowns; 55 tackles and two interceptions; eight special team tackles; six punt returns for 132 yards; and six kickoff returns for 211 yards and a touchdown.

"Dillion is a fierce competitor, but he always conducts himself with class," Calley said. "He is one that makes a lot of big plays without all the 'showboating' we often see. He sacrifices what could be gaudy stats on offense to help his team on defense and special teams. I categorize him as one of the most unselfish players I've ever coached.

"Dillion never complains about being spread so thin. He just continues to work hard. His practice time is cut in half on both sides of the ball during the week because we have two platoons, yet he continues to excel with half the prep time. He is a sheer joy to be around each day. Kids like him are the reason I do what I do!"

The Hornets fell in the first round of the playoffs last week in a thriller against Ft. Smith Northside, 42-35.