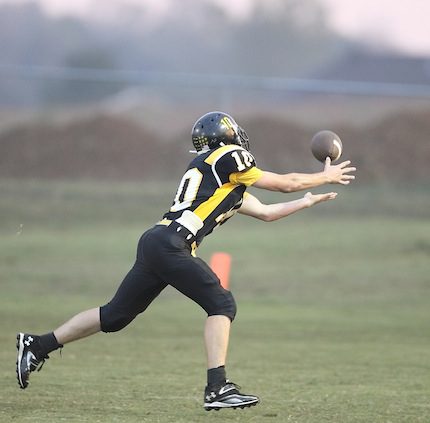 31 Oct 2012

'Whatever it takes to win' – Quitman's Chase Stewart

by Mark Oliver


Coming off the team's first winning season in school history, the Quitman Bulldogs set a new goal for 2012: making a run at the 2A state championship. However, with a 1-5 conference record, Quitman will miss the 2A playoffs this season.

Reeling from a four-game losing streak, the Bulldogs (3-6, 1-5) travel to winless Mountain Pine tonight in an attempt to end the season on a winning note. It will also be the final time senior wide receiver and defensive back Chase Stewart takes the field in his Bulldogs uniform.


"I have to hone my mind and play hard," Stewart said. "I'm going to try not to drop any footballs thrown my way and cover my area like I'm supposed to. We have a fast-paced hurry-up offense. We'll throw the football a lot and try to keep them off balance."


Stewart is a member of the 2012 501 Football Team – 20 players representing all 11 counties in the 501.

The team boasts the best the 501 has to offer both on and off the field. He was nominated by his coach, Fritz Heidenreich.
"Chase plays hard every play," Heidenreich said. "He hustles even when he is not getting the ball. He is one of our most aggressive players. We never question whether Chase is giving his all. He will do whatever it takes to win. He doesn't care if he is the star; he just wants to win."

In a career filled with memories, one of Stewart's favorite moments comes from the 2010 season.

"Two years ago, right before halftime against Poyen, I had a one-handed interception return for a touchdown," Stewart said. "There's a video of it and everything. It was really cool."

"He has a knack for making plays," Heidenreich said. "He is a go-to receiver and a leader in the secondary."

Although his high school football days may be coming to a close, Stewart's athleticism lives on in other sports at Quitman High School.

"I play basketball and run track," Stewart said. "I can play anywhere on the basketball court and I run the 400m, 800m, and mile."
Stewart also excels in the classroom and is involved with Beta Club and SkillsUSA.

"He is a good student," Heidenreich said. "His GPA is approximately 3.5 and he is nice to his fellow students. He is a reader to our elementary students and is involved in other sports."

Aside from academics and athletics, Stewart is a fan of the great outdoors atmosphere the 501 offers.

"I love the climate and temperature," Stewart said. "In the summer, I'll go to the lake with friends or just hang out around town. You don't have to dress up too warm a lot, you can just go hang out and do whatever here. Wherever there's a campfire or bonfire, I'm there."