11 Mar 2020

Wampus Cats face Central for 6A basketball championship

Facing a daunting path through the 6A state tournament in Bryant, the Conway Wampus Cats ripped off three wins in four days — including a victory over the No. 1 team in the state — to earn a trip to Hot Springs for a 6A championship matchup at 7:45 p.m. Saturday against Central.

"All year, we've sat here and said we're good enough to beat anybody, but our margin for error's just not as big," said Salty Longing, Conway Wampus Cat head coach. "We can beat anyone when we play the way we're capable."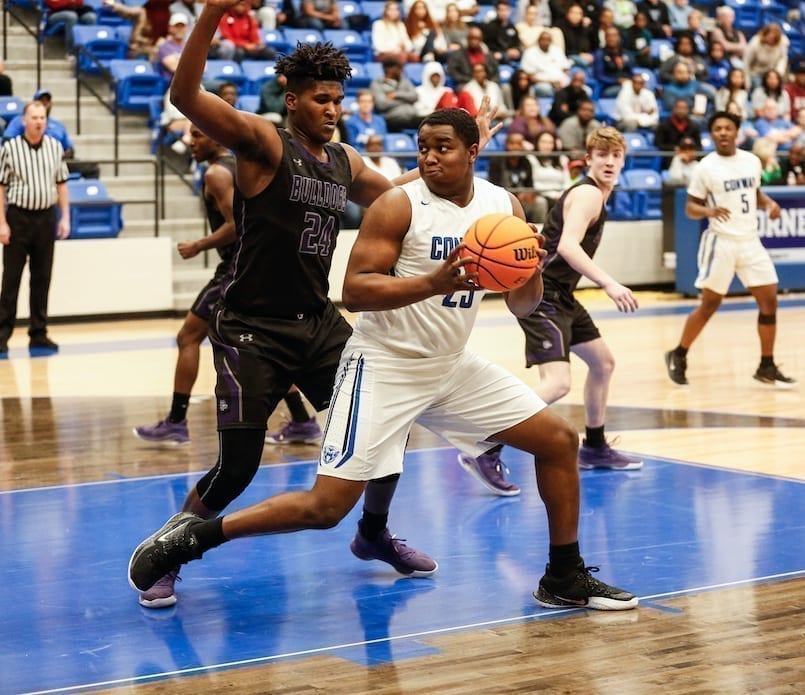 On paper, Conway getting into the finals as a No. 5 seed out of the 6A Central seemed unlikely, but this Wampus Cat team was just one win away from being the No. 2 seed. A loss to Bryant on the final night of conference action left Conway, Bryant and Central in a three-way tie for spots three through five, and Conway fell to five due to tiebreakers. 
"Everyone has asked me if I'm shocked — no one expected this," Longing said. "Well, yeah, we weren't reserving our rooms in Hot Springs a month ago, but when you run through that 14-game schedule in our conference, we were just thinking, 'Just get in and see what you can do.'"
But because the Wampus Cats dropped to the No. 5 seed, they faced a seemingly insurmountable road to Hot Springs.
"Talking to coaches going into the tournament, we were hearing that you don't want to face Bentonville right now," Longing said. "They are the hottest team going into the tournament. And North Little Rock and Fayetteville are the most talented. So there was our path — the hottest team and the two most talented teams. We told the kids that we've got a one-game season every night in the state tournament. If you just go one at a time, it doesn't seem so impossible. The kids were great. The focus. It's surreal."
The Wampus Cats opened the state tournament with a shaky performance against Bentonville. Conway trailed by nine points at halftime on a cold shooting first half. Little by little, Conway mounted a comeback and took the lead in the final seconds, closing out Bentonville 49-48. Senior Trey Tull led the Cats with 17 points.
"We don't advance without Trey against Bentonville," Longing said. "He carried us that third quarter and into the middle of the fourth quarter. You're talking about a guy who is a two-year starter at point guard and had the experience of starting in those state tournament games last year. That experience has got to be a factor. He averaged 19 points a game in the state tournament. He was averaging 10 going in. And we had to have every one of them."
Two nights later, Tull dropped 26 points against No. 1 ranked North Little Rock, and senior Caleb London had 20 points and 12 rebounds. The Wampus Cats defeated the Charging Wildcats, 72-57, in a game that was never in doubt for Conway. The Wampus Cats shot 71.4 percent from the field. Conway not only won, but they expected to win.
"We had a day off between Bentonville and North Little Rock, and that day in practice, I just knew we were going to play well. You could just feel it," Longing said. "They brought a small cake. I saw Caleb carrying it, and I didn't know what it was for. I thought it must've been for a birthday or a treat or something. They had brought it for me. I got rushed after the game in the locker room and took it right up side the head. But all that was based on us beating North Little Rock that night. They never had a doubt."
The next night in the 6A semifinals, Conway combined lockdown defense with dominant post play to knock off Fayetteville, the No. 2 seed out of the 6A West, 55-48. Trailing by two points at halftime, the Wampus Cats held Fayetteville to six points in the third quarter and took the lead off back-to-back 3s from senior guard Lucas Foster.
"Lucas is so important to us because even when he's not shooting well, defenses still have to guard him," Longing said. "He stretches the defense for us. If Lucas is in the game, the defense can't help in the post. They have to guard Lucas. And he has been so good for us defensively this year. We typically start him on the better guards just because he is our best position defender. He's never in the wrong spot. Guys that move a lot without the ball, that's who he guards."
Junior center Jayden Williams gave his most dominant performance of the state tournament with 16 points, 13 rebounds, five blocks and four steals against the Bulldogs.
"Jayden has made us a different team," Longing said. "Jayden is probably the difference in why we're still playing right now. It's kind of hard to substantiate. It's uncanny — his ability. He's so agile. I've been here 20 years and never coached a better pair of hands in my life. It's unbelievable. It's elite-level hands. When he can't get a rebound clean, he can tip it. It's nothing you can coach. And he is a tremendous passer — as good a passer in the post that I've ever coached.
"The bigger threat he is down low, the more it opens things up for guys like Lucas, for Trey, for Caleb. Teams are now having to gear for him. I promise you they'll do block-out drills at Central all week to try to keep Jayden off the glass."
In the final minutes, the game became all about free throws as Fayetteville was forced to foul. Junior Bryce Bohanon, London and Tull clinched the game with some high-pressure free throws.
"Bryce is another level. His zero to 60 is so fast. It's really on both ends," Longing said. "We were really worried we weren't going to get him back from injury. He's been such a good addition for us in conference play. I really like him best as a breakdown guy. He gets to the lane, and it's so hard to contain him. He's shooting the ball better than I anticipated. I like him as a sixth man. Bringing his energy off the bench, he really fits that role really well."
After dropping 20 points on North Little Rock, London's offense was quieter against Fayetteville with only five points, but his rebounding, defense and passing provided a big lift for Conway.
"The first thing out of Caleb's mouth in the locker room — and I loved it — I'm hugging him and he's in my ear, and he says, 'They carried me tonight, Coach,'" Longing said. "As opposed to 'they didn't get me the ball enough' or 'they fouled me too much tonight.' He has so locked in the last two weeks on both ends of the floor. He's really turned it up, and he's had to. He had some huge assists. Against Fayetteville, he drove the baseline and had a wraparound bullet to Lucas for a 3, and it was a huge shot at the time.
"For him, it was whatever it took to win as opposed to trying to get 20 every night. His stat chart won't show what his numbers have shown throughout the course of the year, but he guarded, he rebounded, he got assists. He was a more complete player those three games in the state tournament."
Longing and the Wampus Cats got to the 6A semifinals a year ago, but were able to close the deal this time.
"Last year, there was a lot of pressure and expectations," Longing said. "Every win, you just felt relieved. There wasn't as much joy as there was relief. This year, when you get your maximum out of guys like Chase Boyd and Paul Harris and they've found their niche, and all the seniors get on the floor – it's very rare. This is a better team than last year. It's not near as talented and not near as athletic, but they're a better team."
But the ride isn't over. The Wampus Cats take on Central at 7:45 p.m. Saturday at Bank OZK Arena at the Hot Springs Convention Center. The Tigers beat Conway twice in 6A Central play this year.
"They've got four guards that can shoot and attack the rim. You can't crowd these guys. You have to play them straight up," Longing said. "Coach [Brian] Ross, as young as he looks, he's wearing three state championship rings for Baptist Prep. It's not like this is his first rodeo. And he does a really good job of spacing the floor for those kids and allowing them to attack these huge driving lanes. It's really hard to defend.
"As quick as we are and as good as we've been with ball containment, we've really struggled with them. Their guards are a little longer than us. Their best athlete is Jeremiah Jones, and he can jump over the rim. They are really good at what they do. All their guards are a threat. It's a tough matchup defensively for us."
The Wampus Cats are back in the state championship game for the first time in 10 years. Conway defeated Fayetteville for the title March 12, 2010. Longing was on the bench as an assistant coach for that team alongside coach James Bates.
"Ten years ago, we had a run where we were in the finals in 2008 and got beat. 2009 was our most talented team, but we get beat in the semifinals," Longing said. "Winning that one in 2010, you had Kenyon [McNeail] there with a cast on and Coach Bates sitting there with a broken leg. It's really hard to describe getting to hoist that trophy. It's hard to get there. You play that state tournament we just played in five times, and you're going to have a different result every time because that's how much parity there is in 6A. But we got through. Somehow.
"You want to enjoy the moment, and you want to win it. You step back and you just watch the kids. They're just elated. Nobody thought they could get to that point. As a coach, I want a state championship, but I don't need it for me. But them. It's fun to watch them experience it. They are taking me on a ride. I'm not taking them, they're taking me."

Latest posts by Levi GIlbert
(see all)