25 Aug 2018

Wampus Cats down El Dorado in double OT

by Levi Gilbert

The Conway Wampus Cats opened the Keith Fimple era in dramatic fashion with a 48-41 win in double overtime Friday at John McConnell Stadium.

El Dorado scored late in the fourth quarter to pull even with the Wampus Cats at 34-34, and a missed extra point attempt ultimately gave Conway new life and sent the game to overtime. El Dorado put up early pressure scoring on the opening play of the first overtime. On fourth and 11, senior quarterback JoVoni Johnson threw a well-placed fade to classmate Will McKenna in the left corner of the north end zone to tie it up again at 41-41. Conway opened the second over time on offense. Johnson put the Wampus Cats ahead for good — this time with his legs — with a 10-yard scamper and dive to the right pylon. The Conway defense rocked El Dorado with two big tackles for loss and held true on fourth down to seal the 48-41 victory.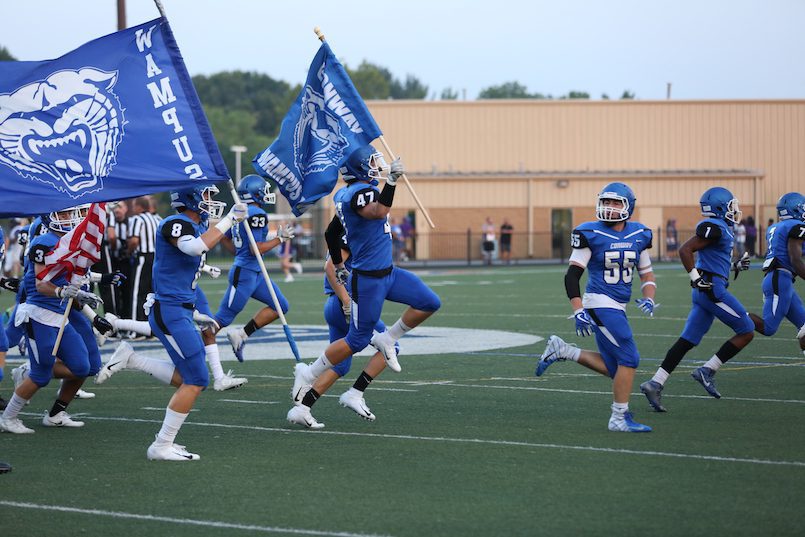 "Keith Fimple's first game as Conway head coach certainly was memorable," said Jeff Matthews, play-by-play announcer for Conway Corporation's Channel 5 Sports. "I think I'll most remember the two plays JoVoni Johnson made on back-to-back snaps in overtime. The pass to Will McKenna to end the first overtime and the dive for the pylon in the second overtime were big time plays that you need from your leader.
"It was his poise more than anything. He has this ability to forget bad things and move forward."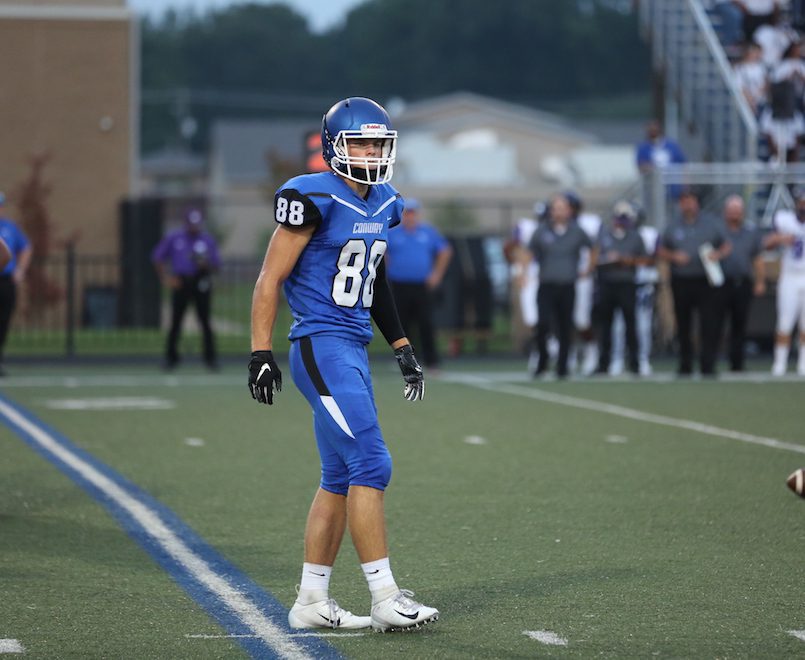 Johnson had a slow start passing in the first half. His first pass attempt of the night came on Conway's second possession. His arm got caught by a defensive lineman during his throwing motion, leading to an easy interception for El Dorado, setting them up at the Conway 5-yard line and leading to an easy score for the Wildcats. But, Johnson proved resilient, and the passing game turned a corner in the second half. Johnson finished 12-of-22 for 210 yards and three touchdowns. Senior Nick Richmond led the receivers with 60 yards on two receptions, with most of that total coming on a pass in the flats that Richmond took 47 yards to the house. In addition to McKenna's touchdown reception in overtime, the senior also hauled in a 30-yard touchdown pass in the third quarter. The tight ends helped key the passing game in the second half as Nick Tufu had three catches for 27 yards, and Slayde Smith had two for 28 yards.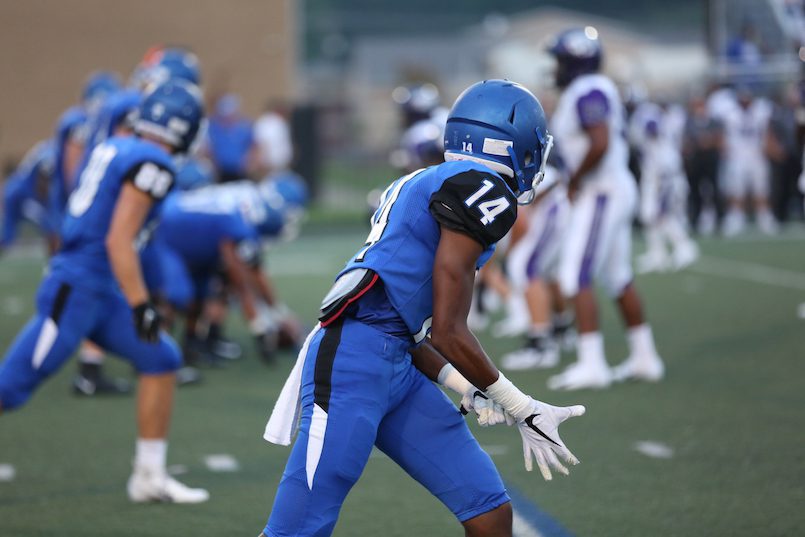 The ground game carried the Conway offense in the first half. Conway's first drive of the game went 80 yards — all on the ground.
"They started out red hot of course with that 59-yard run to start from senior Cary McClain," Matthews said. "I was impressed with the balance and vision that both McClain and Luke Bailey showed. The coaches seem to have equal confidence in them, and they will be able to keep each other fresh. But that only works if the guys up front do their job, and I think we have a good group of linemen up there."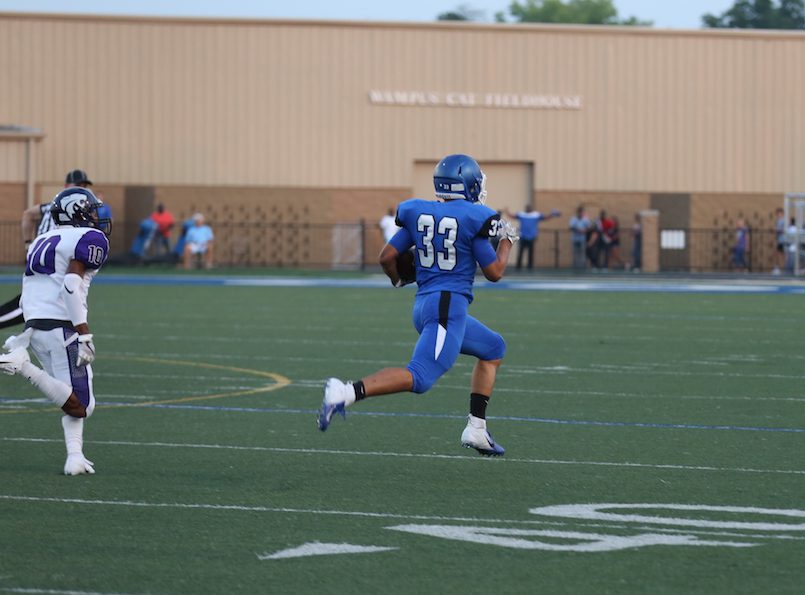 McClain finished with 172 yards rushing on 20 carries. Sophomore Bryce Bohannon was Conway's second-leading rusher with 66 yards on six carries, including the opening score for Conway in the first quarter on 6-yard sweep. Bohannon's speed proved dangerous in the passing game, too, with two catches for 36 yards. Offensive coordinator Brian Raney found ways to get Conway's newest weapon the ball in a variety of ways.
"Bohannon has a chance to be really special," Matthews said. "He showed no signs of being intimidated by the bright lights of Friday night. He is clearly fast and extremely hard to bring down. I think we will see more and more of him in Coach Raney's offense this season."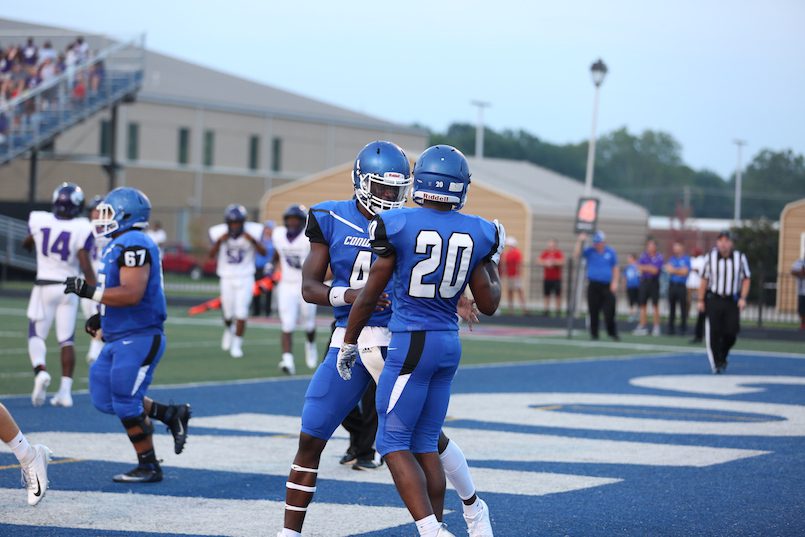 The defense had the most question marks entering the season as Conway lost its top five tacklers from last year's squad. The defense held El Dorado to just 6-of-16 on third-down conversions and came up with big stops when needed.
"I thought the defense played pretty well," Matthews said. "They had a couple of short fields they had to deal with that led to points for El Dorado, and their quarterback was a problem with his skills as a former tailback and knowing he could take it to the house anytime. I loved the intensity that linebacker Reed Hughes showed. He is showing every indication of becoming this team's leader on that side of the ball. Plus, the guys up front — the Cats rotated about nine different defensive linemen — all are big and capable of stuffing the run game. The guys in the secondary showed great signs, too."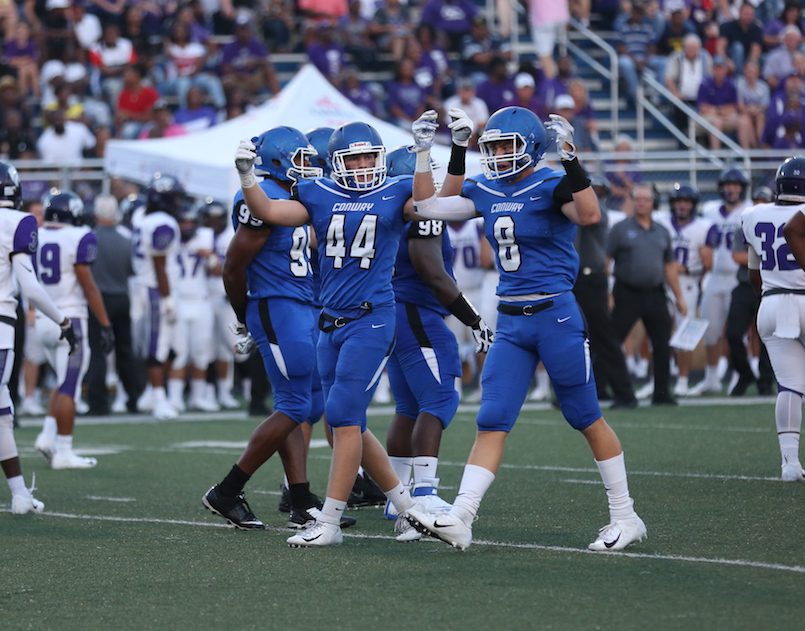 Specialty teams came up big for Conway, too. Will Hogue looks to be the next in a line of reliable Wampus Cat kickers. Hogue was 2-for-3 on field goal attempts, including a 42-yard bomb in the second quarter. Shane Smith took a kickoff return 85 yards for a score late in the second quarter.
Despite the win, the Wampus Cats have a lot of work to do this week as they prepare to host Bentonville Friday. Conway committed six penalties against El Dorado.
"We've got to clean up the mistakes with penalties and miscues with getting the ball to the quarterback," Matthews said. "We saw great signs in all three phases of the game against El Dorado, and we just need to be able to get a little bit better each day."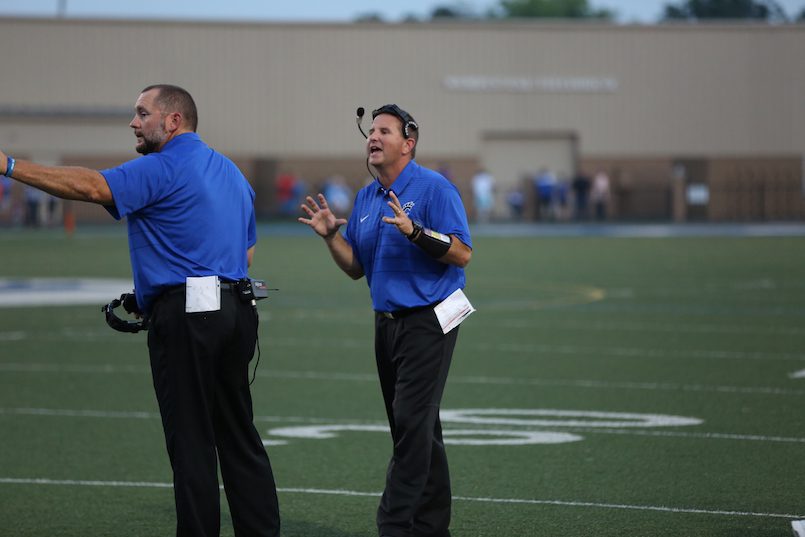 Latest posts by Levi GIlbert
(see all)