22 Aug 2018

Vest, Lions set sights on championship run

by Levi Gilbert

2017 was quite the year for the Searcy Lions, who earned their way to a 10-3 record and a finish in the 6A semifinals. For Drew Vest, it was a bittersweet moment. The starting lineman was forced out of the playoffs due to a Week 10 shoulder injury, but true to his nature, he never stopped leading.

"It was such a humbling and amazing experience to have to step into a teaching role and really help my guys take that next step," Vest said. "I've had to go through lots of physical therapy and work to regain strength, but I'm so glad to say that thanks to Tim Chung at Searcy Physical Therapy, I'm fully functional and feel better than before."

Vest was selected to this year's 501 Football Team — 28 players representing all 11 counties of the 501. The team, sponsored by Conway Orthopaedics and Sports Medicine Center, Conway Regional Health System and First Security Bank, boasts the best the 501 has to offer both on and off the field. Vest was nominated by his head coach, Mark Kelley.

"Drew leads in every aspect of his life and brings positive energy to anything I have ever seen him do," Kelley wrote in his nomination. "Drew is one of the best leaders I have been around while I have been at Searcy. He's a great player and an even better person to represent our team and community."

Before his Week 10 injury, Vest started all games for the Lions at right tackle.

"He had an awesome year," Kelley said. "He's a really good athlete with great size and physicality. He does a great job in pass protection as well. I expect Drew to dominate at everything that we do this year. We will lean on his leadership and play to make our offensive line and offense as good as it can be."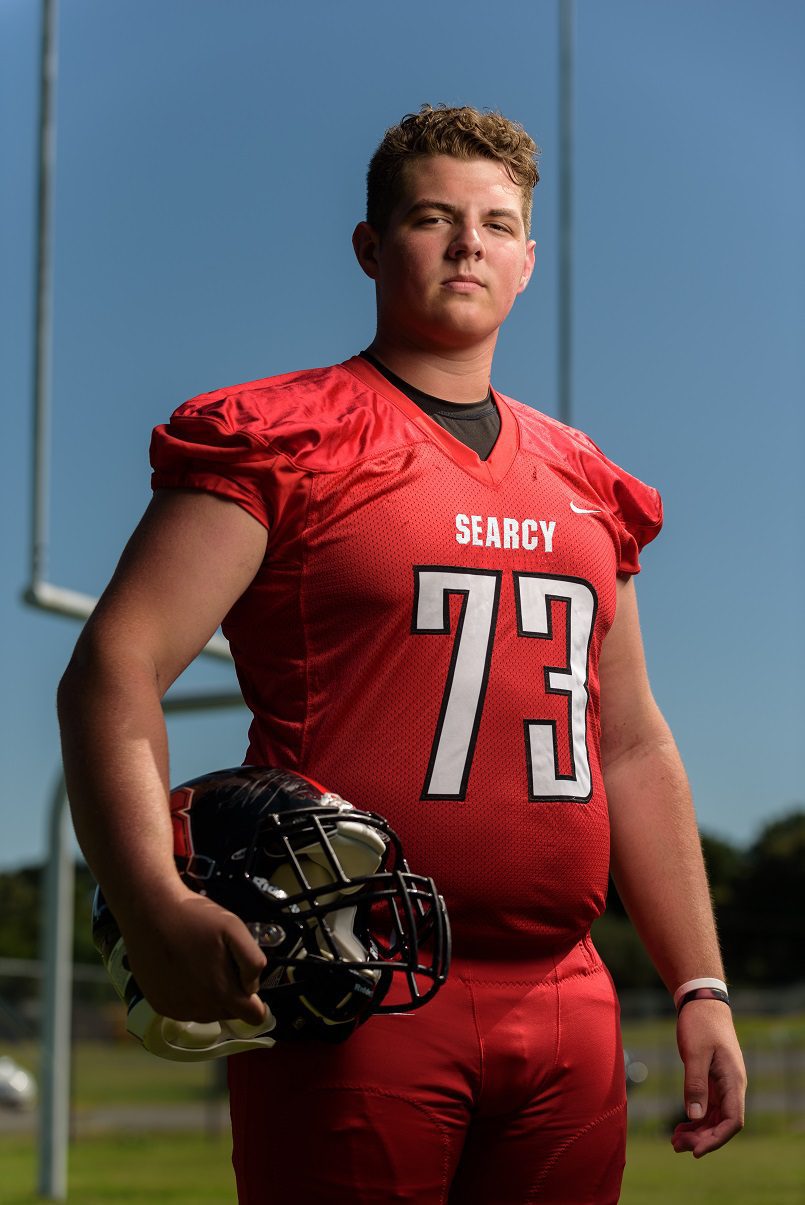 The Lions will look a lot different this fall as multiple starters graduated from last year's team, but with Coach Kelley's system really hitting its stride in year four, Searcy fans should expect to see continued success this fall.
"Last season was good, but this season will be great," Vest said. "There's always room for improvement, and that's the name of the game this year. Everyone has the same goal — winning in 'the Rock.' We all know what we want, and some of us realize we have a real opportunity. As seniors, we need to get the rest of our team to realize our opportunity and seize it."
Off the field, Vest participates in competitive trapshooting. "It's a really good way to shut all the other stuff out and just enjoy the outdoors doing what I love," Vest said. "I love to do all things in the outdoors, whether it's hunting or fishing or just hanging out with my buddies around a fire."
The senior is an active member of National Honors Society, Beta Club, Project Unify (a school club devoted to creating friendships between student athletes and special education students) and Youth Advisory Council, which is a student liaison group to the White County Community Foundation. Alongside classmate Peyton Wright, Vest has also been involved in the planning phase of bringing Miracle League Baseball to Searcy.
Vest will continue through the recruiting process this fall and plans to play football at the collegiate level. Once his playing days and bachelor's degree are behind him, he has aspirations to attend law school.
Vest and the Searcy Lions open the season at 7 p.m. Friday at Morrilton.

Latest posts by Levi GIlbert
(see all)