23 Mar

Van Buren County: Bobby Burnett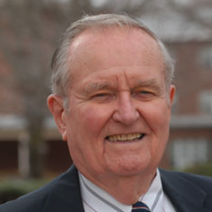 Latest posts by Bob Reising
(see all)
Van Buren County gave him his start. Born on Jan. 4, 1943, on a 160-acre farm between Clinton and Choctaw, Bobby Burnett went on to be labeled "a man playing a boy's game" by a teammate on the 1964 University of Arkansas football team, the lone squad in the school's long gridiron history to claim a national championship.
In the spring of 1961, legendary Razorback football coach Frank Broyles recruited the by-then multi-sport Smackover High School star after watching him win the 110-meter high hurdles in the "Meet of Champions" in Little Rock, a competition that brought together every school district's champion to determine the best hurdler in "The Natural State." What flashed before Coach Broyles's eyes was to become Bobby's signature move on the Hog gridiron during his years of varsity play. When he could not skirt a team's ends or slash through their line, the 6-foot-3, 210-pound speedster hurdled over opponents, escaping their outstretched arms to claim precious yardage or touchdowns.
But before Bobby could employ his acrobatic move to Razorback advantage, the "Freshman Ineligibility Rule" combined with his supposed bent for fumbling kept him from championship play until the 1964 season.
By early in that season, he was prepared for nothing less, much to the delight of thousands of wildly grateful fans. One teammate even termed him "a miracle man" as he led Razorback scoring with nine touchdowns, eight tallied on the ground. In the final contest of the season, with but 4:41 remaining on the scoreboard clock, he hurdled over University of Nebraska linemen to register the winning points in the 10-7 brawl, guaranteeing the Hogs the national title. Sports aficionados forever after agreed that Bobby's New Year's Day 1965 Cotton Bowl six-pointer was "arguably the most significant touchdown ever for an Arkansas football team."
Yet he displayed even greater brilliance in the fall of 1965. He again led the Hogs in scoring, this time with 16 touchdowns, the most in the Southwest Conference and the highest number in team history. He also led the conference in rushing with 947 yards, won the Charles T. Myers Award as his team's Most Valuable Player and earned All-American Honorable Mention. Noteworthy, too, is that in Bobby's last two seasons of varsity play, when Arkansas lost but once in 22 contests, he combined for 368 carries and receptions without a fumble. An appearance in the 1966 Senior Bowl, in which he scored two touchdowns, only added to his luster, as did the two letters he had earned in varsity track before departing Fayetteville for professional football.
Few players in the pro game have enjoyed a rookie season better than Bobby's. Playing for the Buffalo Bills in the American Football League (AFL), in 14 games he excelled as both a running back and a pass receiver. He recorded 766 yards on 187 carries and 419 yards on 34 receptions, registering 1,185 all-purpose yards. His brilliant offensive performance gained him "Rookie of the Year" honors in the League, finishing ahead of the heralded Mike Garrett, the University of Southern California's Heisman Trophy winner of the previous fall. Bobby added selection to the AFL's All-Pro Team to his accolades, as well as a two-touchdown performance in the Pro Bowl. Nor did his team fail to appreciate his stellar play. The Bills named him their Most Valuable Player for 1966.
But tragedy awaited as the following season unfolded. Eight games into the AFL campaign, Bobby suffered a devastating knee injury while running a sweep against the New York Jets (on which his brother, Tommy, was an offensive end). Never again was Bobby capable of performing at his spectacular best, although in 1969 he attempted an aborted three-game comeback with the Denver Broncos.
In retirement, the affable Bobby prospered in Colorado. At the time of his death on Oct. 1, 2016, he was the president of the state's largest single-office real estate company, employing more than 500 agents.
Van Buren County will always be proud of its iconic native son. So, too, will the 501.