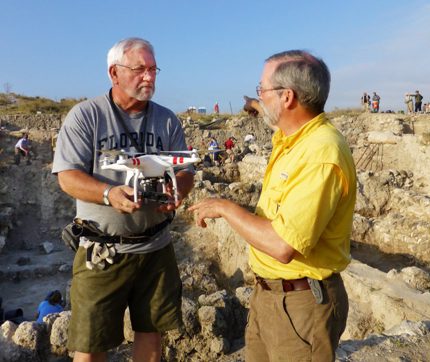 11 Aug 2014

Use of drone aids dig at Tel Beth-Shemesh

Posted at 10:12 AMh

in

News

Modern-day technology is aiding the archaeological dig at the ancient city of Tel Beth-Shemesh. A DJI Phantom 2 Vision quadcopter drone equipped with a GoPro Hero camera allows the archeological team to take periodic aerial photos, giving them a perspective they would not otherwise have.

"The drone has tremendous potential to help us see features that otherwise we might miss," said Dr. Dale Manor, field director for the dig. "There is an easy tendency to get so consumed in our own squares that we miss what is going on elsewhere — sort of a 'can't see the forest for the trees' thing. There have been a number of things that we have noticed from aerial photos, such as the presence of four olive basins coming from three different eras."
The drone assists dramatically the team's ability to record the changes that occur on a day-to-day basis. The transformations are sometimes dramatic, and since "archaeology is destruction" it is essential that careful records be made of what we are doing. ("Archaeology is destruction" is a maxim used to describe the fact that in the process of investigations, workers must destroy the very evidence that is crucial and hence irretrievable.)

Houston attorney Mark Lanier made the purchase of the quadcopter drone and camera possible.

Tel Beth-Shemesh is an important biblical site in the northeastern Shephelah (lowland) of Judah. Among its biblical references is the account of the Philistines returning the Ark of the Covenant to Israel. The cows pulling the cart headed directly toward Beth-Shemesh (I Samuel 6).
In recent years, archaeologists have found an iron-smith workshop, oil presses, gold jewelry and a temple from the period of the judges.

The current excavations of Tel Beth-Shemesh were initiated in 1990 by Shlomo Bunimovitz and Zvi Lederman of the Institute of Archaeology of Tel Aviv University. Manor joined the team in 2000 as field director. He is professor of Bible and archeology at Harding University.

Earlier excavations were conducted at Tel Beth-Shemesh in 1911-1912 by D. Mackenzie on behalf of the Palestine Exploration Fund and in 1928-1933 by E. Grant from Haverford College, Penn.

More information about Manor's work is available at DaleWManor.net.