02 Mar 2022

'Unselfish' Lockhart closes out Conway career

By Levi Gilbert

Get knocked down eight times, stand back up nine.

That was the motto of the 2021-22 Conway Wampus Cat basketball team. Dwayne Lockhart and the Wampus Cats closed out their season Tuesday with an 89-60 loss in the opening round of the 6A state tournament at the hands of the Bentonville Tigers.

But it was just a week ago when getting to state tournament seemed like a longshot. Lockhart and the Wampus Cats never counted themselves out.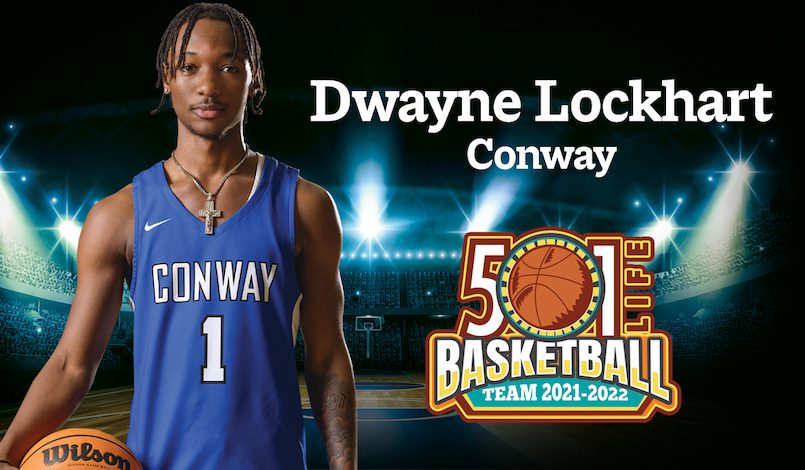 And it was just two weeks ago when the Wampus Cats were in the midst of an eight-game losing streak. Still, the Wampus Cats didn't count themselves out, and they didn't throw in the towel on the postseason. Lockhart's senior leadership was one of the factors that kept Conway fighting.
"Dwayne is an unselfish teammate," Conway Head Coach Salty Longing said. "He sets the tone in practice through his tireless work ethic and his positive leadership. His sophomore year, during our championship run, Dwayne played very little, but was the biggest supporter of his teammates. Now, he's the one playing and supporting the kids that look up to him.
"Dwayne is a great leader on the floor. He is a gym rat. He loves the process. Open gyms, skill development, film work, weight room — he loves it all. His work ethic rubs off on his teammates."
Heading into the final week of the regular season, the Wampus Cats needed to win their last two games and get some help with teams ahead of them in the standings losing to have a shot at making the state tournament. The Wampus Cats took care of their business, defeating Northside and Bryant consecutively on the road, and they got they help they needed, too, to secure the sixth and final playoff berth out of the 6A Central.
"We won three out of four games the last two weeks, and we needed all three of them," Longing said this week on the Conway Corp Wampus Cat Coach's Show. "I just think it's a testament to the kids. They've never stopped working to get what was that first win against Catholic after eight losses. And then they continued to fight to get those two on the road. We made our own breaks."
Lockhart has been a consistent and reliable presence for the Wampus Cats during a two-year run that has been as chaotic as it could get because of COVID and inclement weather (this season). Lockhart, a senior point guard for Conway, is a two-year starter for the Wampus Cats. He took over the starting point guard role for the Wampus Cats last season as a junior and averaged eight points and four assists per game. He was the second leading scorer and led the team in assists. In his senior season, Lockhart has led the Wampus Cats in scoring and assists.
"Dwayne is a fearless competitor who got the best on-ball defender every game we played," said Tim Roach, color analyst for Wampus Cat basketball on Conway Corp. "When the game is on the line, this is the guy you want to take that shot or to be guarding their shooter as well. He is equally good at the 3-ball and with drives to the basket. He has a really high basketball IQ.
"Even when he struggled some during the losing streak, he never got down on himself. He laced them up every game and eventually played his way through it. He came up big in the wins against Catholic, Northside and Bryant to help get us into the state tournament. He has hit some huge buckets for the Wampus Cats over the years and played at a very high level when it counted the most."
Lockhart is one of five seniors on this year's squad. Alongside his classmates Keiron Duncan, Ridge Scroggin, Paul Harris and Troy Wiseman, these seniors have left a hard working and no-quit attitude behind for their underclassmen teammates.
"They are great kids from great families," Longing said of the seniors in February on Conway Corp. "Every team is different. There are some teams where you don't always want to go to practice, and then there's some teams you do. There's just not a bad day with this group of kids, and it starts with senior leadership. Whether it's their personalities or their work ethic — actually, it's a little bit of both — this team has a hard-nosed, blue-collar mentality. They really embraced that this year. We have to scrap, and we have to fight. And they've done that. Our seniors are the epitome of what our team is."
Lockhart was selected to this year's 501 Basketball Team — 40 players representing the best the 501 has to offer both on and off the court. The team is sponsored by Velda Luders of Coldwell Banker RPM Group, Moix Equipment and Toy Company, Conway Regional Health System and First Security Bank. He was nominated by Longing.
Off the court, Lockhart is an active member of Fellowship of Christian Athletes at Conway High School and volunteers his time coaching his younger brother's AAU team.

Latest posts by Levi GIlbert
(see all)