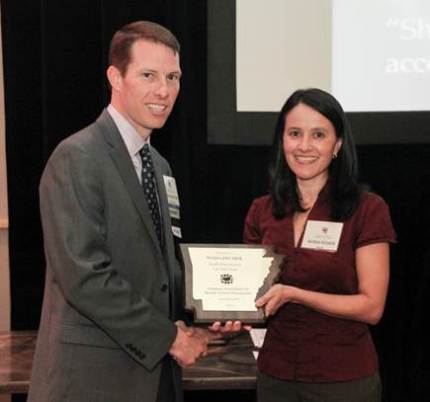 04 Jan

Unity Health pharmacist receives state recognition

Nuria Fecher, a member of the Unity Health Pharmacy Department, was recently awarded the 2015 Arkansas Hospital Staff Pharmacist of the Year Award by the Arkansas Association of Health-System Pharmacist (AAHP).


"I pray every morning on my way to work for God to guide me and help me to do the right thing for the patients in our facility," Fecher said. "I try every day to make sure I remember that the patients we serve are someone else's mother, daughter, father or son. I want to treat everyone as someone important."


Fecher's dedication to serving the patients at Unity Health can be clearly seen through her hard work and compassionate care. Fecher said her main goal as a pharmacist is to emphasize the importance of each patient and to work together as a team with other pharmacists, nurses and physicians to heal patients and help them get well.


"Nuria is one of the best pharmacists and people I know," said Liz Underwood, director of the Unity Health Pharmacy Residency Program. "She is humble, hard-working, intelligent and truly one-in-a-million. It would be impossible to put a figure on the large number of patients whose lives she has touched directly and indirectly because of her dedication to patient care. She is very highly respected and loved by the rest of the pharmacy staff as well as the many pharmacy students and residents she has trained over the years. We are so thankful to have her on our team."


The AAHP's mission it to represent pharmacists by providing leadership and support in the promotion of pharmaceutical care. AAHP serves its membership by pursuing common goals; through representation to private and public agencies and to the other health care organizations; and by promoting pharmacy as an essential component of the healthcare team.