10 May 2021

UCA recognizes service-learning partnerships at awards ceremony

Posted at 12:22 PM

in

News

The University of Central Arkansas Division of Outreach and Community Engagement hosted its sixth annual service-learning award recognition ceremony on April 20.

Three UCA students, two faculty members and one nonprofit community partner were recognized for their outstanding service-learning partnerships in the 2020-21 academic year. Award recipients from the previous academic year were also recognized after the 2019-20 recognition event was canceled due to COVID-19.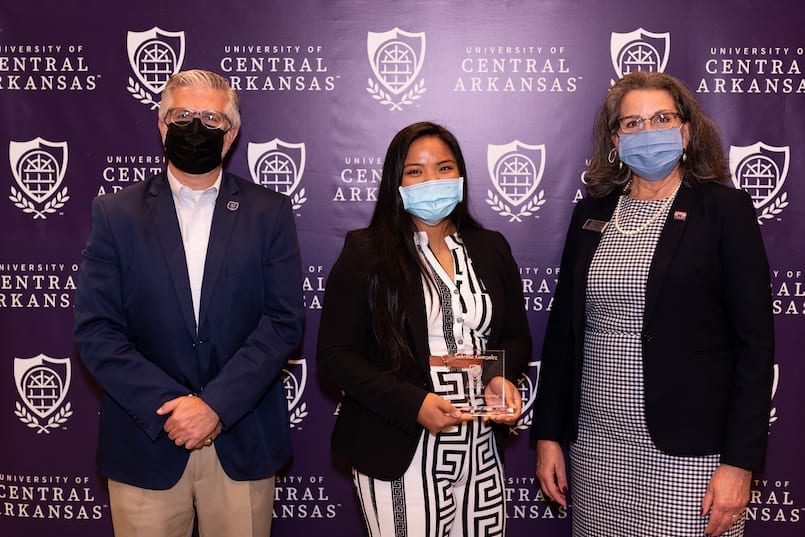 "The value of service-learning to UCA's community is immeasurable," said UCA Provost and Executive Vice President Patricia Poulter. "Our core values are academic vitality, integrity, and diversity, and what better way to embody those values than learning to be a citizen."
UCA students Sabrina Gonzalez received the Leadership in Service-Learning Award, Mariandree Ramirez received the Spirit of Humanity Award, and Ebony Meyers received the Exceptional Achievement in Service-Learning Award. All three students were nominated by their professors based on their contributions to a service-learning class during the 2020-21 academic year.
Recipients of the 2019-2020 student awards John Singel (Exceptional Achievement in Service-Learning), Sidney Hunt (Leadership in Service-Learning), and Grace Zimmerman (Spirit of Humanity).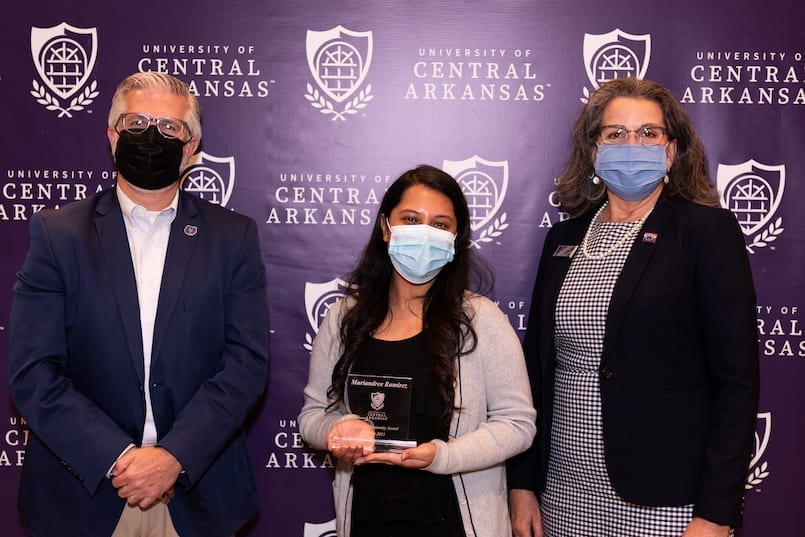 The Faulkner County Office of the University of Arkansas Cooperative Extension Service was recognized as the Community Partner of the Year. Through several years of partnership, extension office agent Mary Beth Groce has contributed innovative ideas, curriculum and research-based community issues for service-learning projects and worked with over 225 UCA students. Jennifer Welter, executive director, and Missy Cornwell, office manager, were in attendance for the Community Action Program for Central Arkansas to be recognized for their 2019-20 award.
Monica Lieblong, a visiting clinical instructor of nutrition and family sciences, received the Peter J. Mehl Service-Learning Faculty Practitioner of the Year Award. Lieblong offers service-learning experiences to students in several classes every semester and works with multiple nonprofit partners to help students apply classroom concepts in the community.
Last year's faculty award recipient, Debra Burris, professor of physics and astronomy, was recognized for her long-standing partnership with Community Connections to offer a Super Science Saturday event for children with special needs to experience hands-on science activities designed by UCA students.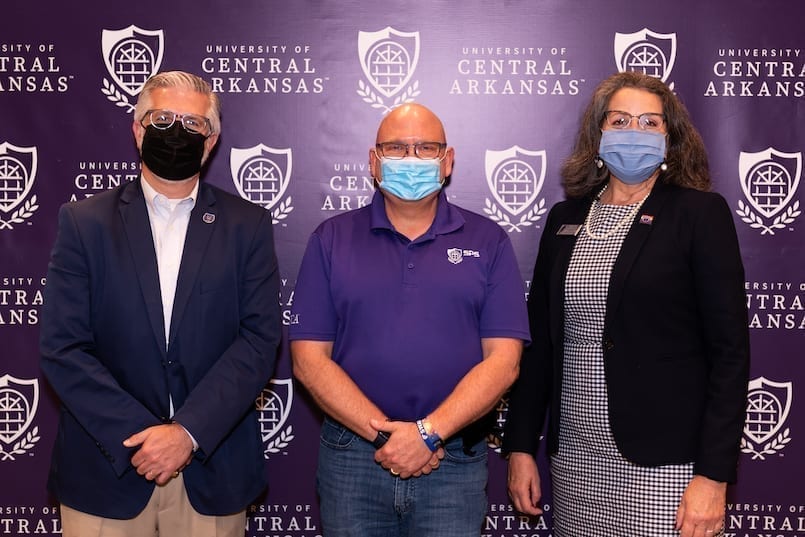 Riva Brown, associate professor of public relations, was named the Distinguished Faculty Advocate for Civic Engagement, an award given by UCA's Vote Everywhere program to recognize a faculty member who demonstrates a commitment to developing students as citizens in and out of the classroom. Brown is the inaugural recipient of the recognition, which was created to acknowledge the importance of civic engagement as a type of community-based learning.
The service-learning program is part of the Division of Outreach and Community Engagement at UCA. Academic service-learning is a course-based teaching and learning strategy that integrates meaningful community service with instruction and reflection to enrich the learning experience, teach civic responsibility, and strengthen communities. For more information about the program, awards and previous award recipients, visit uca.edu/servicelearning.