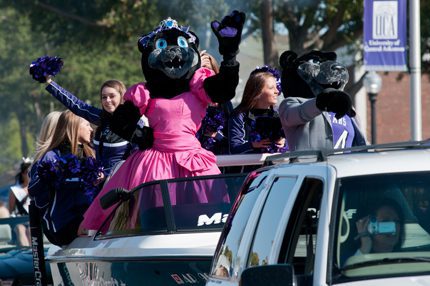 07 Oct 2012

UCA plans homecoming festivities

Posted at 7:00 PMh

in

News

University of Central Arkansas invites alumni, students and the community to celebrate "Pride, Power and Bears" during homecoming festivities Monday, Oct. 29, through Sunday, Nov. 4.
"There's No Place Like Home" is the theme for the annual event, which begins with a pep rally on Monday and culminates with UCA vs. Northwestern State University at Estes Stadium beginning at 7 p.m. Saturday, Nov. 4.
The week will be filled with reunions, parties, concerts and tailgating for alumni, students and supporters.
One of the more impactful events is the dedication of the Legacy Walk, a walkway made up of bricks with names of alumni, on Saturday afternoon. Director of Alumni Services Jan Newcomer said the walk itself inspired this year's theme.
"One of our tag lines is 'Follow the Gray Brick Road,'" she said. "We expect a large number of alumni to come back to see the Legacy Walk dedication. It is important for alums to be able to leave their mark on the campus."
A pep rally at College Square Retirement Community opens the celebration week, followed by another pep rally on Tuesday at Farris Center, a bonfire on Thursday and a concert by Gary Puckett and the Union Gap, whose hits include "Woman, Woman," "Young Girl" and "Lady Willpower."
Monday's pep rally at the College Square Retirement Community will allow more community members and alumni to be included in the homecoming celebrations. Many alumni and retired professors and university friends reside in the community and some are not able to participate fully in other events. Newcomer said Bruce the Bear, cheerleaders and members of the pep band will be "bringing part of homecoming to them."
Friday will bring golf fellowship and a meeting of Greek alumni, a reunion for the Class of 1962 and other events for students, alumni and friends.
The Ultimate Homecoming Party is a continuation of last year's celebration, which was the 100th anniversary of the Alumni Association.
"To celebrate Alumni 100 last year, we had this party for alumni and friends," Newcomer said. "People were talking about that party for months afterward, so we knew we had to do it again, but we had to take it up a notch."
Light refreshments were served last year, but this year the menu will include grilled steaks and side dishes. Newcomer said the same band, "The Ultimate Oldies Show," a crowd favorite, will be performing again this year.
The Ultimate Homecoming Party begins at 7 p.m. Friday, Nov. 2, at Centennial Events Center at Centennial Valley.
Purple Reign, now in its fourth year, is the place for some late night celebrations on Friday, Nov. 2, with partying continuing until the wee hours of Saturday. The event is presented by D. Wynne Productions and Sandstone Real Estate Group.
Game Day happenings include reunion events of the Class of 1962, which will be inducted into the Half-Century Club; nursing student alumni; Pi Kappa Alpha; UCA Band, and Sigma Sigma Sigma. The homecoming parade begins at 3 p.m., followed by tailgate parties galore for Bears fans on Bruce Street.
UCA will play Northwestern State University at 7 p.m. at Estes Stadium, with coronation at half-time.
"Homecoming is a special event on every college campus," Newcomer said. "It is a chance for friends to reconnect and to see how their college has grown."
But the game is not the end of the night. A Young Alumni Bear Bash will begin at 9:30 p.m. at Kings of Conway Dueling Piano Bar and Iota Gamma Alumni and Black Alumni hosting after parties following the game.
Delta Zeta's annual breakfast, a church service from the Black Alumni group and a founders potluck are scheduled for Sunday evening. Homecoming T-shirts will be available.
The Conway and Central Arkansas community, too, whether alumni, friends or supporters are invited to the events.
"UCA is a big part of the Conway and Central Arkansas community," Newcomer said, adding that the university enlisted the help of community leaders to invite all of Conway and Central Arkansas to celebrate UCA Homecoming. "We had a reception for 50 of our community ambassadors, and they left excited about homecoming. They are the real leaders in this event."
More information and tickets will be available at uca.edu/homecoming.