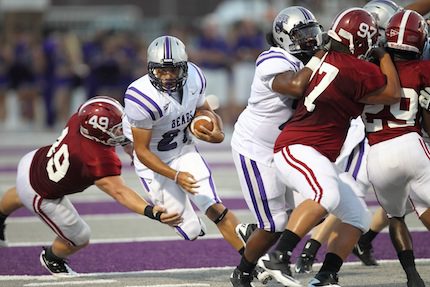 12 Aug 2012

UCA: Consistency, depth key for Bears

Classification: Southland
Coach: Clint Conque
Last Season: 9-4 (7-1)


From their undefeated season on their unique purple and gray turf to their exciting run through the NCAA FCS playoffs, the University of Central Arkansas Bears were easily one of the most talked about teams in college football in 2011.
In 2012, UCA looks to carry its confidence and momentum toward another playoff run.

"We saw a bounce going into recruiting," said 13-year UCA Coach Clint Conque. "We've had some facility upgrades to go along with that success and some academic accomplishments. All that plays into having a productive spring practice and the enthusiasm for our summer workouts. But as I tell our players, those four senior offensive linemen, that All-American quarterback and that All-Conference defensive back and linebacker aren't coming back."
One challenge for UCA in 2012 will be replacing graduated All-American quarterback Nathan Dick. Dick's backup, junior Wynrick Smothers (6-1, 208), seems best qualified to take the job. Smothers completed 29-of-59 passes in five games before breaking his hand against Arkansas State.
"We get along really well," said Smothers' roommate, senior receiver Dominique Croom (6-1, 193). "I think the relationship we have between the quarterback and our receiving corps is a good one. We feel like we can do some damage."

Croom and senior Ole Miss transfer Jesse Grandy (5-11, 165) should provide a powerful one-two punch in the receiving game.
The Bears return eight starters on defense. Senior Seth Allison (5-11, 195), a preseason SLC All-American third team selection, led the Bears in tackles last year and should be a vocal leader on defense.
"We've worked extremely hard in the offseason to help us try to make the jump to the No.1spot,"Allison said. "There are just a couple of things we need to do to make that jump. You have to do just about everything right to beat the good teams in our conference."
Junior Jestin Love (6-0, 208) returns at safety after leading the Bears with five interceptions last year. Senior Kevin Buford (5-11, 187) and sophomore Eddie Camara (5-9, 168) contribute to UCA's strong kicking game.
"I think we're ahead of the curve," Conque said. "But I'd like to think there is much work we can do. Sometimes we have to pinch ourselves because we have actually been more successful in our first six years at the Division I level than we were in my first six years at the Division II level. But I think that speaks to the ability of our coaching staff to recruit good student-athletes. We're blessed to have excellent coaches and excellent student-athletes."