21 Aug 2023

UCA Baum Gallery to host new art exhibition

Posted at 6:04 PMh

in

News

CONWAY–The University of Central Arkansas Baum Gallery will host "Arkansas Women to Watch 2023: New Worlds." This tour begins with an opening reception on Thursday, Aug. 24, 2023, from 4-7 p.m. at the Baum Gallery, and the exhibition runs through Oct. 13.

The Baum Gallery is free and open to the public and nearby parking is also available.
"New Worlds" is the latest exhibit in the Women to Watch (W2W) exhibition series, which was created by the National Museum of Women in the Arts (NMWA), located in Washington, D.C. The NMWA is the only museum in the world with the sole purpose of championing women through the arts. W2W was created specifically for NMWA's 29 United States regional and international affiliated committees, including the Arkansas Committee of the National Museum of Women in the Arts (ACNMWA).
Since 2008, the ACNMWA has participated in every W2W exhibition, which according to Mary Ross Taylor, president of the committee, "provides national and international museum recognition for more women artists."
Chaney Jewell, the Curator of Collections and Exhibitions at The Arts and Science Center for Southeast Arkansas, selected four artists whose work embodies this year's "New World" theme for the upcoming statewide exhibition. These participating artists include Anaïs Dassé, Hannah McBroom, Aimée Papazian and Heidi Carlsen-Rogers. In March 2023, one of these talented artists will be selected to have their work displayed in the NMWA.
Brian Young is the director of the Baum Gallery and is grateful for the support from so many statewide colleagues including Mary Ross Taylor, Rachel Miller, Barbara Satterfield, Garbo Hearne and Dr. Gayle Seymour.
The artist, Anais Dassé, was born in Bayonne, France in 1988 and lives in Little Rock. She holds a B.A. in design and a master's degree in scientific/technical design from the Estienne School of Art located in Paris and a master's degree in IT project management from the Sorbonne in Paris. She also holds a diploma in Anatomy and Neuroanatomy from Paris Diderot University. She began her career as a scientific illustrator and her art reflects her deep interest in representing figures and nature in pseudo-documentary hierarchies and imagined cultural practices. Her work was shown at the 58th Annual Delta Exhibition in 2016 and she received the Delta Award at the 60th Annual Delta Exhibition in 2018 at the Arkansas Museum of Fine Art in Little Rock. Dassé's solo exhibitions include works in Brad Cushman Gallery at the University of Arkansas at Little Rock and the Bradbury Art Museum at Arkansas State University in Jonesboro.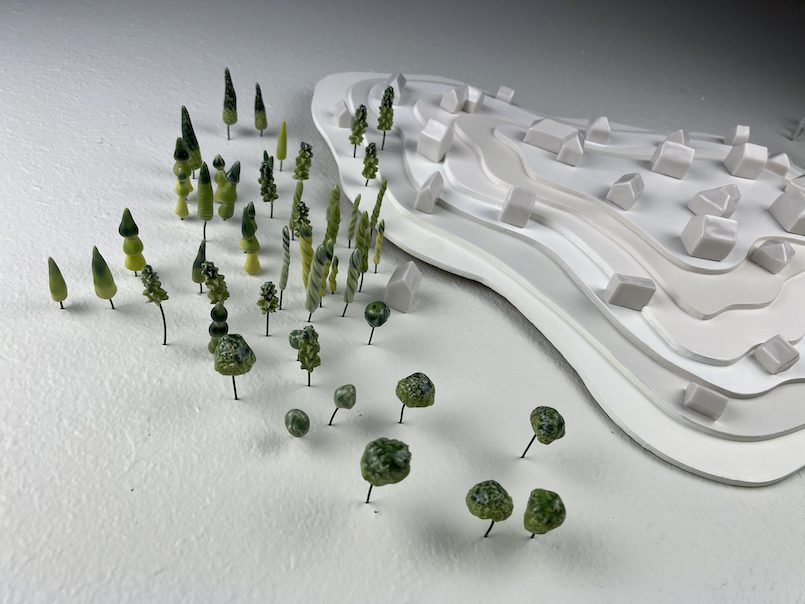 Hannah McBroom, born in Columbus, Missouri in 1993, graduated from Mississippi State University with a Bachelor of Fine Arts in Studio Art with an emphasis in Painting. She received a Master of Fine Arts from the University of Arkansas in 2019. She received an Artists 360 grant from the Walton Family Foundation and Mid-America Arts Alliance in 2018. Group exhibitions including her work have been held in over a dozen states including the Crystal Bridges Museum of American Art in Bentonville, Arkansas and venues in Georgia, Louisiana, Ohio and New York City. Solo exhibitions have been held at the Visual Arts Center in Starkville, Mississippi and the Bunker Gallery in Kansas City, Missouri. Her work explores themes of transgender identity, materiality and the body.
Aimée Papazian grew up in New York and currently resides in Fayetteville, Arkansas with her family. She holds a B.A. degree in Art/Semiotics from Brown University and a Master of Fine Arts degree in Film and Video from Bard College. She received an Artists 360 grant from the Walton Family Foundation and Mid-America Arts Alliance in 2018. She has recently completed an artist residency at Guldagergaard International Ceramic Research Center in Denmark. The theme of time is consistently present in both her subject matter and choice of medium.
Heidi Carlsen-Rogers was born in Alabama and lived in Connecticut, Ohio and Chicago before coming to Bella Vista, Arkansas. She holds a B.S. degree from Kent State University.. She worked in the display industry before devoting her full attention to the artistic practice of combining floral photography with thread and textiles. Her work has been shown at the Chautauqua Institution in New York, the Masur Museum of Art in Louisiana and the Wiregrass Museum of Art in Alabama. She was awarded an Individual Artist Fellowship by the Arkansas Arts Council in 2016 and an Artists 360 grant from the Walton Family Foundation and Mid- America Arts Alliance in 2021. She was also selected for the juried online registry of the Arkansas Committee of the National Museum of Women in the Arts.
One of these artists, along with artists representing each of the other 28 committees, will be selected to have their work displayed at the NMWA in the spring of 2024.
Jewell and the artists will be on hand for the opening reception. Opening at the same time will be selections of work by Alice Ayers, a fiber artist. Her work is generally made available Courtesy of the artist and Hearne Fine Art, Little Rock. Two of the works are available through the generosity of private collectors and another through Jackye and Curtis Finch Jr. of Little Rock, Arkansas.
"The Arkansas Committee is delighted to continue this exhibit series—our sixth biennial Women to Watch state tour. It promotes Arkansas women artists and it gives us an excellent opportunity to contribute to the cultural life in our state," said Barbara Satterfield, previous president of the ACNMWA.
"Being selected to participate in the Women to Watch 2020: Paper Routes exhibition was an incredible experience. Having my artwork seen by so many people, in a venue like the National Museum of Women in the Arts in Washington DC, has been the highlight of my artistic career. But I think the most valuable thing I gained from the experience was getting to know so many wonderful Arkansas artists and galleries, and meeting the women who serve in the ACNMWA. It is a wonderful, supportive community and I am profoundly grateful to have had the opportunity to work with them," said Joli Livaudais, graduate coordinator of the department of art and design at the University of Arkansas at Little Rock.
The Arkansas Committee is the only affiliate of the national museum to organize statewide tours of work by its nominees to the national competition. Each exhibit in the series has been seen by an average of 5,000 Arkansans across the state. ACNMWA also sponsors an annual Museum/Gallery Internship that encourages young professionals in the arts to pursue their passion.