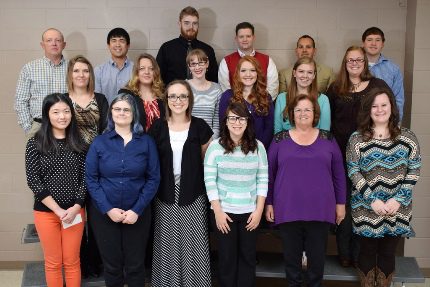 29 Dec 2014

UACCM students inducted into Phi Theta Kappa

Posted at 11:22 AMh

in

News

Twenty-one students of the University of Arkansas Community College at Morrilton were recently inducted into the Phi Theta Kappa Honor Society.

This elite group of students is recognized each year at UACCM with an induction ceremony and reception. Membership in Phi Theta Kappa Honor Society is determined by a minimum 3.5 GPA upon completion of 12 college-level credit hours.


This year's inductees include Lindsey Atchley, Arlea Bell, Sidney Cothren, Dillon Dingler (2013 inductee), Christine Feng, Jessica Freeland, Denise Hamby, Brad Hunnicutt, Lakyn Kendrick, Kristen Kuykendall, Kyler Lee, Gabriel Loaeza, Brenda Love, Josh McCrary, Deanna Rich, Dan Roberts, Marisa Rodgers, Dustin Shinn, Tiffany Thornton, Caley Totten and Tara Williams.


Phi Theta Kappa provides opportunity for the development of leadership and service for an intellectual climate for exchange of ideas and ideals, for lively fellowship for scholars, and for stimulation of interest in continuing academic excellence. Its mission is to recognize and encourage the academic achievement of two-year college students and to provide opportunities for individual growth and development through participation in honors, leadership, service and fellowship programming.