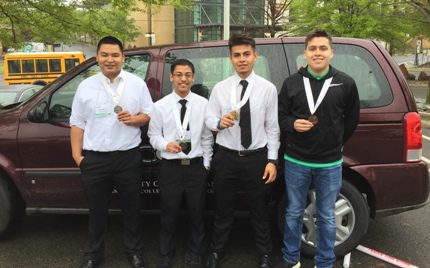 11 May 2015

UACCM students earn medals

Posted at 1:54 PMh

in

News

Seven students representing the University of Arkansas Community College at Morrilton Drafting Club and Automotive Collision Repair Club recently competed in SkillsUSA competitions. Four students brought home medals from the statewide competition that was held in Hot Springs.

In Architectural Drafting, Gabriel Loaeza placed first, and Jesus Martinez placed third. For Technical Drafting, Quy "Tyler" Nguyen brought home a second place medal. In the Automotive Collision Repair competition, Victor Ramirez placed second. Loaeza will advance to SkillsUSA nationals in June in Louisville, Ky.


Drafting instructor Jayson Millheim said, "This is great recognition for what our students have achieved while studying at UACCM. Congratulations to all who competed!"


According to its website, SkillsUSA is a partnership of students, teachers and industry working together to ensure America has a skilled workforce. Its mission is to empower its members to become world-class workers, leaders and responsible American citizens.


Formerly known as VICA (Vocational Industrial Clubs of America), SkillsUSA is a national nonprofit organization serving teachers and high school and college students who are preparing for careers in trade, technical and skilled service occupations, including health occupations. The organization is recognized by the U.S. Department of Education and is cited as a "successful model of employer-driven youth development training program" by the U.S. Department of Labor.