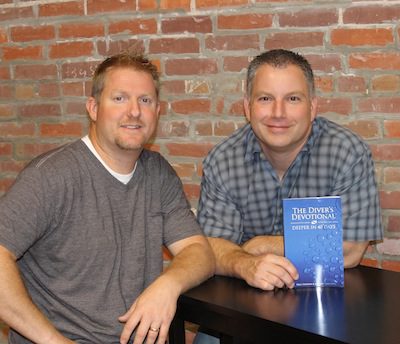 17 Dec 2011

Two Conway divers pen devotional book

Posted at 7:17 PM

in

Faith

by Rachel Parker Dickerson

A passion for diving led two Conway residents to write a devotional book about the passionate pursuit of a relationship with God.

Cory Imboden of Conway and the Rev. Paul Hudson, pastor of oneChurch in Conway, have written "The Diver's Devotional: Deeper in 40 Days."

Cory and his wife, Jill, have been diving for more than 20 years, and Paul, their friend and pastor, joined them a few years ago.

"We gear most of our vacations around somewhere we can dive," Cory said.

They travel to places like Florida, Brazil and Cancun, where the water is clear and warm year-round.

"In Arkansas you're limited where you can dive, and your visibility is limited when you dive to 25 feet or less in some of our clearest lakes," Jill said. "You're also limited by temperature.

"Both our children are also divers. We took a break for about 10 years when they were little, but as soon as they were old enough, they were also certified. Our oldest thinks he might want it to be his career."

The couple said they enjoy the adventure of diving and seeing the underwater creation.

"It's so diverse," Jill said. "Hundreds and hundreds of life forms and reefs – it's unbelievable."

Cory added, "Probably more than in any other sport, it's hard to deny God's handiwork when you're underwater."

Paul felt led to write a devotional book for divers after he became a certified diver.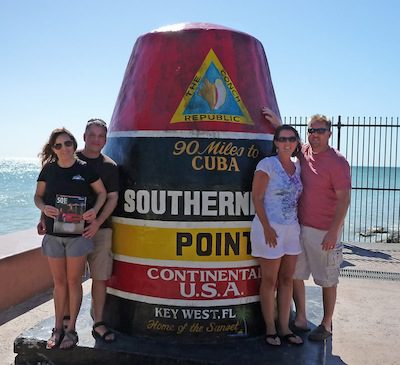 "It was kind of a joining of passions, especially after spending a little time diving," the pastor said. "There's just not a lot of godly influence in an industry that shows God's handiwork."
The two men worked together on the book, with Cory supplying a daily thought about diving and Paul overlaying a spiritual application. They recently sent the book to Tec Clark, the founder of Reef Ministries, for a review. Reef Ministries is one of the few Christian-based groups in the diving industry, they said.
"After reviewing it, (Clark) used it for one of his live-aboard trips," Paul said. "In one week they will dive 42 times. They used it that week as their Bible study. He liked it so well he invited us to his prayer breakfast."
The Imbodens and their pastor traveled to Orlando to attend one of the largest trade shows for divers. They volunteered in the Reef Ministries booth, where Clark gave copies of "The Diver's Devotional" to people who donated to his ministry.
"The last day, we spoke at the prayer breakfast and met a lot of neat, important people in the industry," Cory said. "They reiterated to us, 'We're glad you're here; this is an industry that lacks a Christian influence.'"
The content of their message at the prayer breakfast derived from the devotional book.
"At the prayer breakfast, we talked about how there are no coincidences with God's children," Paul said. "Is a reef meant to be seen? And if it is, what is God trying to tell us?"
Cory said, "A reef only exists in shallow water safe for recreational divers. It only exists in clear water with lots of sunlight. It exists close to shore, accessible by boat. It is home to over 4,000 species of fish. Only a fully healthy, thriving rainforest rivals a reef in numbers of animals and diversity of life. So, if we believe the biblical truth that God created to show his glory or to help man, what is the application?"
Paul said, "God longs for us not only to applaud and see what he does, but he made it accessible to us. He wants other people to see what he's doing in our lives. He'll make masterpieces of our lives if we'll let him. There's an obedience factor."