15 Aug 2018

Twenty-eight student-athletes named to 501 Football Team

The 501 LIFE staff is excited to announce the members of the 2018 edition of the 501 Football Team. The team features 28 student-athletes — the best the 501 has to offer both on and off the field. Every county in the 501 is represented.

Sponsors for this year's 501 Football Team are Conway Orthopaedics and Sports Medicine, Conway Regional Health System and First Security Bank.

2018 team members include: Mason Andrews (Maumelle), Jesse Boshears (Perryville), Taylor Boyce (Beebe), Jake Brooks (Haskell Harmony Grove), Dylan Burnett (Mayflower), Julian Cameron (Heber Springs), Dylan Clayton (Bismarck), Isaac Clemmons (Quitman), Skyler Davidson (Clinton), Justus Filoteo (England), Austin Fisher (Bald Knob), Taylor Gillham (Hot Springs Lakeside), Seth Howard (Greenbrier), Tanner Loter (Vilonia), Tyler Mace (Cutter Morning Star), Tyler McJunkins (Magnet Cove), Will McKenna (Conway), Hugh Miller (CAC), Griffin Miller (Riverview), Davis Morgan (Harding Academy), Joe Murphy (Fountain Lake), Alex Noble (Malvern), Brady Reed (Bigelow), C.J. Reynolds (Lake Hamilton), T.J. Rogers (Cabot), Keywan Shavers (Morrilton), Drew Vest (Searcy) and Jacob Wood (Conway Christian).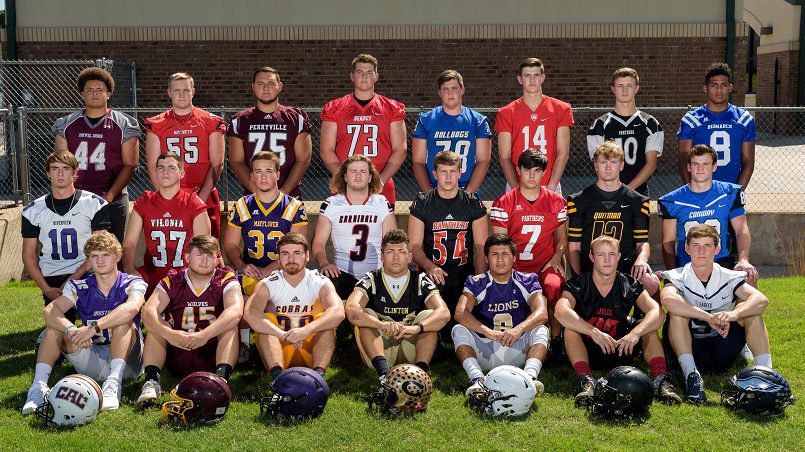 Players were nominated by their respective coaches and selected by the 501 LIFE staff. Nominations were weighted equally between on- and off-the-field attributes.
"We love getting to share the stories of all of these student-athletes every year, and our eighth edition of the 501 Football Team is no exception," said Levi Gilbert, associate editor. "With every county and so many different communities represented, we get the opportunity to share a diverse group of stories with our readers throughout the fall. Football in Central Arkansas is vibrant, and several of the teams represented this year by these remarkable honorees are on the brink of something truly special."
The team recently met at Conway Christian School's field for a photo shoot. In addition to being recognized in this year's edition of 501 LIFE's football preview issue, 501 Football 2018, each player will be featured individually throughout the fall online at 501lifemag.com and in 501 Sports Extra, 501's sports e-newsletter. (To sign up, visit 501lifemag.com or email [email protected].)