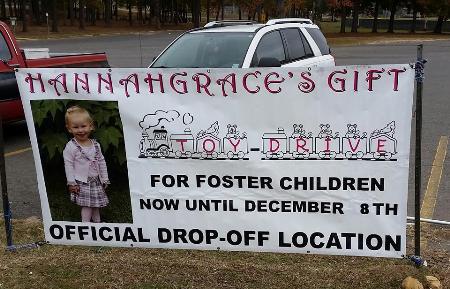 01 Dec 2014

Toy drive donations running behind

Posted at 11:34 AMh

in

News

by Sonja J. Keith


For the last five years, Holly Carr has collected toys and money to help the foster children of Hot Spring County, in memory of the child she hoped to make her own but who was murdered.

The deadline to contribute to HannahGrace's Gift to Hot Spring County Foster Children is Monday, Dec. 8. A wrapping party is planned Monday, Dec. 15.


A Malvern native, Holly has been in banking since 1993 and is a branch manager for Bank of the Ozarks in Malvern. She and her husband, Kevin, along with their daughter, welcomed 7-month-old HannahGrace into their home in August 2008 as a foster/adoption placement. Born on New Year's Day in 2008, HannahGrace had entered foster care in April that year.


"She was the life of the party," Holly said. "She was happy once she got in our custody and we bonded with her."


The couple knew there was a risk that the infant could be returned to her biological parents but chances were very low. "We were going to adopt her and she was going to be ours." But, HannahGrace's father came into the picture and the court and state officials ultimately decided to return the infant to his care in November 2009.


On Dec. 12, 2009, the father and little girl were murdered. "He (the dad) put her in the situation that got her life taken."


The separation from HannahGrace and her tragic death were devastating for Holly and her family. "It's a really hard thing," she said. "You just have to get up and keep going."


The following year, a suggestion was made to create something good and positive from the tragedy with the creation of a toy drive in HannahGrace's memory. Holly was onboard immediately.
"It's been pretty magical," Holly said, adding that the drive helps provide gifts and a special Christmas that many of the foster children would never have had before.
Each foster child in Hot Spring County provides a wish list for the toy drive organizers, who also provide clothing and shoes. Donations of money and toys make the gifts possible. "We try to get everything that's on the wish list for them."

This year, there are 43 foster children who will benefit from the toy drive. "This is by far our biggest year," she said. "We're pretty concerned about this year…Donations have not been what they have been in the past."

Donations are collected at the Malvern locations of Bank of the Ozarks and Sears. Individuals outside of Malvern can contact Holly at 501.337.2726 to arrange to make a donation. "Each year, it takes $8,000 to pull off the toy drive," Holly said, adding that it may take more money this year with more children to be helped.

Information about the toy drive is also available on Facebook.

Holly takes comfort in knowing that the drive helps foster children have a brighter Christmas while remembering HannahGrace. "It keeps her memory alive."