23 Mar

Toothless: Greenbrier second-graders enjoy class pet
Second-graders in Lacie Thomas' classroon at Springhill Elementary School have a special friend – a 2-year-old bearded dragon named Toothless.
Thomas, who has 24 students in her class, was given Toothless in October 2016 by a kindergarten student. "She had gotten him as her personal pet and she didn't realize that they shed. They didn't want it anymore and they decided he would make a great classroom pet," she said, adding that she had mentioned to her class that she wouldn't mind having a pet. He was already named, from a character in the movie "How to Train Your Dragon."
Originally from Heber Springs, Thomas is in her 18th year of teaching. She graduated from the University of Central Arkansas with an early childhood education degree. She also has a master's degree in elementary reading and math. She has worked in the Greenbrier School District for 12 years.
This is the first time Thomas has had a class pet, but there are others at Springhill Elementary, including a hamster and other bearded dragons. Thomas said the bearded dragon's ease of care makes him an ideal class pet. "I think he's a little unusual and it gives them exposure to something most of them won't see otherwise."
Thomas said there are many benefits to having a class pet – from behavior incentives and educational opportunities to social aspects. "I think it gives us something that connects us," she said.
As a behavior incentive for the second-graders, there are competitions among students to see who will be rewarded with a chance to have lunch each week with Toothless in the classroom.
Students can also work on their reading skills with the pet. "A lot of time, they will read to Toothless (through the glass). They love it because he catches every little movement that they make. He really does look like he's listening to them read," Thomas said. "I knew it would help some kids who struggle to read. Sometimes reading to a stuffed animal or a class pet will let them practice reading without the pressure of reading to a person."
There are also other science applications with the class pet as students learn about different animal groups.
At the beginning of the school year, the class did research about bearded dragons so they could become more familiar with Toothless. "The students are really in to it because they want to be able to tell their families about him. That strengthens that home and school connection," Thomas said.
Thomas said throughout the school year, her students are eager to tell family members about their class pet. "Parents are definitely surprised at how much they know about bearded dragons. They will come home talking about him, a lot."
Thomas said that while some students may be unsure about holding Toothless, they are no longer scared by the end of the school year. "They just love him."
Thomas said some of the boys in her class like to "one up" stories and have bragged about catching bearded dragons in the woods. She pointed out that the animals are native to Australia so the stories are obviously not true.
Toothless is easy to care for, according to Thomas, and he's already as big as he is going to get. He eats spring mix salad (no iceberg), mealworms and water. He also likes fruit. The leader for the day is responsible for feeding Toothless. His sand has to be changed a couple times a year.
"He's real simple. I just have to keep his sand clean," Thomas said.
During long breaks, Toothless stays at the Thomas home, where he is well cared for. "I have two sons and they are crazy about him. They love him."
Thomas said Toothless prefers being around small groups of students versus the entire class, which can make him jumpy. Typically very calm, Toothless has been known to hiss if he gets mad. If he's really mad, his beard turns black. "He's usually pretty laid back," Thomas said. "He doesn't make noise."
Toothless does shed but not as much as he did when younger. "One day last year, his head was shedding and it looked like he had a helmet on." Thomas said. "That was so funny. My kids thought that was hilarious."
The students offered their own insight into their class pet: "He loves sleeping." "Sometimes he can be grumpy." "He stays on his rock." "He has lots of spikes." "His belly is soft." "He likes to swim in his bath tub."
When prompted to write a story the end of the first week of school, Toothless was a popular topic. "He's a little bit of a celebrity in here."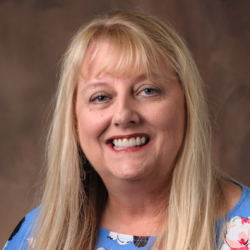 Latest posts by Sonja Keith
(see all)