20 Mar 2018

Three to get ready!

The recorded existence of multiple births is ancient. In the Holy Bible, Jacob and Esau, children of Sarah and Abraham, were twins, as were Perez and Zerah, children of Judah. King David descended from Perez who was an ancestor of Jesus. While not many are for the history books today, one thing is clear. Today's multiple births also multiply expenses and complicate logistics. And how do you give each child needed care, feeding and bonding?

Holly Price Meriweather and her husband, John, parents of triplets, can tell you about that. I asked Holly if she would share the story of their children's arrivals, growing up years and current status.

———————–

"Why don't you put them in Mother's Day Out?" my friend Natalie suggested. We were having a rare girls' lunch, and the topic was, "I Just Need a Little Time to Myself." I had never heard of "Mother's Day Out." My babies were 16 months old and walking. They were through with breast feeding, were sleeping through the night, taking two naps and feeding themselves. Most importantly, my husband and I had managed to keep them alive, something we weren't sure we could do when we saw three heartbeats on an ultrasound in August 1994.

A blood test to confirm my suspicions of pregnancy showed something strange: I appeared to be more pregnant than I actually was. There was only one explanation; there might be more than one baby. Later, an ultrasound showed there were actually two more than one. Our excitement was subdued by possible problems that could occur with "higher order multiples."

My high-risk specialist's goal for me was 28 weeks, with mandatory bed rest around week 24. I was beginning my fifth year of teaching English at Conway High School. We knew I could not complete the school year, so that fall semester was my last.

I became huge. My blood pressure rose, and I became somewhat toxic, so they decided that 36 weeks and four days was long enough. I had a choice of March dates, and I chose the 17th.

There were atypical details about my pregnancy. I did not have morning sickness, which should be renamed "any-time sickness," until four months, after which I was sick nearly every day.

It's important, here, to acknowledge the sustaining power of prayer. My mother-in-law mentioned it first when I told her I thought I was pregnant. She said, "Oh, I was just praying about that this morning!" An unknown amount of prayers were said for me and John during the pregnancy, delivery and the "going home."

There were five grandchildren born into the Meriweather family in 1995. Counting an older cousin, this meant several instant best friends and two sisters-in-law who became a support system. For my own mother, Judy Corcoran, my three were her first grandchildren, and she instinctively went into Grandma-mode. No one tells you of the added blessing of watching your parents with their grandchildren. We had given them a priceless gift for life — no other gifts necessary, ever.

Landon Lewis, Sidney Beth and Olivia Grace were born with healthy birth weights, all within two ounces of five pounds. My son was Hercules holding up the other two. He was born first, but it would be the only thing he ever did first, having already accomplished the job of making sure his sisters weren't born too early. Next was Sidney, the middle child and leader of the group even though no vote was ever taken. Olivia came last, and because she had a little more "breathing room" on top of the pile, she needed the least amount of encouragement to breathe properly in the NICU.

We have a cherished video made by a cousin that records family and friends in the waiting room that morning. Five of those who waited and prayed are now in heaven: my father, two great-grandmothers, our pastor and my doting great-aunt — precious legacies of faith.

Three days later they made us go home! We didn't know what we were doing! The world looked so different, and the cars were driving so close to my babies! I was pretty sure I had some serious postpartum hormones going on. Doctors' appointments, blood draws and weigh-ins apparently confirmed that we could be trusted, so we just did as everyone else and figured it out. With only one shot at parenting, we made mistakes all at once with no do-overs, but God blessed our efforts.

At that point, they were the perfect but dangerous little control group for monitoring child development, boy-girl differences and milestones. Our son probably took the biggest hit as he was last to walk, speak and potty train, none of which were priorities for him. The girls, however, were competing for first place in all those areas. I worried that our son had symptoms of various imagined disorders, but he was fine. He was just a boy.

Conway has excellent educational choices with public and private schools and home-school co-ops. Athletic, musical and artistic choices abound, so they sampled almost everything, with each child choosing a favorite activity.

Preschool was the first time our children made friends and heard the word "triplets." It had never occurred to us to explain how their births were different. At the age of 2, they saw their baby cousin for the first time, and Sidney asked, "Where's the other babies?" Maybe we should have explained, instead of laughed at, the adorable question it was.

From there it was Jim Stone Elementary, favorite teachers, birthday parties, sleepovers, play dates and occasional "friend-dramas". They were in separate classes, so the triplet issue never came up. They chose different friends, although some were mutual.

They transferred to Conway Christian School in eighth grade after John and I visited months before. We agreed that it was a place our children could thrive. I began teaching there, so we went through the transition together. Not everyone was on board with one eventual rule, however. You get a job before you get a car. All three now agree that it was a time of maturation, growth and perfect timing because college was looming!

In due time, Landon graduated from the University of Central Arkansas, with Sidney graduating from Ouachita Baptist University and Olivia from University of Arkansas for Medical Sciences. John and I are the proud parents of, in birth order, a medical software salesman, a marketing director/church planter and a nurse. The oldest and youngest are married, and all are gainfully and happily employed. Even though leaving is what you prepare them to do, an empty nest seems the cruelest transition of all.

God has blessed us, and we are grateful for his provision, particularly in the adolescent years. Ages 11 to 15 were made more difficult with the advent of social media and cell phones. They bickered with each other, especially the sisters. Landon tried to avoid the drama, and like many boys, went quiet on us for a while. Hard as it was for mom, I had to leave him alone and let dad quietly and confidently bring him out of it.

Our children tell us they're thankful for how they were raised. They all appreciated us more after they moved away for college. My advice, if asked, is to "hold on loosely," insist on more family than friend time and make church and worshiping together a priority.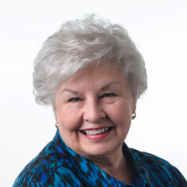 Latest posts by Vivian Lawson Hogue
(see all)