09 Oct 2019

This season 'different' for Conway's Reed Hughes

by Levi Gilbert

More than any other year, football has been a refuge for Reed Hughes and his family. 

Hughes, a senior linebacker for the Conway Wampus Cats, along with his father, Greg, an assistant coach for the Wampus Cats, and his sister, Hailey, lost their "No. 1 fan" a week before the season started. Reed's mother, Kim, passed away Aug. 21. 

"Football this season has been different without my mom," Reed Hughes said. "She was always there to hug me after the game, and it really is hard not to see her smiling on that field. No matter how sick she was or what she had going on, she was always in the bleachers smiling and cheering me on. But the loss of her has really given me something to fight for this season.

"Football has been that escape for us to forget the harshness of what is going on in our lives and put our focus into something else. She told me right before she passed to win it all for her and 'hit someone hard for your mom.' I have played my heart out for my mom this season, and I plan to continue."

Playing linebacker requires a certain hard-nosed will and strength. But walking through the grief of losing a parent — that takes a different type of strength. And Reed would be the first to point out that that type of strength doesn't come from himself. 

"I cling to the fact that the Lord is working in ways that I am unsure about, and He knows what's best for me even if I don't like the result," Reed said. "My mom was the most loving and dedicated woman ever. Her love for God and others outshone any of her other characteristics. That was what she wanted her legacy to be — a diligent follower of Christ and an advocate of His love, and she went above and beyond that. 

"I want everyone to know and understand the love and forgiveness that I have been given by God. It would be selfish and foolish of me to keep it to myself. I can't describe the peace that comes with trusting God with my life no matter my circumstances. He is my rock and a friend. John 6:37 says, 'Everyone whom the Father gives me will come to me, and the one who comes to me I will never send away.' It doesn't matter what you've done. The Lord will forgive you and love you regardless."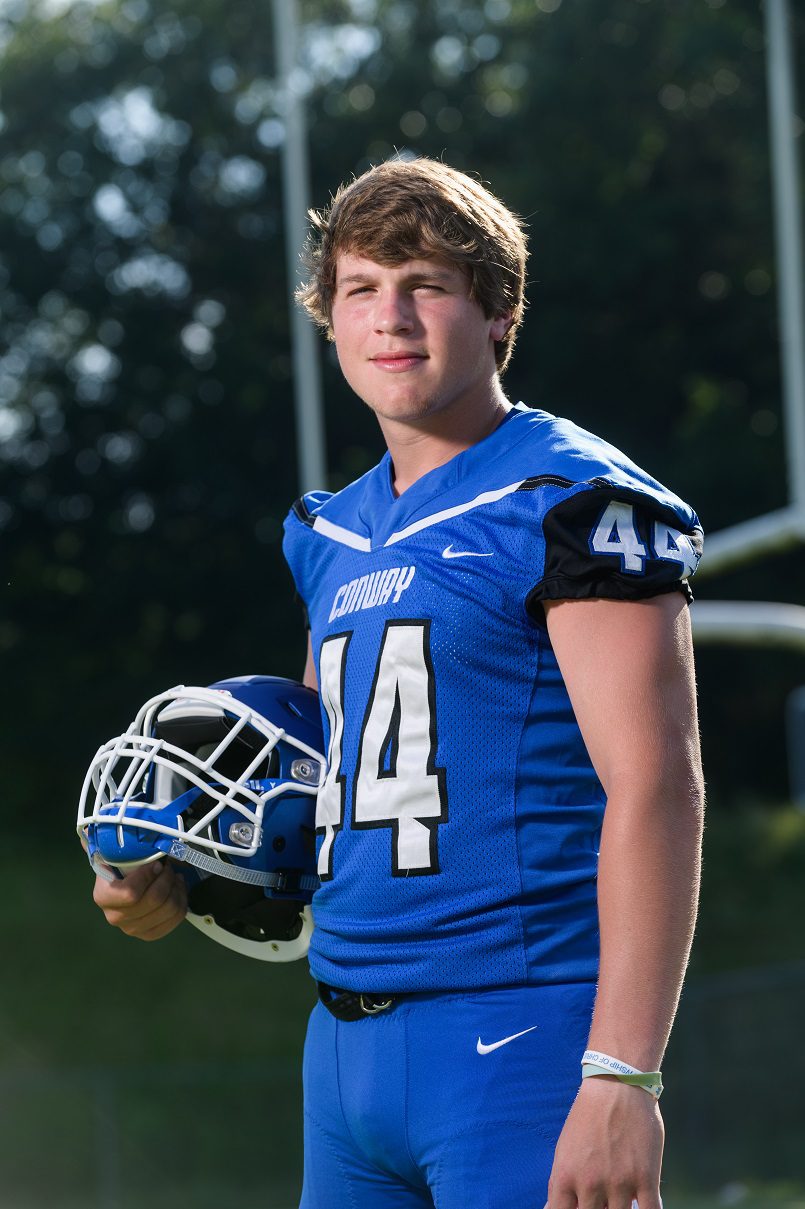 Hughes has poured his heart and energy into his senior season, and it has shown. Through five games, he's leading the defense with 71 tackles, including six tackles for loss. He's also recorded one interception, two fumble recoveries, one fumble caused, one sack and five quarterback hurries. The Conway defense has led the way to a 3-2 (1-1) record through the first half of the season. 
"Our defense returned a lot of starters and experienced players, but what stands out is our willingness to learn and adapt to what is happening," Hughes said. "Even our young players are eager to learn from their mistakes and hit the ground running. We've been given tasks for games to help us play the game we know we can play. 
"A big factor to our success is our high motors in both the games, but also in practice as well. We are prepared well throughout the week thanks to our coaches, and that transfers over to Friday nights. We have a special bond with this team and are willing to fight for one another. That's what makes it all so special."
Hughes was selected to this year's 501 Football Team – 27 players representing all 11 counties of the 501. The team, sponsored by Conway Regional Health System, First Security Bank and Conway Orthopaedics and Sports Medicine Center, boasts the best the 501 has to offer both on and off the field. The senior linebacker was nominated by his head coach, Keith Fimple.
"Reed's character stands out on the field to me," said Jeff Matthews, play-by-play announcer for Wampus Cat Football on Conway Corp. "I love his desire to be involved in the community whether it's with Caring Cats or helping take the public address microphone for middle school games. He approaches each task with the character of a winner and someone who sees the bigger picture.
"I think Reed's teammates trust him, and they care about him and his family. That defensive unit has had to overcome a lot. Not only emotionally with the loss of Reed's mom, but also on the field with key injuries. But the 'next man up' mentality has shown through. Coaches can only do so much with that. Often times it takes a peer to lead and to rally, and that's what comes naturally to Reed."
While Hughes is best known on the field for his stellar linebacker play, he also serves in an invaluable role on special teams, which got him on the field first. 
"The deep snapper is one of the most underrated positions on a football team, and he took that job on and has excelled at it since his sophomore year," Matthews said. "Reed is the total package. He plays smart. He plays hard. He plays clean. He plays the way you would want every player to play."
This week, the Wampus Cats play host to rival Cabot (4-1, 1-1), and the Panthers come in with a whole new look on offense under new head coach Scott Reed. 
"It's odd seeing Cabot come out and not try to simply run it the entire game," Hughes said. "The way to stop them, I believe, is just to play the same Conway defense we've played this entire season. We have been a menace and can play with anyone." 
Hughes also plays third base for Conway High baseball. Off the field, he serves as president of the Caring Cats club and vice president of the Best Buddies program. He's a member of the National Honor Society and serves on the Fellowship of Christian Athletes leadership team at Conway High. He attends Antioch Baptist Church and is involved in the student ministries. 
He hopes to continue playing football in college and staying involved in the game through pursuing a degree in journalism/broadcasting. Coaching is also on the table. He's seen what that's like first-hand his whole life. 
"The challenging part about my dad being a coach is that I have a standard that I feel I need to fill," Hughes said. "I ought to know what is happening and when and be in control. In that same sense, it helps in the fact that I have someone to bounce questions off of constantly and help me further develop my game. I wouldn't have it any other way." 
Hughes and the Wampus Cats continue 7A Central play hosting Cabot at 7 p.m. Friday, Oct. 11. 

Latest posts by Levi GIlbert
(see all)