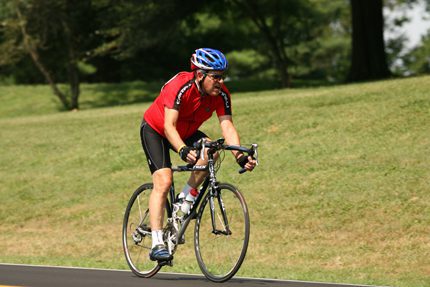 21 Dec 2012

The ride of his life

by Lee Hogan


Cycling has always been a part John Maygar's life.
There's a trophy case in his living room that holds just a portion of the awards and photos that Maygar has collected in cycling. His coffee table is littered with cycling magazines and books.

For Maygar, cycling isn't just a hobby, it's a lifestyle.

It started for the St. Louis native when he was 14 years old. At 15 and 16, he competed in the nationals. During his summers as a youth, Maygar competed in a race almost every week. Usually those races were somewhere in the St. Louis area.

Maygar's love for cycling was put on hold for a few decades when he and his wife, Joyce, moved to Colombia to be missionaries in the country. The Maygars stayed in Colombia for 35 years as missionaries, returning to the states in 2003.

Maygar continued to ride while in Colombia, but he was unable to compete.

It did not take long for Maygar to return to cycling competitively once back home in the U.S. "I've always had a love for cycling, and I've kept it up," Maygar said. "It's really a good sport for older people."

Since moving back to the U.S., Maygar has become a fierce competitor in the senior Olympics. "I just found a niche in the senior Olympics," he said. "I'm 75. You really can't compete very successfully with 40 year olds, so you find a niche of people that you're capable of competing with, and you know, I've had a reasonable amount of success."

Maygar has competed in eight states and won numerous races, competing in the nationals in 2007. Maygar said he rides 8-9,000 miles a year.

However, this year in particular has been frustrating for Maygar, who has struggled to stay healthy. He's still optimistic about next year and plans on competing in the nationals, for the second time as a senior, in July.

"I'm getting a running start at next year, and we'll expect to do pretty well at nationals if we go," he said.

Wherever Maygar's cycling endeavors take him, his wife, Joyce, will be right beside him, but she isn't concerned with how Maygar finishes.

"She's my manager and support team," he said. "She mainly worries that I get back OK. She doesn't care if I win or come in second. She just likes to see the jersey coming over the last hill or last sprint."

For Maygar, unlike his wife, winning or finishing well is one of the main objectives of every race. Just like any athlete, Maygar admits to having pre-race butterflies, but they don't last far past the starting gate. "Once the gun goes off, all bets are off," he said.

Most 75–year-old men have little desire to ride a bike thousands of miles a year or compete in races throughout the country, but Maygar has no plans on stopping, saying he hopes to continue riding into his 80s.

"You can easily get tired, but it comes down to a lifestyle," he said. "You decide that, 'This is what keeps me going, this is what keeps me active.' My own kids will tell me, 'Dad, I don't know how you do it,' but I plan to race.

"It's a way of keeping yourself young and keeping yourself fit, and I enjoy it."