30 Dec 2020

Super sophomore leading Conway Christian

By Levi Gilbert

The Conway Christian Lady Eagles made a giant leap last season, going from a four-win team the year before to a state quarterfinals appearance. Josie Williams was a big reason for the sudden leap.

After averaging 21 points, five rebounds, four assists and three steals per game as a freshman, Williams is already on the precipice of 1,000 career points as a Lady Eagle. But more importantly, the sophomore has eyes on a return trip to the 2A state playoffs.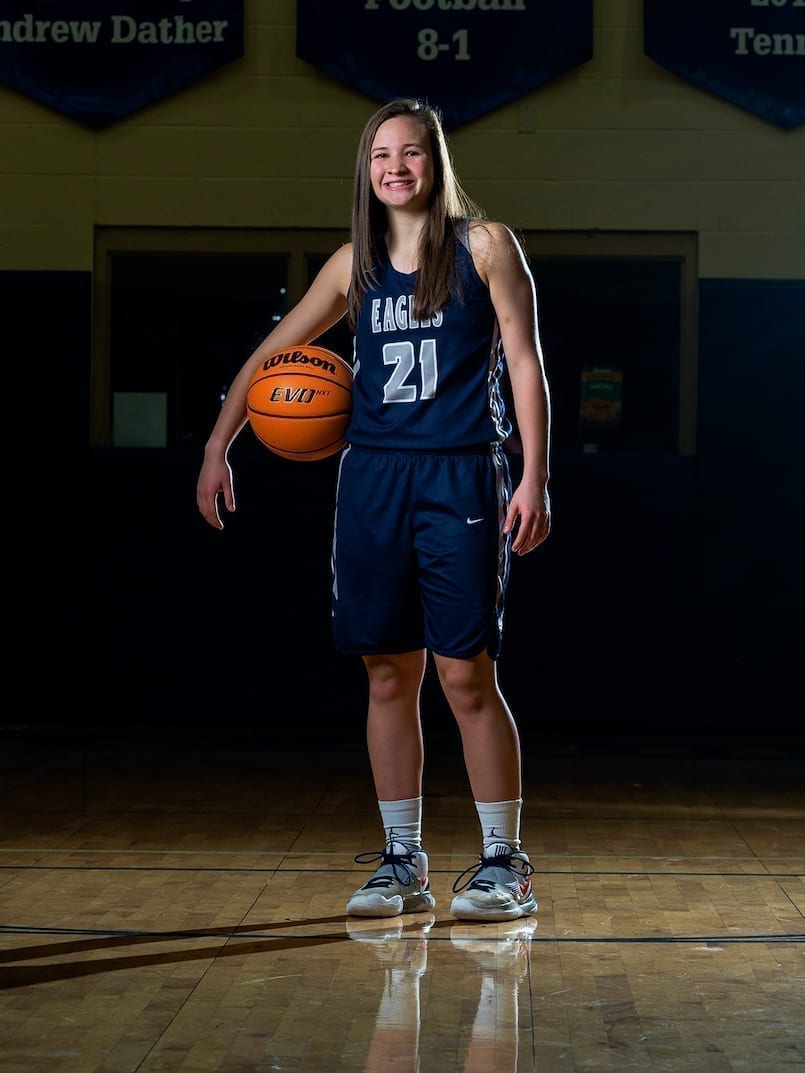 "She makes us go," said Trey Lynch, Conway Christian Lady Eagles head coach. "We will look to her to create the bulk of our offense, both for herself and for her teammates. As a sophomore with a year of experience already in the books, we expect her to take on a big leadership role for the next three years. Last year, she helped change the vibe of a team that won only four games the previous year and ultimately played a major role in the last season's team posting a winning record and making a run to the state quarterfinals."
Williams was selected to this year's 501 Basketball Team — 34 players representing the best the 501 has to offer both on and off the court. The team is sponsored by Conway Regional Health System and First Security Bank. The sophomore guard was nominated by Lynch.
"Josie is an absolute competitor," Lynch wrote in his nomination. "She is a playmaking guard that can score in multiple ways and create shots for her teammates. She has a relentless motor that helps her generate offense from her defense and thrive in transition.
"She has an innate way of making her competitiveness rub off on her teammates. She is an extremely hard worker who spends hours in the gym and encourages her teammates to grow with her. Josie is the most competitive and hard working kid that I have ever coached."
That competitive spirit was sparked at an early age. Williams started playing organized basketball when she was 6, but had been playing in the driveway ever since she could walk.
"My older brother inspired me to play because I wanted to beat him," Williams said.
Heading into the new year, Conway Christian (6-5, 2-2) is ready to get back on the court for the first time since Dec. 18. The Lady Eagles' two last games of 2020 were canceled because of COVID-19.
"I've learned to not take any time on the court for granted," Williams said. "With COVID, I never know when my last game will be, so I have learned to enjoy every second of it and make the most out of the time I'm given on the court. We have been very fortunate and have only had a couple games cancelled because of COVID.
"We have had to be very flexible in our practice and game scheduling. We learned that we don't know if we are going to play until we are actually on the court. This, for me personally, has made me very grateful for every game and practice we are able to have, and makes me enjoy being on the court a little extra every time."
Williams is just as competitive in the classroom, boasting a 4.0 GPA.
"She is extremely driven in the classroom or anything else she does," Lynch said. "Once she sets a goal, she is going to do everything in her power to achieve it."
Williams also plays softball and golf for the Lady Eagles. She has earned all-state the last two seasons in golf and was part of the Lady Eagles' 2A state championship in golf this year. Outside of athletics, Williams participates in Future Business Leaders of America and Drama Club. 
Conway Christian returns to action at Pangburn with tipoff set for 1 p.m. Saturday, Jan. 2.

Latest posts by Levi GIlbert
(see all)