20 Jul 2020

State honors: Conway coaches share special seasons

It was a special spring for Conway coaches Salty Longing and Craig Conner. Both won championships in their respective sports — boys basketball and boys swimming — and both also received Coach of the Year honors from the Arkansas High School Coaches Association.

The championships and awards capped off impressive runs for both coaches, whose friendship goes back two decades to little league baseball and basketball and civics at Bob Courtway Middle School.

"I was a tiny little guy and have always been. I was a little bit of talent and a whole lot of heart. I had to work a lot harder than everybody else to accomplish anything athletically," Conner said. "What really stood out to me with Coach Longing — I had him for Civics in eighth grade and played basketball for him — he was the first male teacher that I had in the classroom. It was a total dynamics shift for me to see a male in that environment. Everybody just loved going to his class. It was fun."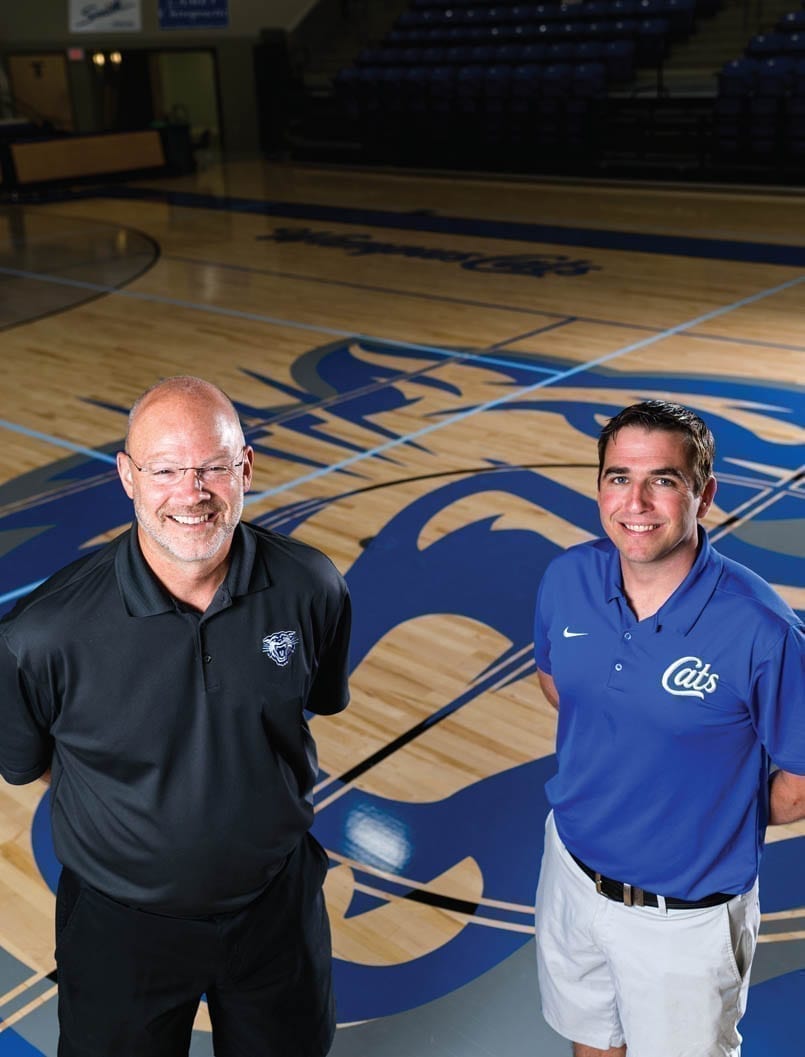 Conner said from the very beginning, the two always had a great relationship. "Getting to play basketball for him was one of the joys of my life. When you look back on your life and that age group period and you look at the people in your life that impacted you, there's nobody that impacted me more than Coach Longing. Why I'm here doing what I'm doing today is largely due to him. What I saw him do in the classroom and on the court, he's an incredible person.
"I got into education in a roundabout way. After college, my wife and I worked in ministry for a couple years, and I was trying to figure out what I wanted to do with my life. I just wanted to find something that I would be good at and enjoy. I remember telling my wife when I made the decision to move into education and coaching, I wanted to be a coach and a teacher just like Coach Longing. We have a very similar laid-back style, and he's just the kind of person that you can tell is enjoying every day. Every day, he made you feel like a million bucks. I knew that as a career, that would be fulfilling to me."
Longing saw potential in Conner all the way back in those early little league baseball days when Longing was umpiring Conner's games.
"Craig as an athlete always overachieved," Longing said. "He was extremely intelligent, one of the smartest students I've ever taught. You find sometimes that those type of players become your best coaches. Not the guy that was always able to rely on athletic ability, but you have to think the game and outwork people and do the little things right in order to be successful as an athlete, and I think that transitions really well into the coaching profession."
Throughout the years, their mentor relationship has evolved as the two have now become peers in education and coaching. But it still holds that original friendship.
"The banter between us is always lighthearted or some kind of smart aleck jab being thrown at one another, whether it's something about the Cardinals or Reds," Longing said. "It's more of an adult conversation and mutual respect, but it's the same type of conversation we had when it was a coach-athlete relationship earlier."
In addition to the individual sport Coach of the Year awards, Longing also received the overall coaching award — the Lowell Manning Award.
"They asked me to go on the AAA website and look at past winners," Longing said. "I was scrolling down the list and saw that the only other Conway coach to win it was James Bates. For me, it made it really special. I assisted James for over 20 years at the junior high and high school level, and kind of what Craig and I are sharing with mutual respect, there's just not a better person in the world. James was somebody who taught me more than just the X's and O's of basketball, but also how to run a program and running it with integrity and respect. Respecting the six letters across your chest. That made it more special."

Latest posts by Levi GIlbert
(see all)