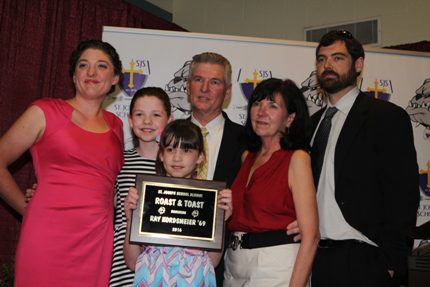 02 May 2016

St. Joseph recognizes Kordsmeier

Posted at 10:17 AMh

in

News

Ray Kordsmeier Jr., a 1969 graduate of St. Joseph School and Conway furniture dealer, was recently named by the school's alumni association as its fourth "Distinguished Alumnus."


A Roast and Toast Dinner was held in his honor in the Parish Hall of St. Joseph Church.


Friends and family gathered to hear Ray humorously maligned by attorney Edgar Tyler, retired insurance executive Bill Farris and Ray's son, Will Kordsmeier. Ray was then presented with an award by former Conway Corporation CEO Bill Hegeman, who's a Distinguished Alumnus himself. The other previous recipients of this award are Charles Nabholz and Ray Simon.


Ray has served St. Joseph School as a member of the School Bazaar Central Committee and as chairman of the St. Joseph School Endowment and Charitable Trust from 1993-2007. He's also served on the board of directors of the Arkansas Furniture Association from 1987-2003 and the board of directors of the Conway Regional Medical Center from 1994-2009.