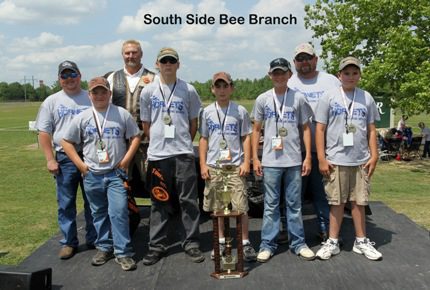 16 May 2012

South Side Bee Branch earns regional title

More than 250 teams recently competed in the Arkansas Youth Shooting Sports Program regional tournament at the Remington range near Lonoke.

The Gun Slingers from South Side Bee Branch won the junior division and the Clay Commanders from Batesville won the senior division.


Two more regional tournaments will be held in the coming weeks, followed by the state finals Friday, June 1, and Saturday, June 2, at Lonoke. The top 16 teams from each region will compete in the state finals.


The AYSSP is an Arkansas Game and Fish Commission program that encourages youth to learn to shoot shotguns safely while enjoying the outdoors.

To learn more about the AYSSP or to become a coach, visit agfc.com to download a brochure or call 501.230.4738.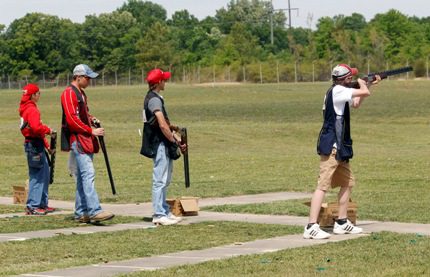 Junior High Division
South Side Bee Branch
Gun Slingers
109

Searcy Clay Breakers
Squad 1
105

Beebe Blue Rock Blasters
Clay Busters
104

Batesville Pioneers – Juniors
Two
103

Salem 1 – 8
Salem 1
103

White County Central
Smoking Guns
100

Clinton FFA
Top Guns
99

Batesville Pioneers – Juniors
One
97

Southside Jr High
Str8 Shooters
96

Southside Jr High
Trigger Happy
94

Valley Springs Jr
Smoke-n-aces
94

Melbourne Bearkatz
Melbourne Jr 1
94

Clinton FFA
The Trap Machine
92

Faulkner County 4H Shooting Sports Club
Totally Busted
92

MHS Skeetbusters
Squad 1
91

Batesville Pioneers – Juniors
Four
91
Senior High Division
Batesville Pioneers
Clay Commanders
227

Salem 1 – 8
Salem 4
225

Cave City Sharpshooters
Fowl Play
224

Rose Bud Sharp Shooters
Full Strut
220

Beebe Blue Rock Blasters
Burning Nitro
220

South Side Bee Branch
Top Shots
217

Shooters R Us
First Flight
217

Searcy Clay Breakers
Squad 2
215

Heber Springs Trap Team
BAT Squad
213

Baxter County 4H Shooting Sports
Team 1
212

Pangburn Gunslingers
Gunslingers 1
212

Flippin Trap Shooters
Team 1
211

Beebe Blue Rock Blasters
Nitro Express
211

Greenbrier High School
Clay Mafia
210

Viola AYSSP
Viola Senior 1
208

Valley Springs SR
Valley #1
207