19 Mar 2018

Simplifying with multiple children

One of my favorite quotes about having multiple kids is from comedian Jim Gaffigan. He said, "You want to know what it's like having five kids? Imagine you're drowning and someone hands you a baby." It's one of those quotes you hear and you laugh so hard because you know it's true.

Parenting one child isn't easy, and adding more to the mix definitely makes it more interesting. It also makes it more difficult.

When we had our first baby, I thought it was so easy! He was our little buddy. "Accessory" is a term I've used to describe what it was like with just one. I thought that adding another wouldn't be bad at all. Everyone's experience is different, but having that second child really threw us for a loop.

If you're bringing a new baby into your home, one thing to keep in mind is that your new addition won't remember crying for a minute, but your older child(ren) will remember feeling second place. If your baby is fussy but your older child is needing attention, it's OK to put the baby in a safe place, like a bouncer or swing, and let the other child know you see them and they have your attention.

MOMMY'S HELPER

Help your older child graduate to being a big helper. I am so happy I did this because it has come in handy whenever I'm changing the baby's diaper and realize I forgot wipes, and I can have one of her big brothers get them for me.

They also know how to help her be safe whenever she decides to climb somewhere she shouldn't and I'm not in the same room to get to her immediately.

SIMPLIFY

Simplify your life and home. With each baby, I have found myself downsizing the "must-haves" for baby care. I've realized that a baby actually needs much less than what I originally thought.

Wipe warmer – I loved the wipe warmer with our first baby. But after the newborn phase was over, it was more of a nuisance, and it seemed like as soon as you took the wipe out of the warmer, it was instantly cold. This was the first item to ditch in order to simplify our routine.

Crib bumper pads – Not only are these unsafe, but usually they are so expensive! There are so many other ways to add color and décor to the room. Leaving the crib mostly bare is the safest choice.

HELPFUL TIPS

Products that can help with multiple children when one is a baby:

A wrap or baby carrier is helpful, whether it's your first or fifth, but I found them to be most useful with my second and third baby. Having your hands free is always nice, and it's so easy to strap them on and do household tasks, too.

Binxy Baby shopping cart hammock. This was one of those extra purchases for us that I had heard good reviews about, and to be honest, shopping with three kids was intimidating. This hammock made it so easy! I could put either the baby in the hammock or the whole car seat. It freed up the space in the shopping cart for purchases and is a lot safer than putting the car seat in the top basket of the cart.

These are just a few ideas and tips for parents with multiples or those thinking of adding more to their family. Having any number of children can be challenging, but it's worth it. Don't be afraid to simplify in order to meet the needs of your family without so much stuff in the way. With each new baby, there are also products that may help accommodate your growth. Don't hesitate to do some research or ask around for suggestions from friends.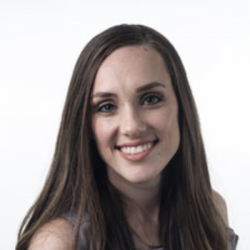 Latest posts by Brittany Gilbert
(see all)